Mutton Bustin', Bull Riding, and Hand Gestures
There was a trace of light in the sky as we came home tonight. "I'm a total slacker!" I confessed to Rob, feeling as though I short-changed the Fair today by leaving a little early due to a need for sleep. Rob agreed (sarcastically) that I should be ashamed that I only spent 8 hours at the Fair today instead of my standard 10-ish. Yes, when it comes to the Fair, my perspective is a little whacked. But love does that.
Today's Fair Highlights:
Kids Riding Sheep! I had never heard of Mutton Bustin' before moving to Clark County. I was just proud I knew what "mutton" was. For the uninitiated, mutton bustin' is basically bull riding for kids where the bull is replaced by a fluffy, wooly sheep. The kids are decked out in protective gear and then hang onto as much fluff as they can for as long as they can as a sheep runs through the dirt arena. It is adorable and most of the kids seem to love it. There are always a few who understandably panic and tears can be shed. Can't say I blame them. They sure are cute, though.
Today's mutton bustin' competition was one of the better ones I've seen in a long time. There were over 30 competitors and there were some long rides along with some hysterically short ones. Interestingly, girls seemed to do better than boys this time. The ultimate winner was a 7-year-old girl who was just about as tall as her trophy. She rode with confidence and determination and walked out of the arena with a swagger. Rock on, cowgirl!
Kids Riding Other Animals, too! A new feature with this afternoon's Mutton Bustin' competition was basically a kids' rodeo. There were kids riding small bulls and small horses. I thought it was going to be more for entertainment, but it was a serious rodeo with some serious action. The same 10-year-old boy ultimately won both the bull riding and bucking horse competitions. His first name is Dawson but I didn't catch his last name. Nevertheless, I suspect he will be a well-known name in the professional rodeo rings well before he can vote, probably even before he can drive.
Men Riding Angry Bulls…And Not Necessarily On Purpose! The evening show in the Grandstands tonight was Bull Riding. This is one of my favorite events. I have back problems, so I am always dumbfounded by the bumping and jarring and flying and dirt-eating that bull riders do in the name of their sport. As long as the bulls are treated well and nobody gets seriously injured, I'm a big fan.
Tonight's show was pretty exciting. Nobody got to ride in an ambulance but I tell you, if I had been the one being thrown around like a couple of the men were tonight, the name of this blog would be quickly changed to "It's the hospital." The men in the bull riding world are a tough, stoic bunch. And I'm not just talking about the riders.
The scariest moment of the evening came when a bull was still in the arena after a ride and he was spittin' mad, literally. He was charging around the dirt while several wranglers tried to get him to exit the arena. All of a sudden, the bull started banging into the shoot gates and one of the judges got in the way. I was terrified as I watched the bull goose the judge and pick him up between his legs and toss him in the air against the metal gates. The judge looked like a floppy doll with a clipboard. The arena was nearly silent as the dust literally settled. Finally, the judge emerged, mostly upright, and signaled he was ready to get back to work. I watched him throughout the show. He moved like he was in some pain but not nearly as much as he should have. Did I mention dumbfounded?
Ready to Answer (Most of) Your Llama Questions Another portion of our day today was spent working at a booth about llamas and alpacas. Every year, the Fair People choose a different commodity that has a financial impact on Clark County and that commodity is featured in a special exhibit. Prior years have focused on blackberries, honey, and horses. This year it's all about camelids.
Rob and I don't have any llamas…sadly…but we are lucky dogs who get to hang out with some people who do. I have been a volunteer handler for some therapy llamas and alpacas from Vancouver for about 5 years, so along the way I have picked up enough information to fake my way through manning an exhibit about the animals. Or so I thought.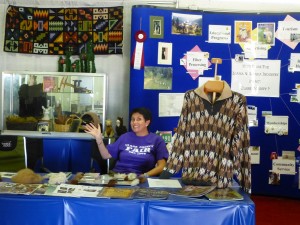 Our two-hour shift went by really quickly.  It melted my heart to see how well Rob got kids excited about llamas and alpacas (he's picked up a lot of info, too, since I often volunteer him to join us for special llama events).   We came up with a fun way of using hand gestures to explain the difference between llamas and alpacas, so that was the source of some fun giggling. (Think…or Google… "quiet coyote" and you've got the gist.)
We were moving right along, feeling very proud of ourselves and our extensive camelid knowledge — including answering vital questions such as "Which barn are the sheep in?" and "Can I get my Fair Passport stamped here?" And then people started asking us questions about crafts. Like "How do you spin the fiber to make thread?" and "Do you have to card the wool first?" We are not crafty people, and honestly, "carding the wool" sounds like some sort of euphemism a bar's bouncer might use. So we did the only thing we could do in good faith: we passed the buck and suggested better people to ask. So much for being self-appointed experts.
We have another shift on Thursday afternoon. Hopefully I will have more confident craft answers by then.
If you want to check out the display, it is located in the FFA/Grange Barn. Don't know where that is? Yeah, nobody does. It's one of the sadly boring barns that you pass through to get from where the dogs are to where the cows are milked. Look for an entrance across from the Dairy Women Milkshake barn, next to the Old Fashioned Popcorn vendor. With any luck, there will be a friendly and pettable llama or alpaca in the doorway to tempt you inside. It's worth the effort to find it, though. It's an award-winning display and you can play with a basket of alpaca fluff. And you might learn a couple new hand gestures to entertain people at your next BBQ.
Fair Food Feast Parade!
Well, today's parade is kind of pathetic. I took some sinus medication this morning and I didn't respond well. Then my lunch choice ended up being terrible so food just didn't sound good for a few hours.  I was honestly rather panicked for a spell. I am very hopeful, though, that with some good rest and regrouping, I will be raring to eat again tomorrow. My 2.69 miles today might have actually off-set a fair amount of what I ate today. I'm not sure I'm happy about that. What was I saying about a warped Fair-induced perspective?