First Day Highlights and the Introduction of the Fair Food Feast Parade
Oh my goodness, I'm full.  This is very impressive since I have a reputation of being a bottomless pit of Fair Food this time of year.  Yes, I did the first day of The Fair proud.  Perhaps a little too proud.  I am up to two Tums so far.  But, wow, FUN DAY!
We got into the parking lot this morning with about 30 minutes to spare, meaning that for the first time in three years I wasn't running through the lot to get in the gate before the free passes from Fred Meyer expired.  It was downright leisurely, our stroll to the Yellow Gate.  That extra hour Freddies gave us today was much appreciated!
Today brought out a LOT of people.  More than I think I've ever seen on Opening Day.  At 11:30am, we parked in an area of the lot I didn't know existed, it was so far out there.  Once inside the Fair, every food vendor had long lines and at one point, all the ATM machines had lines of at least 25 people.  I'm betting the Fair Management is ecstatic!
We spent the day strolling here and there, pacing ourselves, resting at times, and noting some of the new stuff.  And of course, eating.  My pedometer says I walked 4.47 miles.  My feet believe it.
Some highlights:
Grand Champion Goat  We have some good friends who are very accomplished goat 4-H'ers.  We were alerted by Mom that brother and sister would be competing in the Goat Ring against each other for the very first time ever.  Both teens have numerous awards for their showmanship, so we were eager to see them in action at the same time.
I know very little about Goat Showmanship.  But I know enough to know that the focus of the competition is on the handler, not the goat.  So I watched each handler carefully.  Me, with all my years of professional goat judging.
I noticed right away how important posture is.  The kids (human, not goat) who were standing straight with their shoulders back and heads up just oozed confidence and maturity.  The ones who stood more typically for their age looked less engaged and less certain of themselves. Everything they did looked just a little less polished and professional.  Just from standing up straight. Interesting notion for life outside the Goat Ring, too.
The judge lined up the handlers in his ranked order. As more evaluations were done, he modified his ranking.  Brother started off in first place and sister was in third.  Then the judge had them switch.  Then the judge made another switch that put brother in fourth place.  That was how stayed, with sister winning Grand Champion for Pygmy Goat Showmanship and brother watching stoically from fourth place.  Brother was highly commended by the judge for having the best prepped goat in the competition, though, which I found very impressive.  I mean, it truly was a beautiful goat.  Nevertheless, I don't envy Mom and Dad tonight.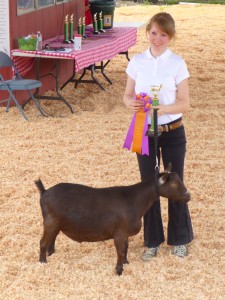 Pick on someone your own size?  The Fair has a new activity this year that includes an area for people to play a card game called Magic.  I will admit, I know nothing about Magic.  However, from a distance it sort of reminds me of how Dungeons and Dragons looked from a distance when I was in junior high.  Basically lots of cards and lots of rules and lots of characters and lots of intensity if you are really into it.
We wandered into the gaming area which was in a darkened barn.  Tables were set up in rows such that it almost looked like they were playing Bingo.  No daubers in sight, though.  There were 15-20 people playing, mostly in pairs.  One pair in particular caught my attention.
Facing me was a large bearded man in his mid-20s.  He looked a little rough-and-tumble and his body language was very animated.  He seemed to be a bit annoyed by his opponent about something, in a way that seemed a little defensive.  Like maybe he was losing and wasn't used to it.  His opponent sat motionless and yet didn't seem terribly fazed.  Almost like he was a parent watching a toddler have a tantrum.  The interaction was fascinating, showcasing how invested people can get in this card game.  Oh, and the opponent?  My guess is that he was about 9 years old.  And very possibly winning.
Bring on the food!
OK, so with that, here's the part that makes my mom astounded that I used to only eat hot dogs and green beans when I was a picky little kid.  Now, well…you'll see.
Although I am usually a pretty healthy and conscientious eater, I throw all my self-imposed food rules out the drive-thru window during The Fair.  Sour cream, ranch dressing, butter, dessert, fried anything…all are Fair game for me this week.
I realized a few years ago that I was losing track of my consumption list (friends who knew of my tradition were asking), so I asked my husband to take pictures of me eating each snack to help me remember.  And that has evolved into what I now call "The Fair Food Feast Parade."  Here's today's entry.  Not pictured:  two Tums…so far.