Top-5 receivers in Clark County after week 4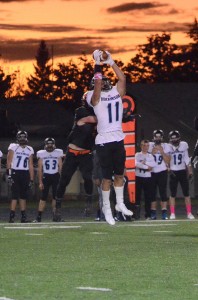 1. Sawyer Racanelli, Hockinson: 33 catches, 521 yards, 6 TDs
Caught 13 passes for 109 yards and a touchdown in a week 4 win over Columbia River.
2. Peyton Brammer, Hockinson: 24 catches, 441 yards, 7 TDs
Accounted for 145 receiving yards and three touchdowns on 10 catches — his most productive game of the season thus far — in the Hawks' week 4 win over River.
3. Mason Wheeler, Skyview: 29 catches, 427 yards, 6 TDs
Snagged eight catches for 147 yards and a touchdown as Skyview suffered a week 4 win over Rogers-Puyallup.
4. Jakob Davis, Washougal: 21 catches, 407 yards, 5 TDs
Had three catches for 96 yards and a touchdown in the Panthers' week 4 win over W.F. West.
5. Isaac Hoidal, Stevenson: 15 catches, 379 yards, 5 TDs
Logged four catches for 157 yards and a touchdown in the Bulldogs' week 4 loss to Irrigon High School.
Rankings determined by yardage. All figures came from The Columbian's high school football stat database, which can be found here.