Day After Report: Camas 29, Skyview 22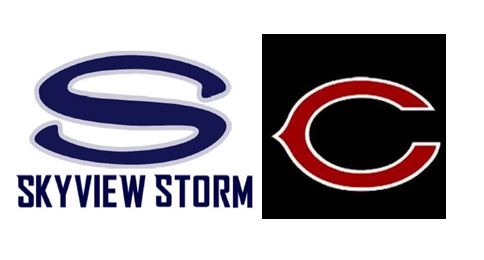 The last team from Clark County to beat Camas came close to beating Camas again. The Papermakers, though, responded with a defensive stop, then a clutch drive in the closing minutes to overcome a one-point deficit. Camas advances to the Class 4A state quarterfinals. Skyview's season came to an end, but the Storm have to feel good about their performance Saturday night. Skyview pushed top-ranked Camas. Camas got the final push, though, for the win.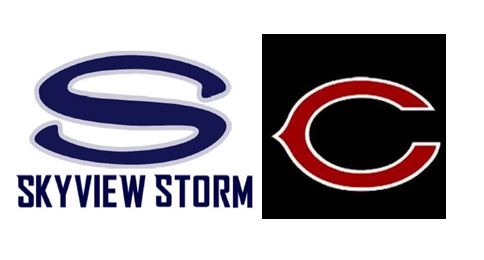 CAMAS 29, SKYVIEW 22
Trailing by one with 3 minutes, 24 seconds remaining, the Papermakers went 72 yards in six plays for the winning touchdown. Liam Fitzgerald found Jared Bentley on a 23-yard touchdown pass. The two teamed up for the two-point conversion, as well. Camas' Cooper McNatt would then get his second interception of the game, ending Skyview's final drive.
The what-if game:
Earlier in the week Camas coach Jon Eagle and I were talking football. Coaches. Journalists. Players. Fans. We all like talking football. Then the topic came up: The what-if game. As in, what if this happened or that happened? All football teams do this, win or lose. But honestly, it's the losing teams that go over the what-ifs more than the winning teams. That makes sense. The winning players don't care as much about the what-ifs. They won!
So today the Papermakers could be wondering what if they had not lost four fumbles on Saturday night, what if they didn't have a couple dropped passes early in the game, or what if they picked up one of those Skyview blitzes. They could be wondering that, but my guess is they are more concerned about preparing for Skyline in the state quarterfinals.
Instead, it is Skyview that has to be playing the what-if game.
What if … the Storm did not turn the ball over five times? One of the turnovers was a possible 14-point swing, after all, with Skyview in the red zone and BOOM, Jack Colletto intercepted a Skyview pass and returned it 94 yards for a Camas touchdown.
What if … the Storm capitalized on Camas' second turnover of the night, when Skyview started at the Camas 18-yard line? Instead, the Storm got a delay of game penalty before first down. (That's gotta crush the coaching staff. Delay of game before the first play of the possession? Ouch.) There was a run for one yard, then a run for a loss of two yards. And on third down, Camas' Blake Roy took down the Skyview quarterback for a sack of 10 yards. Skyview started at the Camas 18-yard line and by the end of the drive the Storm punted. That's a big what-if.
What if … the Storm converted a fourth-and-1 with less than four minutes to play in the game? This is a combination with another what-if. As in, What if the Storm did something with Camas' fourth turnover of the night? Skyview, with a 22-21 lead, got the ball at the Camas 36-yard line with 5:47 to play after recovering a Camas fumble.The Storm picked up nine yards on the first three plays of the drive. On fourth down, though, the Storm looked to trick the defense with a hand-off to the fullback for the first time all game. The defense was not fooled. The D-line had quite a push. Plus the exchange went awry and the ball popped out. Skyview recovered its own fumble but for a loss of a yard. Even if the Storm had not fumbled, not sure it would have been a first down. The Camas defense was all over that play.
What if … the Skyview pass rush, effective much of the night, was a split second quicker on that final Camas pass? This was a case of a lot of people, on both sides of the ball, doing great jobs. The pass rush was almost perfect. Almost. But Camas quarterback Liam Fitzgerald got the pass away just before he was buried. Jared Bentley caught the pass in the end zone for the winning touchdown. After the game, Skyview defensive coordinator Julian Williams shook his head in disbelief and said Fitzgerald made an incredible play. (I'll have more on that play in a bit.)
A friendly rivalry, a little attitude, and some recent history:
So many angles with this matchup. It was the first time two Clark County teams played each other in the state football playoffs. Of course, it was a rematch of a regular-season meeting. Skyview also happens to be the last Clark County team to have beaten Camas, back in 2011. Oh, and Camas lost in the first round of state last year in a shocker.
"I've never wanted to win a game this bad," Camas linebacker Michael Matthews said. "Skyview. (Plus) we lost this round last year. This is huge. I was praying. Everything came together in the end. It feels good. Just have to embrace it all."
Fitzgerald and Bentley said it was cool playing Skyview again, with so much on the line.
"Close games are fun," Fitzgerald said. "Everyone's going hard. Their defense and our offense grinding it out. There was a little attitude. That made it fun. They have a great defense."
"They're good guys. We like them a lot," Bentley said. "But it's still sweet.
"It feels better than beating a team from up north."
Remember this play?
There were 143 plays from scrimmage. Plus punts, kickoffs, extra points. A lot went on after the very first play of the game. But that first play was big, too.
Drake Owen, a sophomore, caught the opening kickoff at the 5-yard line. He didn't stop running until he was in the end zone. Touchdown Camas.
"Our kickoff team just made great blocks for me," Owen said. "I looked for one vertical cut. Once I hit it, I just trying to keep running. All credit to the kickoff team."
Of course, Owen's speed certainly helped, too. For a bit, it appeared the Storm had an angle to get to him. Nope. Owen was too fast for the Storm on this play.
A whole lot happened after this play. But considering the Camas offense only scored two touchdowns in this game, every point mattered for the Papermakers.
The winning drive:
The Papermakers got the ball with 3:24 remaining at their own 28-yard line. They were trailing by a point. The AP's top-ranked team had to score to stay alive.
Yet, this is how the Camas drives ended all day against the Skyview defense:
Turnover.
Turnover.
Sacked for a Skyview safety.
Missed FG.
Loss of downs.
Punt.
Punt.
Touchdown (Only had to go 36 yards after a Skyview turnover).
Halftime.
Punt.
Punt.
Turnover.
Punt.
Turnover.
That was 14 possessions and one touchdown for a team that averaged 46.5 points per game through the first 10 weeks of the season.
"We struggled all game," Jared Bentley said. "But we knew we had to stick with what we practiced all week. We had to keep pushing. We had to have faith in our offense."
Fitzgerald found Bentley for a 10-yard pass, plus the Papermakers were given 15 more yards when Skyview was penalized for a late hit. Fitzgerald found Hunter Bruno for 12 yards. Jordan Del Moral would get 17 yards on three carries.
Then, on third down from the 23-yard line after a Camas penalty, Fitzgerald got the pass off just before he was hit by the Skyview pass rush. Touchdown to Bentley.
"I saw it was man coverage," Fitzgerald said. "I knew I could throw it up to Jared."
Fitzgerald did not see the catch. In fact, he said he did not even hear the crowd, buried underneath the Skyview defenders.
"I got up off the ground and looked up at the crowd," Fitzgerald said. "They were going wild."
Pick-Six, Skyview rallies against odds, and a positive close game:
It can still be argued that Jack Colletto's big play was the most important play of the game, but it was not the "lead" play of the game for my story. That's because so much happened after Colletto's big play. That's because a team that was trailing in the final minutes of the game scored to take the lead.
But in order for Camas to be in that position, the Camas defense had to come up with stops all night long. And in one case, it was a stop-and-go.
Skyview was trailing 14-9 in the third quarter but was driving the ball with four first downs, reaching the Camas 11-yard line. The Storm tried a misdirection pass play. Everyone rolled right, with one receiver leaking out to the left. At least one defender was not fooled. Colletto followed the receiver and cut in front of him when the ball was in the air. Colletto grabbed it and cruised 94 yards the other way for a Camas touchdown.
I must admit at the time, I thought this was going to be the lead of my story. I figured Skyview had played an amazing 2-and-a-half quarters of football, but that play was going to be the back-breaker. I admit I thought that was going to be the one that ended all hope for the Storm.
This is why I love sports. (And sports writing.) If everything went the way I thought (or fans thought) it would be boring, right?
Instead of rolling over, Skyview just played better. The Storm got a touchdown 17 seconds later on Brody Barnum-to-Travis Yajko bomb. The Skyview defense kept getting the ball back to the Skyview offense. And the Storm would regain the lead early in the fourth quarter.
That is why the "play of the game" turned into something else.
Not that Colletto was complaining. He said he was just happy to do his part in the team's victory.
Colletto also said that this game should help the Papermakers the rest of the playoffs. Camas, after all, really only played one close game all year, and even against Mountain View, the Papermakers did not trail in the second half.
This one pushed Camas to the limit.
"Some people might think that close of a game is a negative," Colletto said. "In reality, it's a positive. It shows we can get through adversity. It's going to help us down the road."
Coach talk:
Before Camas coach Jon Eagle talked about his team, he wanted to make sure he praised the Skyview Storm.
"Our coaching staff tips our hat to their coaching staff," Eagle said. "They put together a great plan, and their kids did a great job of executing that plan."
It also is refreshing to hear a coach talk like a fan at times. A lot of coaches might not like watching a game with nine turnovers and plenty of other mistakes. Eagle, though, saw it for what it was:
"What a great game. It really was a great football game. Two really good teams going after it," Eagle said.
There were four lead changes, including two in the fourth quarter. Camas scored on special teams. Both teams scored on defense. It was wild. It was a blast to watch.
Skyview coach Steve Kizer called it a battle.
"Offense, defense, special teams, we left everything on the field," Kizer said. "We threw everything at them."
And up until a little more than 2 minutes left in the game, Kizer noted that Camas had only scored one offensive touchdown. It was an incredible performance.
A couple of my favorite plays:
Early in the second quarter, Camas tried a wide receiver screen that was smothered for a 1-yard loss by the Skyview defensive backs. Why was this one of my favorite plays? Because I was at Skyview's practice earlier in the week, watching the Storm go over this play, over and over again. It is another example of how good teams operate. Coaches see a need. They explain the look to the players and how they should approach the play. Then the players execute. I've been fortunate to be at enough Camas practices over the years to see similar coaching skills. Fun to see it happen from the practice field to the stadium.
Late in the third quarter, Liam Fitzgerald appeared to be doomed on a pass play. The Skyview pass rush was coming after him again. But he got away from one tackle. Then another. A spin move here. A brush-away there. He turned an 8-yard loss into an 8-yard gain and a first down. The drive did not lead to any points, but it was a great escape.
Defensive gems:
As most of my readers know, I chart every offensive play. I also jot down the numbers of defensive players who make big plays (when I see them). I did not have any help with me in the press box Saturday night, so I'm sure I missed some. But here are a number of defensive players I noted:
For Camas, Michael Matthews had several stuffs and a tackle-for-loss. There was Jarin Webb, too. Manase Nguamo had at least three tackles-for-loss. Luke Grindy made something happen, a big stick, and a sack. Marshall McIvor had a sack. Blake Roy had that big sack that led to a Skyview punt instead of field goal attempt. Sedric Ruiter with a pass-defend. Sean Ramage had a pass-defend and an interception. Colletto had the pick-six. And McNatt had two interceptions, one leading to a Camas touchdown, the other sealing the victory after Camas took the 29-22 lead.
For Skyview, Jayden Chatman had two sacks (and might have been in there for another) including one for a safety. Benjamin Couch had a sack and a tackle-for-loss. Blake Ingram had a sack and forced fumble. Plus a couple more tackles-for-loss. Dyvon Green had a TFL and a pass-defend. Jimmy Rowe had big plays. So did Josh Seynaeve and Olive Emmy.
Rain? What rain?
Rain was in the forecast. Big time. But then it wasn't. Still, the teams practiced in the rain during the week. And they all knew that the forecast called for a bunch of rain for the game. Perhaps they psyched themselves out?
Because if it rained at all Saturday, it was early in the day. I got to the stadium around 2 p.m. for the 4 p.m. kickoff. It never rained while I was there.
Yet for some reason, the football appeared to be slippery. Four interceptions. Five lost fumbles. Plus several other drops and muffed punts.
I told some Camas officials before the game that I was hoping for Biblical rain. I love watching weather games. I love chaos on the football field. (Hey, I'm a writer. I want drama!) Well, I got chaos, and stayed dry. That worked out great for me!
…
Congrats to Camas for advancing to the state quarterfinals. Congrats to Skyview for giving Clark County fans a game to remember.