Day After Report: Battle Ground 35, Kentlake 16
A day later, Tiger fans are still celebrating a historic victory. This was the first playoff victory of any kind in the program's history. And it's the first berth to the state tournament since 1979. (Back then, teams did not have to win a Week 10 playoff to make it to state.)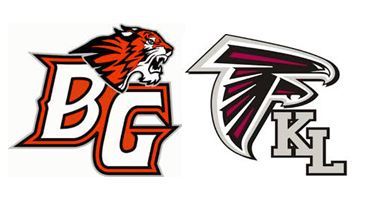 BATTLE GROUND 35, KENTLAKE 16
Not only was it a win, but it was a start-to-finish, no-doubt-about-it win. The Tigers scored first. The Tigers scored last. The Tigers were never really threatened.
Traveling with the Tigers:
It is a 148-mile drive from Battle Ground High School to French Field in Kent. That did not keep a large number of fans from making the trip to witness Battle Ground history.
The players noticed.
"It was crazy. We had way more people than them," Battle Ground senior Riley Sprecher said, noting that there were more Battle Ground supporters than fans on the home side of the stadium.
"What a crowd," Battle Ground coach Larry Peck said. "We packed the vistors' side. That's incredible. That's huge to our kids."
It is a 365-mile drive from Battle Ground High School to Spokane, where the Tigers will face Gonzaga Prep in the first round of the state playoffs next weekend.
So, yeah, the Tigers will understand if a fewer number of fans make THAT trip. But they also know they will have a community supporting them, whether in person, or on Twitter, or wherever else they can follow the game.
This is all possible because Battle Ground won its first playoff game in program history.
"That's huge for our community," Peck said. "Just to see the team get to the next level."
History:
A Day After Report shout-out to one of Battle Ground's assistant coaches, someone all high school football fans in Southwest Washington should appreciate. Bryan Levesque is now a member of Battle Ground's staff, but we all know him as the creator of gshlfootball.com. We all loved that site. Actually, we still love that site.
Sure, it no longer is "active." Life and all that stuff associated with life left Bryan without the time needed to maintain 97 percent of that site. However, the site still updates scores and keeps an incredible archive of all the programs that play 4A, 3A, and 2A football in Southwest Washington.
Which makes it easy for me to look up things like … when was the last time Battle Ground won a playoff game, or when was the last time Battle Ground made the state playoffs.
After writing my game story last night, someone commented on The Columbian's site that Battle Ground has made the playoffs since 1979. Yes, that's true. But not the state playoffs. Bryan's site has all the results.
(Plus, as back-up, the WIAA lists all teams that have made it to the state playoffs. Battle Ground is only listed as a state football participant in 1979. Hey, just like Bryan said!)
Again, thanks Bryan for all your research when you did this, and for updating the scores weekly. It's not just for Battle Ground football. It's for all the teams.
Well done.
A big injury for one, and a big comeback from injury for another:
Battle Ground got some bad news Saturday when Bailey Buckner left the game in the first quarter with an injury. No official word on the severity of the injury.
Buckner is one of the three running backs the Tigers use in a rotation, plus he is a stud on defense.
Bailey, I know you're hurting right now, but just remember, you were a huge part of this history-making football team from Battle Ground.
Another player who lost time to injury this season made a huge play in Saturday's game.
Wide receiver/special teamer Logan Hertner was bummed in the middle of the season when he missed some time. But he did the smart thing and took an extra week off, just to make sure, before making his return to the field. He played some in Week 9, then looked 100 percent in Week 10 when he returned a kickoff 64 yards.
This wasn't just any kickoff. Kentlake had just scored to make it 21-9 with 43 seconds left in the first half. It was one of the only times that Kentlake had any momentum.
Then Hertner, and the blockers in front him, stole that momentum right back for the Tigers.
Hertner brought the ball all the way to the Kentlake 23-yard line. Instead of having to go 65 or 70 yards in the final seconds of the half, the Tigers were already in scoring range. Then Gunner Talkington took off for a 23-yard touchdown run. That made it 28-9 at the half.
Driving:
Battle Ground, over the past few years, has become a fast-attack offense, a team capable of going long distances in a short time.
Of course, sometimes teams need to go long distances and take their time doing it. Well, the Tigers have been proving they can do that this year, too.
It might not have been needed in the first drive of the game Saturday, but it sure set the tone right away. The Tigers might as well have said to the Kentlake Falcons: "We're gonna be here all night, boys. Deal with it."
A 4-yard pass. A 1-yard run. A 6-yard pass. First down.
A 4-yard run. And 12-yard pass. First down.
A 7-yard run. A 6-yard pass. First down.
A 14-yard run. First down.
A run for a loss of a yard. A 5-yard pass. A 3-yard pass. A 4-yard run on fourth down. First down.
A 3-yard run. A 6-yard run. A 3-yard run. First down.
Incomplete pass. A 2-yard run. A 1-yard run. Touchdown.
That was an 18-play drive that took almost seven minutes off the clock.
In the third quarter, Battle Ground only got one possession. (Kentlake had an 11-play drive that resulted in no points, then Battle Ground got the ball.)
And while the Tigers did not score, they made their point. They ended up taking close to four minutes off the clock with an 11-play drive. Up 28-9 at the time, they did not need to score. But picking up a few first downs was a big deal.
That's playoff football.
(And for the Battle Ground fans, I'll say that again, because, well, because it hasn't been associated with their program for so long. That's playoff football.)
So good, even when the ball doesn't come his way:
Max Randle is one of the best players in the region. Simple as that. Offense. Defense. He shines.
One of my favorite plays from Saturday was a pass play that went to someone else, but Randle still made an impact.
(Before going any further, please note that I'm going off of memory here. No video. So if I misidentified another Tiger for Randle, my apologies. If it's not Randle, then this was still my favorite play of the night because it was such a great thing to do for the team.)
OK, here's what went down:
Riley Sprecher caught one pass for a 17-yard gain. He made a great play to break one tackle in what could have been a loss of a yard. Then took off for the big gain.
But before all that, the play was designed to be a fake from Gunner Talkington, then a deep ball to Max Randle. However, Randle, who was running what appeared to be a corner route 25, 30 yards downfield, was covered.
Talkington then found Sprecher in the flat.
After Sprecher broke one tackle, he took off, and out of the corner of my eye came a great block by … Max Randle. The dude was way downfield. The ball was thrown a mile behind him. He could have easily stayed away from the play. Instead, he showed that a play is not over until the whistle is blown.
The Tigers are in the playoffs because this is how they play … for each other.