Day After Report: Columbia River 60, Capital 55
Columbia River scored nine touchdowns Friday … and needed every single one of them to survive and advance in the 3A football playoffs.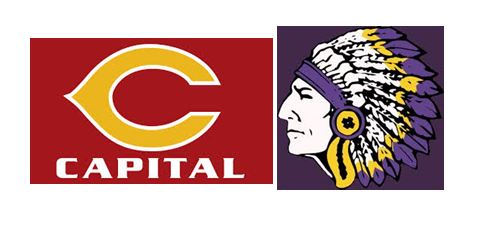 COLUMBIA RIVER 60, CAPITAL 55
Garrett McKee threw for 491 yards and six touchdowns, Alex McGarry had 309 yards receiving and four TDs, and Travon Santiago rushed for 120 yards and two TDs.
Next: Columbia River will host Juanita at Kiggins Bowl in Week 11, the first round of the Class 3A state playoffs.
He looked like he was being cocky, but he really wasn't. Promise:
Alex McGarry's fourth touchdown reception of the game was of the one-on-one, jump-ball variety. Quarterback Garrett McKee saw the matchup and threw the ball up high, knowing his guy would go get it. Sure enough, McGarry jumped over the Capital defender, caught the ball, and then the defender fell down. McGarry, for a split second, just stood there, over the player on the ground.
Then he walked into the end zone the last couple of yards into the end zone.
From afar, it looked like McGarry was being a little cocky on the play.
Even his quarterback thought it looked weird. But after the play, they talked, and there was a perfectly good explanation.
"I thought I was already in the end zone," McGarry said.
He thought the play was over as soon as he caught the ball. Then he realized he had a few more yards.
McKee knew McGarry was not trying to rub it in toward his opponent.
"You're not that type of guy," McKee said.
18 scoring drives:
The two teams combined for 25 possessions, 18 ending up with a score. Two of those non-scoring drives were the one-play variety to end each half. That means 18 of 23 "true" possessions ended up with points.
Columbia River's Isaiah James and Blake Duhamel had second-half interceptions. James' pick led to River's third TD of the third quarter to take a 54-34 lead. Duhamel's pick came with seconds left in the game, preserving a 60-55 lead.
Capital "lost" one possession when the Cougars fumbled a kickoff. So the Cougars finished 9 of 12 (including an interception on the last play of the first half on a long bomb.) Before that one-play drive to end the half, the Cougars were 6 for 6 in the first half.
Columbia River went 5 for 6 in the first half, then the Chieftains went 4 for 7 in the second half. And the last "non-scoring" possession was one a team will take any day: Victory formation.
Scratch that plan:
I figured I was going to write a lot about the third quarter for my game story. At one point, Columbia River's offense had run 30 plays from scrimmage while Capital's offense had run four plays. That's how a 34-34 game turned into a 54-34 game for River.
The Chieftains opened the second half with a 15-play TD drive. Capital, after scoring on its first six "true" possessions of the game, lost a fumble on the ensuing kickoff, keeping that offense off the field.
River then scored after a six-play drive. That was 21 consecutive plays from scrimmage for the Chieftains.
Capital then had four plays, but turned the ball over on the fourth play.
River then scored after a nine-play drive to make it 54-34.
That was a stretch of 30 plays to four in a game dominated by offense. Figured that would have led my story.
Then Capital got hot again, scored the next three touchdowns, and took a one-point lead.
I love my job!
That kind of night:
River's first first down of the game came on a third-down play that seemed destined for disaster. The ball was snapped before McKee expected the ball, and the ball sailed past McKee. He went back, retrieved it, then threw a pass to Blake Duhamel for a first down.
Later in the half, Capital picked up a first down on a play that the coaches did not want to run. Something about a wrong lineup. Capital coaches wanted to take a timeout. Too late. The ball was snapped. Whatever the coaches did not like about the set-up, it did not matter. A 10-yard play and a first down.
This was a game with 115 points and 1,230 yards. Even when plays looked doomed, they weren't.
"You telling me? You telling me? I'm still in shock," Travon Santiago said after some reporter pointed at the scoreboard.
McGarry and McKee, McKee and McGarry … and Jamison, too:
Alex McGarry's first reception of the night was an 8-yard touchdown from Garrett McKee. He'd end with two more touchdown receptions — in the first quarter.
There was a 68-yard bomb. Then a 48-yard bomb.
He was not done, of course. You know, by now, he caught a fourth touchdown pass later in the game.
Oh, and he also had a 50-yard reception and a 48-yard reception.
All together, it was 12 catches for 309 yards.
"I don't even know what to say," McGarry said. "Surreal, honestly. I was just in the right place at the right time. My boy 'G' dropped a lot of dimes for me."
Garrett McKee also had a few dimes for Koben Jamison, who caught five passes for 136 yards.
Jamison's best catch came near the end of the first half. He stuck one hand out to stop a bullet of a pass, then hauled the ball into his body, and took off for a 72-yard gain. Two plays later, he caught the 8-yard TD pass to tie the game at 34-all at the half.
Tough calls against Capital:
Not going to judge judgment calls for officials. Pass interference calls are tough to make.
The Cougars, though, were feeling like they could do nothing right in the secondary.
Three times in the first half, Columbia River converted on third-down plays due to defensive pass interference penalties.
The Capital coaches were livid.
(By the way, on the only drive that Columbia River did not score in the first half, the Chieftains were called for holding and offensive pass interference.)
It did not get better in the second half for Capital.
On River's first drive of the second half, the Cougars were called for back-to-back PIs, including one on fourth down.
(One was definitely the right call. The other??? I guess I did judge there a little. It's my Day After Report. I can do that!)
Later, River was facing a fourth-and-1 and got the Cougars to jump. Offside. First down. Capital coaches did not think their players got in the neutral zone, but they had a bad angle. By that time, it was just frustration. Because that was the fifth third- or fourth-down that River converted due to penalty.
Every second counts:
Pretty sure the Capital coaches are kicking themselves for calling a timeout with 38 seconds left in the first half. (Forgive me and forget this if Columbia River called this timeout. We were told it was Capital.)
Anyway, the clock was running, and Capital was facing a third down on the River 3-yard line. The Cougars could have waited 15, 20 seconds to call that timeout. What were they saving 38 seconds for, when they only had two more plays to run?
Next play was an incomplete pass. Clock stopped. Then a Capital field goal with 30 seconds left in the half.
Now a lot of football fans would say this is fine. It's just 30 seconds.
Well, that's because we watch a lot of NFL games. And with the exception of the Giants-Saints game last week, most teams don't even try to score from 80 yards out with 30 seconds left in the half.
This, however, was a high school game.
This, however, was a high school game that had already featured 61 points in the first half.
This, however, was a high school game that could not depend on a defensive stop from anywhere on the field.
Sure enough, River got 72 yards on its first play that took 13 seconds. Then scored on an 8-yard TD pass from McKee to Jamison, with 5 seconds left in the half.
Make that 68 first-half points and a tie game.
Pretty sure, the Cougars should have taken that timeout at about the 20-second mark.
Run two plays from there, and perhaps Columbia River does not try to score with 12 seconds left. Or at least, the clock runs out when the tackle is made 72 yards later.
Those of you who have been following my Day After Reports for years understand I am a very good clock manager. But as I always say, it doesn't count if one is just observing a day after the fact. Fortunately for me, I had three witnesses in the press box as I was pulling out my hair (I don't have much, I know), wondering why, why was there a timeout called at 38 seconds. Why? I said out loud, "It's as if they want to give River time to score."
(Again, if this was a Columbia River timeout, then good for the Chieftains. They knew 30 seconds was enough to score. However, if this was, as we were told, a Capital timeout … Why?)