Day After Report: Battle Ground 31, Union 0
Was it a surprise that Battle Ground won? No. Absolutely not. Was it a surprise the Tigers shut out Union? Yes. Absolutely. While Union might not be the Union we have grown accustomed to in recent years, this is still a signature win for the Tigers. They pretty much had to win to give themselves a shot at the playoffs. And they did it. Not only that, they did it convincingly.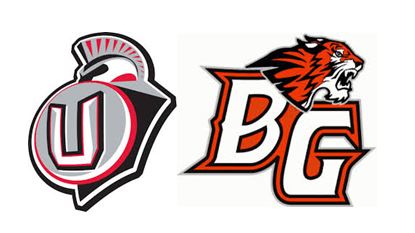 BATTLE GROUND 31, UNION 0
Battle Ground finishes 4A GSHL play at 4-2 and could finish in a three-way tie for second place. If that happens, a tiebreaker will determine the Nos. 2 and 3 seeds to the state qualifying playoffs.
Rooting for Camas?
OK, Camas fans, you will have to take my word for it, but this is really a compliment: No one outside of Camas roots for your football team.
This happens to any sports team that dominates over a period of years. Pro. College. Even high school. Those who are fans of Camas love the fact that the Papermakers have not lost a league game in years. Those who are not fans of Camas are hoping to see that streak end one day. Just the nature of sports. And again, Camas, this is a compliment. They wouldn't want you to lose if, you know, you lost once in a while.
So, with that said, it was a strange experience Friday night in Battle Ground because while the Tigers were taking care of business against Union, players, coaches, and fans who understood the significance of the Camas-Mountain View game were rooting for Camas.
Had Mountain View beat Camas, that would have set up the possibility of Mountain View taking the top seed and Camas getting No. 2, both as one-loss teams in league play. Then Battle Ground and Skyview would have been poised to tie for third place. Well, because Skyview beat Battle Ground, that would have left the Tigers out of the playoffs.
With a Camas victory, though, that set up the possibility of a three-way tie for second place with Battle Ground, Skyview, and Mountain View. That scenario gives Battle Ground a chance to make the playoffs through the tiebreaker.
Not everyone at District Stadium knew this, though. When Mountain View led Camas 10-7 and that score was announced, some Tiger fans cheered. It was just out of habit, you see. The big dog, Camas, was losing, and that's supposed to be a good thing in the sports world. But in this case, the Tigers actually needed the big dog to win at least one more time.
In the end, it worked out for Camas fans and Battle Ground fans.
Defense, defense, and more defense:
The Battle Ground offense has received a lot of attention the past few years. The offense has earned that recognition, too.
This year, though, the Tigers put an emphasis on improving their defense. It shows.
Friday was the third shutout of the season. And let's face it, this one was the biggest of the three shutouts. This was Union, a program that had reached the playoffs in each of the past seven seasons.
If you read my game story, you know about the nine sacks and the four interceptions. The Tigers also were consistent, giving up 92 yards in the first half and 105 yards in the second half. There was no let-down.
And even if the game was already secured, one of the coolest defensive series I've witnessed in a while came from a Battle Ground defense. (I never thought I'd write that sentence before this season.) Union had got to the Battle Ground 15-yard line, trying to avoid the shutout.Then Battle Ground looked like it has received orders from Maximus from the 2000 movie "Gladiator."
"On my signal, unleash hell."
Sack for minus-6 yards.
Sack for minus-4 yards.
Incomplete pass because the quarterback was hit while throwing.
Sack for minus-7 yards.
Loss of downs. Battle Ground ball.
"That's just a display of how we prepared, how we worked all week," said Landon Hall, who was in on three sacks and also had an interception. "We came in not wanting to give up any points all game. Nine sacks is a result of working all week long and all night long. Four interceptions, too. That's pretty good."
Nifty 50:
Battle Ground quarterback Gunner Talkington threw two touchdown passes Friday, giving him 50 in his career.
By the way, he is a junior.
A strong team in a strong league celebrates a strong season:
A year ago, the Class 4A Greater St. Helens League went perfect in the state qualifying round. The three teams that made the postseason — Camas, Union, and Skyview — all won in Week 10 to advance to the state playoffs.
A year ago, Battle Ground had a good team, too, yet finished fifth in the league.
Now, the Tigers have a shot to make the playoffs. They will be rooting for some surprising results in Week 9 that will get them in the playoffs without a tiebreaker. But no matter what happens in Week 9, the Tigers know they will at least have a chance in a tiebreaker. (Battle Ground plays a non-league game in Week 9 so that game against Prairie is meaningless in the playoff discussion.)
"It's a great accomplishment," defensive lineman Travis Stewart said. "We put in all the time and effort. To be 4-2 in a really tough league like this one is a great feeling. It shows how hard we worked."
"It's amazing," said linebacker Bailey Buckner. "We put in countless hours of work. We deserved this."
Battle Ground's defense outscores Union:
It turns out, the great Battle Ground offense could have taken the week off, and the Tigers still could have won.
Bailey Buckner's interception and 41-yard return for a touchdown made it 21-0 early in the second quarter.
"They lined up in trips. We studied that," Buckner said. "Their tendency was to throw the bubble screen. I knew it. I just jumped the route."
Next:
Battle Ground takes on Prairie in a non-league rivalry game.
Union will try to play spoiler against Skyview next week.