Making a Racket: Boys tennis team champs crowned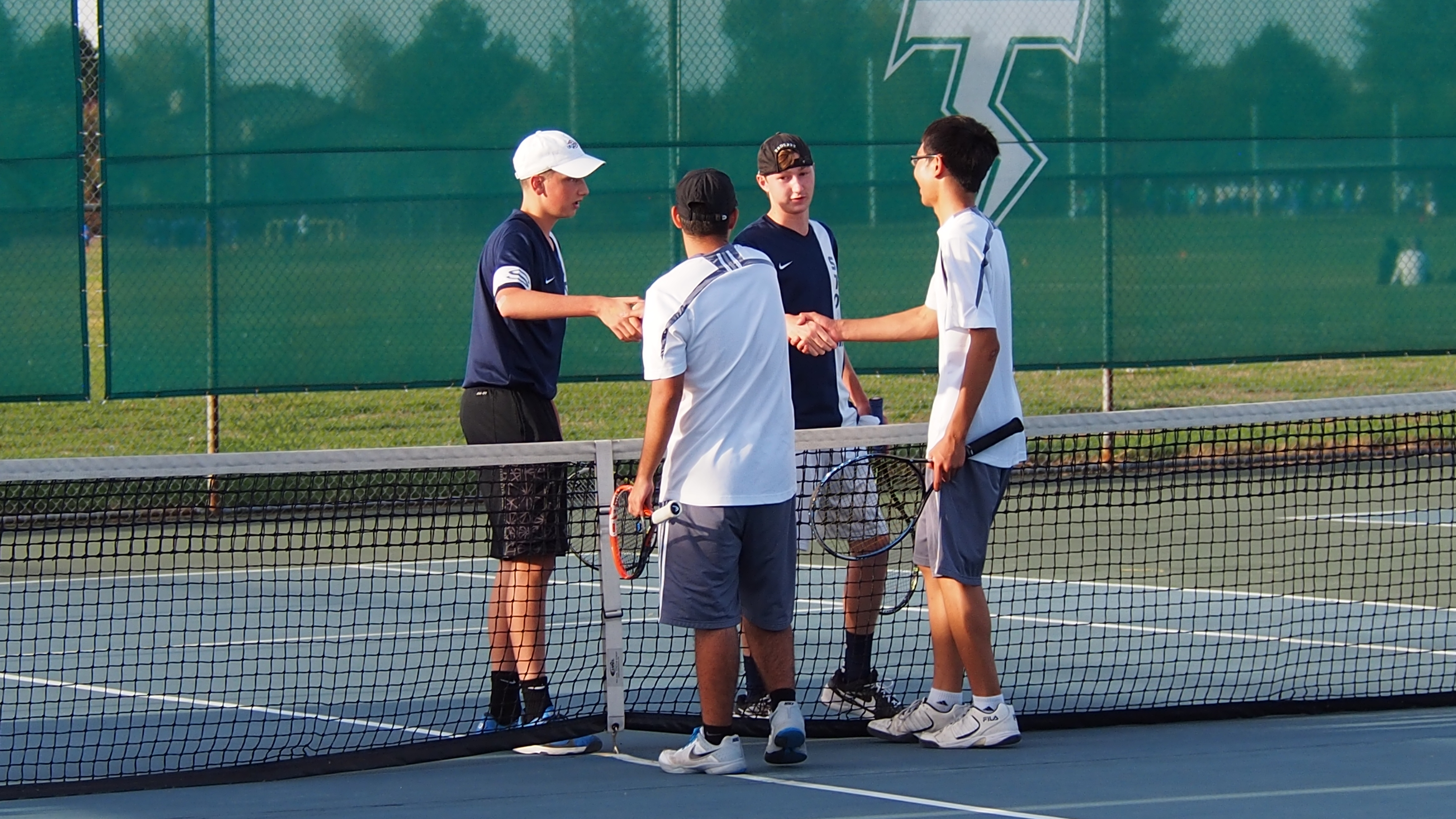 All that was decided on Wednesday in the 4A GSHL was which teams were certain to share the league title, and which team can add its name to the pie.
Skyview defeated Mountain View with a 7-6 sets tiebreaker, and Union beat Camas also with a tiebreaker to create a tie atop the standings with Mountain View and Union both 10-2. They split their matches this season. Skyview's win made it 9-2 with a match against Battle Ground to go on Thursday. A Skyview win over Battle Ground will create a three-way tie for first with all the tied teams having split during the season.
As for Skyview's win, the victory via math came with Christian Bickmore and Tyler Fung taking a set from Justin Ye and Algrid Zalpys despite losing in three sets. Ye and Zalpys won the third set 6-2 to take the match. Skyview's Alex Osler and Chris Sheppert won at No. 2 doubles. As dark was descending, the final two matches on court were the No. 3s, and Skyview won both. Sam Sacco and Enrique Alquicera won the doubles, and Quinn Handley took the final match 7-6, 7-5. Handley winning the last last set gave Skyview the team match.
In addition to Ye and Zalpys, Mountain View also had wins from Colton Reed at No. 1 singles and Josh Kim at No. 2 singles, both straight sets.
All of Wednesday match results can be found in the high school scoreboard for Oct. 15.
—-
Wednesday also marked the final regular-season match for Columbia River coach Jim Chapman, who is retiring. He added a 3A GSHL league title to his list, even before the Chieftains played Prairie on Wednesday. There's more about that final match in the prep highlights.
—-
The 2A GSHL team title went to R.A. Long on Tuesday as the Lumberjacks knocked off defending team champ Hudson's Bay 5-1. The Eagles needed to win Tuesday in order to set-up a winner-take-all match on Wednesday at Bay, but it wasn't to be.
—-
District Tournament information …
4A GSHL: The district tournament is Oct. 29-30 at Club Green Meadows, 8 a.m. start both days. There is no automatic state berth from this tournament. The top two in singles and doubles will play at noon on Oct. 31 at Club Green Meadows in a bi-district event with the KingCo Conference for state berths. The No. 1s from the GSHL will play the No. 3s from the KingCo, and the Nos. 2 will also face off in a one-match-to-state event. Simple as that. Winners play at state in May, losers are done. The KingCo No. 1s are protected. Issaquah's Jackson Suh is the KingCo and 4A state defending champion. State runner-up last year was Redmond's Adam Guo, who is a junior this year. Last year's 4A doubles runner-ups were from Eastlake. The state 4A Tournament is May 27-28 at Richland.
3A GSHL: The district is Oct. 23-24 at Club Green Meadows. Columbia River, Prairie and Fort Vancouver will each have three entries in singles and doubles with the top three moving on to a bi-district tournament Oct. 30-31 at Sprinker Rec Center in Tacoma.  The top five placers at bi-district earn spots to state, May 27-28 at Kennewick.
2A GSHL: Sub-district is Friday and Saturday (as in Oct. 16-17) at R.A. Long in Longview. The top three placers move on to the district tournament on Oct. 23-24 at Olympia. The top three from bi-district earn spots to state, May 27-28 at Seattle.
—-
Thanks again for reading these tennis blog posts. See ya in the spring.