Day After Report: Camas 41, Skyview 10
It might have been a 31-point victory, but it was a come-from-behind victory, too, for the Papermakers. Skyview led 10-3 after the first quarter. Then … then … well, then Camas happened.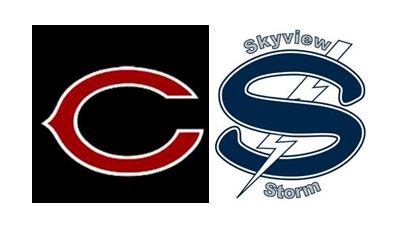 CAMAS 41, SKYVIEW 10
Jordan Del Moral rushed for 191 yards and four touchdowns, Liam Fitzgerald threw for 266 yards and a score, and the Camas defense crushed Skyview's offense.
The good hands team:
Just about every week, I go on Seattle radio late Friday nights to talk about Southwest Washington football. Last night, I said something like the Camas Papermakers have about 17 guys who can catch the ball, move the chains, score at will. Sorry if I offended any Papermakers. I know it's probably closer to 20, 25.
But in this Day After Report, I want to give a shout-out to a couple familiar names who had big games, even if they did not score Friday night.
Blake Roy has got to be one of the best targets in the area. Listed at 6-2, but he looks 6-6 the way he stretches for any high pass. Big No. 83 always seems to get open.
Against Skyview, Roy caught seven passes for 92 yards. His first catch went for 18 yards and a first down. His second catch went for 18 yards on a second-and-forever play, setting up a chip-shot field goal. His third catch went for 12 yards and a first down. Then he had a 16-yard catch for another first down on the drive that ended up with Camas scoring with 5 seconds left in the first half.
These aren't just catches. They are drive-changing catches.
In the second half, after a penalty made it first-and-22 for Camas, Roy caught back-to-back passes. You wanna guess for how many yards? Yep, 22, and a first down.
Jared Bentley also had seven receptions Friday. He ended up with 84 yards. But many of us wondered if he would catch more than one pass. His first catch of the day ended up going for just three yards because of a penalty beyond the line of scrimmage. Worse for Bentley, he came up limping after the play and had to leave the game.
He returned. (Well, you knew that already, if you've been reading.)
"Jared got hurt, and he came back to play," Del Moral said. "Such great leadership."
Bentley caught four passes for 69 yards on the drive that gave Camas the lead for good. He had a 16-yard grab for a first down when he had to jump high to retrieve the ball. He was hit by a defender, and his back bent a bit in what looked to be a painful play. But he caught it.
It was close for a time, but was it?
Skyview had the lead after a quarter. Then, even after Camas ruled the second quarter, the Storm were still in it, down 10 at the break and getting the ball to start the second half.
That's what I was thinking … until I compiled all the numbers from the first half.
It was close on the scoreboard, but not on the stat sheet. In fact, judging from those numbers, Skyview would have needed a monumental shift in order to win this one. Sure, it was possible, but Camas, by the numbers, was in total control.
At the half, Camas had 51 plays for 334 yards. Skyview, at the half, had 81 yards on 28 plays.
Skyview scored its 10 points off of two Camas turnovers. A third Camas turnover in the first half did not amount to any points.
As you can see, things did not change in the second half. Camas ended up with 570 yards. Skyview finished with 118, not getting past the century mark in yards until the final drive of the game.
Good start for Skyview:
The Storm defense slowed Camas down in the first quarter, allowing a field goal on the opening drive. Then Camas ended up punting after its second drive. Next, there was an Skyview interception by defensive lineman Jayden Chatman after other defenders pressured Fitzgerald into a difficult pass. After all that, Skyview had a 10-3 lead.
"I kind of enjoyed it," Del Moral acknowledged.
After all, being in close games can only help Camas in the long run.
"It's fun to play in games like that," he said.
"We came out flat. Turnovers hit us hard. But our team faced adversity and really stepped up."
Camas defensive lineman Manase Nguamo said that first quarter got into the team's head a little bit.
"That's when we stepped up as a team," he said.
"We finished it strong toward the end."
Papermaker Power:
Over the years, the Camas offense had received a lot of attention for its passing and for its speed.
Huddles? Huddles? We don't need no stinkin' huddles!
And with great quarterback play for such a long stretch by several signal callers through the years, well, it's easy to say Camas is a passing team.
Actually, the Papermakers often use a balanced approach.
Fitzgerald had 227 of his 266 passing yards in the first half. Del Moral then had 133 of his 191 rushing yards in the second half.
"It's dangerous," Del Moral said of the offense. "It's a two-pointed sword. We just have a great team. I'm happy we have Liam as our quarterback, and we have some great receivers. The offensive line, they're something else. They're a special group."
Next:
It's pretty clear that Camas is the class of the 4A GSHL once again this season. Still, that does not guarantee anything. And this year, there are more teams with the potential to become playoff teams. The Papermakers host Battle Ground next week. The Tigers will bring an offense that has scored 111 points the past two weeks.
Skyview does not get a break in the schedule, either. The Storm will travel to McKenzie Stadium to take on Mountain View in Week 6.