Making a Racket: Boys tennis first look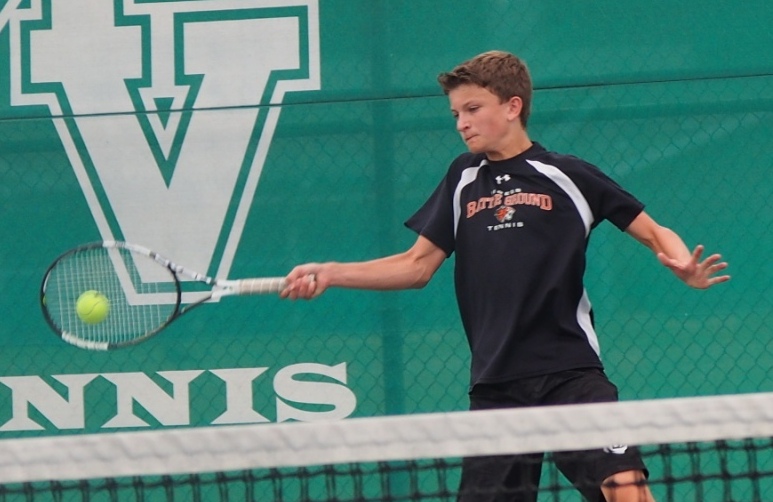 For those new to the high school tennis scene, this is a weekly collection of news/notes plus photos from some of the matches I was able to attend. As weather permits, more will be written and photo'ed over the coming weeks and photos here in the high school blog on Mondays (updated as necessary). So without further ado …
—-
The Hudson's Bay Invitational was a fine showcase that got together six area tennis teams over the weekend.
For individual sports like tennis, golf, wrestling, etc., getting together as much of Clark County as possible for one big event is a fine way of seeing how the competition stacks up in the area.
The Bay Invite used a format where No. 1s played No. 1s, No. 2s played No. 2s and No. 3s played No. 3s, and for a sport like tennis where players abilities can vary greatly, this is a fine format.
The singles champs were: Andrew Kabacy of Skyview (No. 1), Nathan Crary of Columbia River (No. 2), and Nick Neathamer of Columbia River (No. 3).
Doubles champs were: Alex Osler and Christian Bickmore of Skyview (No. 1), Sam Sacco and Alex Fung of Skyview (No. 2), and Cody Thompson and Kevin Barth of Skyview (No. 3).
Skyview won the team title with Columbia River second and Prairie third.
—-
Any Greater St. Helens League coach will tell you there is a lot of young tennis talent coming up for the boys.
Just this past week, Union sophomore Alex Calpagiu defeated Battle Ground sophomore Gunnar Harlan 6-4, 6-1 in a dual match won by Union 4-2. Calpagiu has a ranking of 66 in the 16s age group of the United States Tennis Association Pacific Northwest Section, while Harlan is ranked 63 in 16s. (Rankings are based on USTA tournament results, not high school results.)
In the same dual match, Battle Ground sophomore Darian Manalo won 6-0, 6-0 for his second win of the week. He also won a tough three-setter against Mountain View.
And over at Camas, the Papermakers have freshman Spencer Kang. He is ranked 22nd in USTA PNW 14s and debuted with a win over Prairie in his first varsity match. Kang lost to Skyview's Kabacy, a sophomore, 7-5, 6-1. Kabacy was a state qualifier last season and district runner-up.
—-
Mountain View has seen success in the early part of the season, starting 4A GSHL play 2-0 and placing second in the Thomas Jefferson tournament. Defending 4A district singles champ Colton Reed was third in singles at the TJ event.
The Thunder Invitational this year will feature Kentridge, Todd Beamer and Olympia playing Mountain View on the Club Green Meadows tennis courts.
—-
Club Green Meadows will also be the site for the 4A GSHL district tournament, a change from Vancouver Tennis Center. A recent agreement with District 2 will give the 4A GSHL and KingCo three spots to state. Without the agreement, only the 4A GSHL district champ would have gone to state. The bi-district event will also be played a Club Green Meadows.
—-
One alumni note for the week, University of Portland's Kent Andreasen (Skyview grad) started his senior season over the weekend at the Rice Invitational in Houston. He went 1-2 in the "D Singles" draw, and 2-2 in the "A Doubles" draw. (Click here for the Pilots report and results)