Day After Report: Skyview 30, Battle Ground 14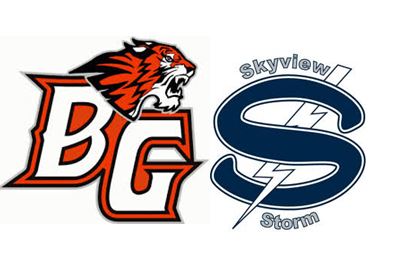 One of the Big Three did go down to defeat Friday night, but the Skyview Storm made sure it was not them. Oh, this was close. Closer than the final score. But once again, Skyview found a way.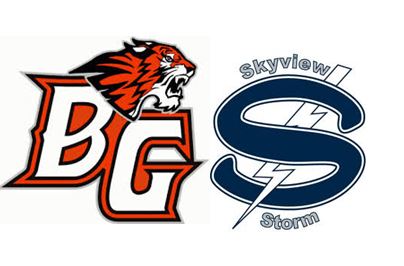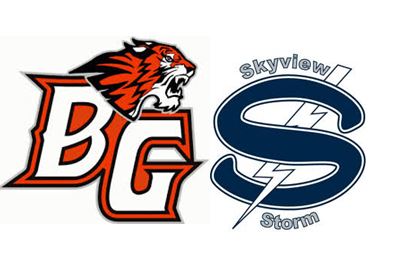 SKYVIEW 30, BATTLE GROUND 14
Battle Ground led 7-0, then 14-7. The game was tied at the half. Then Skyview simply took over. All Storm. All second half.
Numbers tell this story:
The Skyview defense gave up 231 yards in the first half.
The Skyview defense gave up 47 yards in the second half.
The Skyview offense gained 185 yards in the first half.
The Skyview offense gained 217 yards in the second half.
Here are a couple more big numbers: Blake Ingram had 38 carries for 153 yards and 3 TDs for Skyview. Thirty-eight? Yes, 38.
Friendship, sportsmanship:
It's no secret Blake Ingram used to be a Battle Ground student. But he moved to Skyview a few years back. He does not regret a thing. He told me he loves it at Skyview. But he does have a lot of friends at Battle Ground.
One of his best friends is Taylor Stewart, a linebacker for Battle Ground. Stewart got Ingram with a big hit a few times Friday night. No hard feelings. Just hard-hitting football.
After the game, the two shared a moment between friends.
It was great to see.
Skyview still going strong:
The Storm finished third in the 4A GSHL the past two years. They would have preferred first or second, of course.
And now, there was talk before this game that perhaps Battle Ground had passed them by. Nope.
Skyview has not lost to the Tigers since 2004.
"Skyview is family," Ingram said. "We go off of family, pride. There's always going to be a legacy at Skyview."
Defensive lineman Jayden Chatman said this win is more than just getting to 1-0 in league play.
"Our confidence is way bigger now," he said.
Storm can throw, too:
The Storm might not throw as often as Battle Ground, but Skyview quarterback Brody Barnum can get the job done. He threw for 225 yards and a touchdown.
Jeremiah Wright caught four passes for 99 yards, including the 47-yard TD to ice the game in the fourth quarter.
Wright's concentration while hauling in a pass after it was tipped once or twice was key in Skyview's drive that ended up with a field goal. That play went for 25 yards, setting up Braden Hadfield's FG that gave the Storm a 10-point lead early in the fourth quarter.
Next:
Skyview will face Heritage at McKenzie Stadium next week.
Battle Ground hosts Mountain View next week.