Day After Report: Curtis 42, Union 28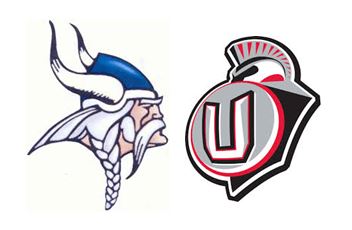 The Curtis Vikings scored early, scored late. The Union Titans rallied. Even took the lead. But then Curtis did Curtis things again. Tough night for the Titans.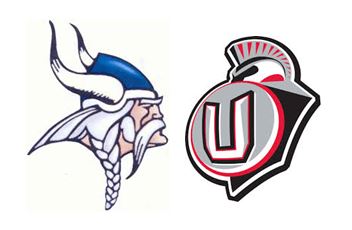 CURTIS 42, UNION 28
Curtis rushes for 391 yards against a Union defense not accustomed to having a night like that.
Now you see me, now you don't:
The Vikings used a lot of deception to get past the Titans. Curtis QB Gage Ferguson looked like he handed the ball off, but no, he still had it, rushing for 10, 13 yards at a time. Or then he did give the ball to a back, and the back would gain a bunch of yards.
Curtis went 80 yards on eight plays to score its first TD of the game. Curtis went 80 yards on one play to go up 14-0.
Just a strange, strange night for the Union defense.
Coach takes the blame:
Union coach Gary McGarvie said the team played like it had practiced this week — not good.
But he said his players should not be blamed for the tough week.
"It's my fault," he said. "I need to coach better."
Some good things, too:
Giving up all those yards, it was hard for the Titans to see much positive after the game. Yet, there were moments.
Curtis, after all, led 14-0 and 21-7, but the Titans would take the lead at 28-27 midway through the fourth quarter. They did that by making some stops on defense, and some big plays on offense.
Jake Kim recovered a fumble that led to the go-ahead touchdown. He also was the first of many Titans to stop a Curtis ball carrier on a fourth-and-goal play in the second quarter, giving the ball back to the Union offense. The Titans then went 97 yards to end the half with a touchdown.
On offense, quarterback Jordan Lawson probably will be self-critical for the first-half interception he threw but he had a solid game, especially considering he was under a lot of pressure from the Curtis pass rush. Lawson threw for 295 yards and two touchdowns.
Then there are receivers Nate Kuratli and Keithen Shepard. The two combined for 16 receptions for 287 yards. (Kuratli caught one 44-yard pass from Shepard on a trick play.)
When a score hurts your chances to win:
OK, this one might be tough for some of you to follow. But when the Vikings scored to go up 42-28, they actually did Union a favor.
Oh, a Union victory at that point probably was never going to happen, but by scoring, the Vikings gave the ball back to the Titans. They did not have to do that.
Curtis, leading 35-28, picked up a first down with 1:25 to play when Union had called its last timeout. The Vikings were on the 1-yard line. They could have taken three kneel-downs and ran out the clock.
Instead, they scored on a 1-yard TD run, making it a two-touchdown game. That's good for a team, right?
Yes … and maybe no.
The Titans drove down into the red zone before turning the ball over with 33 seconds left in the game. What if Union scored on that play with 33 seconds left? Then an onside kick? Then perhaps 30 seconds or so to try to get the tying touchdown.
Don't tell me this is impossible. We've all seen miracle football finishes.
Anyway, just something to think about. I am, after all, a clock-management expert.
Apology?
The Titans might receive an apology from the officials association. Key word: might.
Maybe there was something more to what we saw in the booth, what we heard after the game, but it sure looked like an intentional grounding call that went against Union should not have been called.
Curtis was up 35-28 with less than five minutes to play. Lawson, facing a second-and-long, found pressure, and just before he was sacked, he flung the ball forward over his lineman's head, and the ball hit the turf.
After not seeing an eligible receiver in the area, an official threw a flag.
However, running back Rey Green was helping that lineman in protection. Green was right there. Even made an effort to catch the ball.
The officials did not see him. Call stood. It was a penalty in yardage, plus a loss of down, making it third-and-forever.
Next:
Union, which had trouble with its run defense in this one, will face Mountain View in Week 3. The Thunder rushed for 597 yards on Friday.