Remembering Troy Polamalu in high school
Reports say that my favorite non-Raider in the NFL history is calling it a career. Troy Polamalu of the Steelers is retiring.
I am one of the few members of the media who can say I knew him before he hit the big time. Long before he had long hair. Before he become a sensation at USC. Before 15 other teams passed on him in the NFL draft before the Steelers picked the future Hall of Famer.
So many things stand out, but two in particular:
1) I am convinced he would have made it to Major League Baseball if he had chosen that sport over football. He was that good.
2) He was a better person than athlete. And considering he is one of the best to ever play his position in the NFL, that's saying something.
Polamalu, from California, actually played high school sports at Douglas High School in Winston, Ore. — home of the Wildlife Safari. His relatives, who he lived with, had a house in a tiny town called Tenmile.
At the time, I was a sports writer at the News-Review in Roseburg.
(Full disclosure: I never saw Troy play football in high school. I was the "beat" writer for Roseburg football — and yes, at that paper, we had one reporter for Roseburg football, and another reporter for all the other schools. So I never saw Troy play football for Douglas because I was busy with another team on Friday nights.)
I also was the beat writer for the county's American Legion baseball team — Doc Stewart's — and we covered that team like a minor league team. I was on the road with that squad all summer, getting to know an incredible group of guys, including center fielder Troy Polamalu. Pretty sure all of them went on to play college sports.
Because I got to know Troy so well during the summer between his junior and senior seasons at Douglas, I was asked to write the feature on him for his senior year of football. That's when I learned his incredible story.
He and his mother came up to visit relatives in Oregon one summer. By the end of summer, his mom was ready to go back to California. Troy asked if he could stay in Oregon, telling his mom that he was concerned about getting in trouble in a rough neighborhood back home. His mother said OK, but only until Christmas vacation. She returned that winter, but Troy once again told his mom that he was better off in Oregon. Not too many young people have the wisdom to make such a request. Troy Polamalu did.
(Years later, when he became famous, Sports Illustrated wrote about Polamalu, and SI also noted this in its feature.)
Again, I got to know Troy during that summer when he was playing for Docs, and I covered just about every game that summer. My wife went to a lot of the games, too. (This was small-town entertainment!) And Troy and the rest of the Docs treated my family like their family. So Jenny has always been a "Troy fan," too, even though we are Raider fans.
By the end of that baseball season, I wrote a fake Sports page for some of the team members, making up fun little stories about them, and presenting it to them as if their stories were real news items.
That's why you see this headline: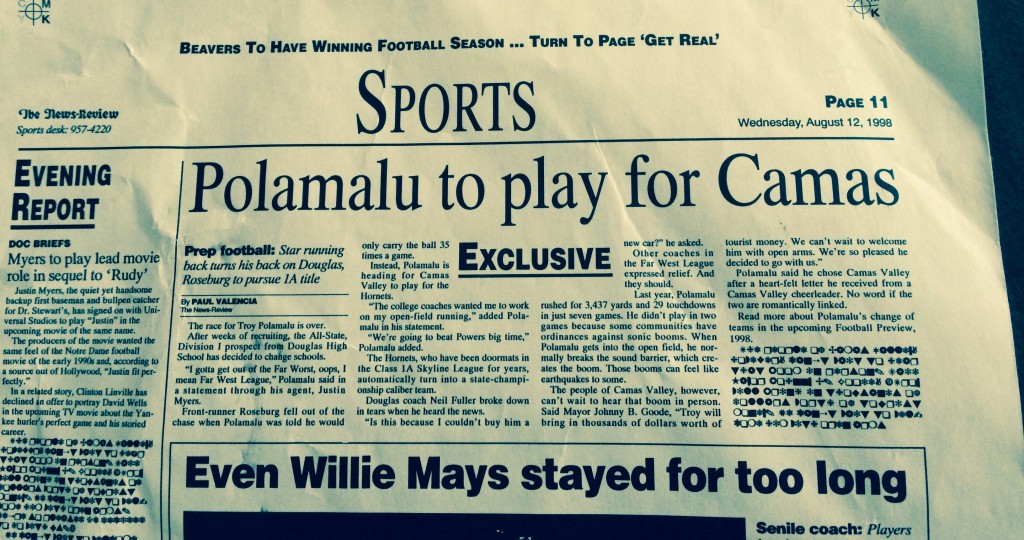 Of course, that is not our Camas, the one in Southwest Washington. This "fake" story was about Camas Valley HS in Oregon. The background: Troy played at Douglas HS, but there were rumors throughout his career that he would "transfer" to Roseburg, the big school in the area. (Can you imagine that back in the 1990s, people worried about high school athletes moving from one program to another, just for sports? Shocking, I know!) So I wrote that he was going in another direction, choosing to move to an even smaller school. The "mayor" of Camas Valley is quoted as saying that Troy will bring in thousands of dollars in tourist money.
So yeah, fun times.
And, by the way, Troy never transferred. (Interestingly, Douglas HS would have two guys make the NFL. Josh Bidwell was a punter in the league from 2000 to 2010.)
Back then, Polamalu was known more for for his talent as a running back. He was great at defense, too, but just more known for his offensive game, all the touchdowns listed in the paper, you know. USC wanted him for defense. Guess that was a good choice.
But I also believe he would have made it in baseball. He could chase down any ball hit into the gaps. And he had a bat, too.
But really, the reason I put these memories on this blog is to say that yes, Troy Polamalu is the real deal.
We often hear about this athlete being a good guy or that athlete being a class act. Unless we know them personally, we really do not know. Well, Jenny and I do know Troy. Been forever since we've talked, but Jenny and I always rooted for him. Not just because we knew him when, but because we knew him to be such a great person, even back then.
It is no surprise to us that Troy Polamalu is getting praise for being great on and off the field. Years ago, we experienced the same Troy.
Congratulations Troy on a great career.