Making a Racket: Girls tennis season underway
What happens when you have two tennis teams with some 60-plus players each, eight courts available and still not enough space? Well, you play street tennis of course.
There was also some rain dances done on Tuesday at Camas as the Papermakers hosted Skyview in a 4A Greater St. Helens League match delayed a day by Monday's downpours. Players not only battled each other but also rain showers that eventually stopped play for a short while.
So welcome to spring tennis … after following the boys relatively dry fall season, it's time for the girls to take the courts and the goal is to provide some extra coverage with this weekly blog as I did in the fall for the boys.
For those new to these postings, I'm one of The Columbian sports copy editor/page designers and tennis fan/nut/freak. I have been here since 2001 and have been playing and following tennis for longer than that. This high school season I decided to give this blog idea a try and, turns out, it was somewhat of a hit in the fall. I try to see as many teams as I can and provide extra words and images from the matches. But I am just one guy on a mission here with small time frames, so don't feel slighted if I don't make it to "your" courts. All I can say is "I'll try my best."
The girls in Southwest Washington did very well at state last season, bring back a host of trophies from the Tri-Cities including some state champions. And many are back for more. This should be a fun season as long as the rain holds off.
—-
Tuesday was the first of many "big" matchups on the local girls tennis schedule: Skyview at Camas.
Skyview senior Sammi Hampton has three Class 4A state titles in her tennis bag and going for a rare four-peat. Oh yeah, and she has yet to lose a match in high school play. More on her as the season progresses for sure.
I asked her if she felt any pressure entering the season. The response was classic Sammi Hampton: "No … but yeah."
Across the net from her on Tuesday in the No. 1 singles match was Camas' Hannah Gianan, who was a state champ herself last season in doubles with Jenn Lewis. (Lewis did not play on Tuesday due to illness.)
Gianan said her approach to this season is to just let it happen. "I want to enjoy the season," she said. "We have lots of returning players and are a very solid team."
The end result of this singles match was Hampton winning 6-1, 6-0.
Oh yeah … and this happened: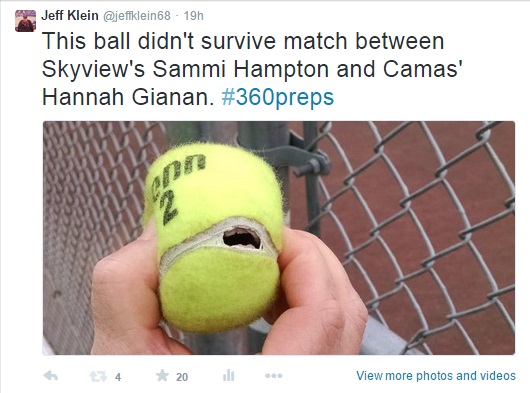 Gianan simply threw the ball over the fence to coach Jonathan Burton saying simply: "It popped." (Photo I tweeted out is of Burton showing me the hole in the now useless tennis ball. Gianan said after the match, she's experienced this before, just not in a high school match.
—-
From the prospectus:
At the beginning of each season we send coaches a preseason prospectus to fill out. We don't have everyone's, but we do have several to go with my own knowledge. So here's a little of what to look forward to on the courts.
Along with the state doubles champs in Gianan-Lewis, Camas also has back Esther Kwon, who placed fifth at 4A state last year in singles.
Heritage's top returner is senior Vickie Shcherbina, and coach Joel Bieker notes it should be another solid year for the Timberwolves program.
Mountain View junior Amila Gogalija, a 3A state doubles qualifier last year, is a key returner for the Thunder as they play 4A this season.
Freshman Andrea Besora is playing No. 1 singles for Battle Ground, and seniors Cassie McBeath and Kira O'Connor make up the top doubles team for the Tigers.
Prairie returns Akari Baba, who placed third at 3A state last year in singles.
Lauren Skelly, a 3A state qualifier, is back for Columbia River in the No. 1 singles position.
Fort Vancouver returns senior Angelina Polina, another 3A state qualifier last season from this area.
Haley Briggs, a 2A state doubles qualifier, is back for Washougal.
And a special shout-out to Castle Rock for being one of the first to send back a prospectus. Senior Mikayla Lafontaine is their top player this season and the Rockets are two-time defending Trico League champs and are looking to build on a 14-0 season last year.
It's never too late to let us know about teams not mentioned. Just email some key players or interesting notes to sports@columbian.com and they will be included. After all, this is the Internet and this entry and be updated very easily (say, unlike a print product).
Plus don't be shy to share (coaches or players … or other interested parties). I'm always looking for story ideas for future blog posts (photos too!). Interesting blog posts can be elevated to print status. Email to either sports@columbian.com or jeff.klein@columbian.com with any tennis tips.
Thanks for reading.