Camas celebrates Signing Day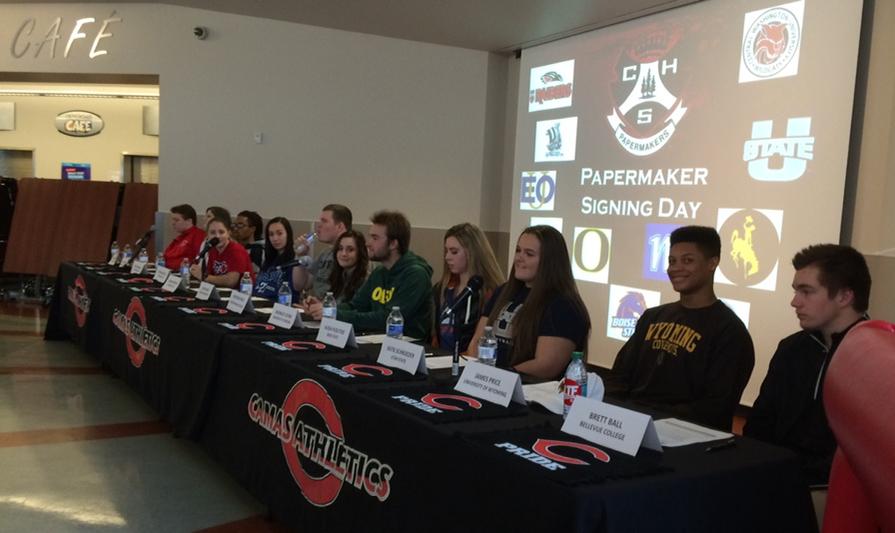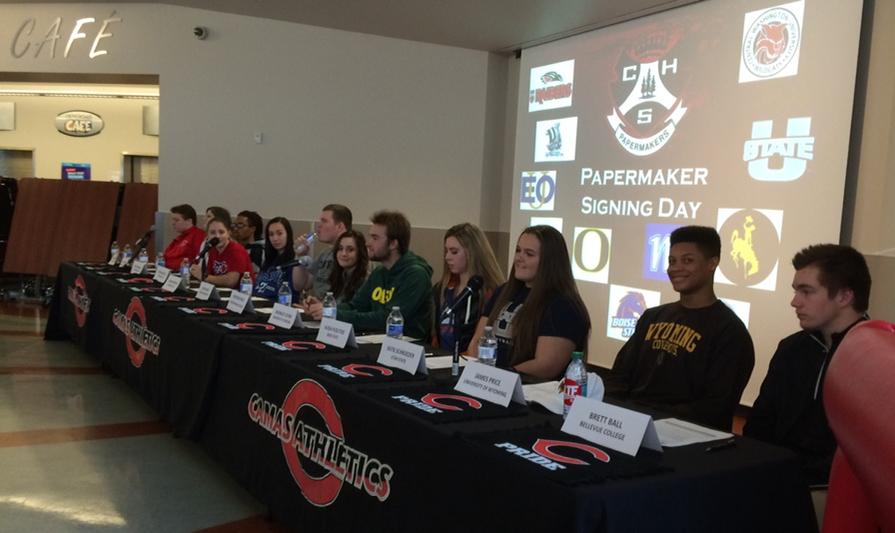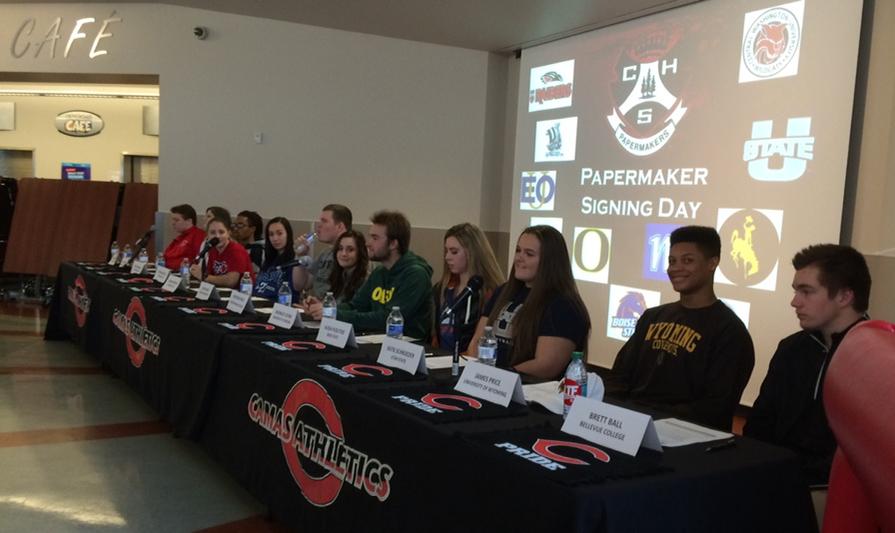 Camas High School celebrated Signing Day with a ceremony featuring a dozen athletes.
Now, technically, Signing Day in February is for football and soccer players who are signing letters of intent to attend Division I programs. At Camas, though, the school also highlights the athletes who signed in the fall in other sports, as well as athletes who are not going Division I but are continuing to play sports in college.
So while I will have a story on the major football signings for The Columbian later today online and for Thursday's paper, here's a quick recap of the ceremony at Camas this morning. Included with the schools are notes from the athletes explaining their decisions.
Tanner Aldridge, Southern Oregon football: "Family atmosphere."
Nikki Corbett, Western Washington  basketball: "Extremely beautiful" and "perfect size," she said of the campus.
Isaiah Ephraim, Eastern Oregon football and track/field: "They really take care of their athletes."
Tori O'Neill, Clackamas Community College softball: "Close, but far enough away."
Jordan Bethune, Montana State University Billings women's soccer: "Fell in love with the city and campus."
Alex Walker, Central Washington football: He said he went into the recruiting process looking for a school that, if football was not even a factor, he would still want to attend. "Football's a huge plus."
Maddison Neely, Western Nevada College softball: "I wanted to be in a city, and this fits," she said, referring to the campus in Carson City.
McKinley LeFore, University of Oregon baseball: "I've grown up a Ducks fan my entire life. When they first offered me, it was a dream come true."
Alissa Pudlitzke, Boise State cross country and track/field: She said she has family there and has visited Boise throughout her life. "I really love the area." Plus, the school works with its athletes who are also nursing majors.
Katie Schroeder, Utah State softball: "It really felt like home. Everybody there feels like family. Can't wait to be there."
James Price, Wyoming football: He said he knew immediately when he visited that it was the right fit for him.
Brett Ball, Bellevue College, golf: "I like the Seattle region."
And another Camas note: Basketball standout Trevor Jasinsky was not in the ceremony because he is waiting for the spring signing period. But he did recently announce via Twitter of his intention to sign with Western Washington.