Clark County Wrestling Extra: Girls tourney
Clark County, please give a warm welcome to Kalama. The girls wrestling powers "annexed" Kalama into the county for at least a day for this tournament. Great move, too.
Yes, we know girls wrestling is growing, but it is not yet to the point that every school has a wrestler in every weight class. Not even close, actually. Over the last few years, there have been a lot of "byes" or "blanks" on the finals sheets for the girls tournament. So organizers went a little north of Clark County to find an established girls program and asked Kalama to make the trip. Perhaps in the future, the girls will welcome Kelso and the Longview schools. At least until Clark County can fill out the brackets.
Until then, let's keep expanding the Clark County border. Because the Clark County Wrestling Championship is an amazing event. The boys have been doing this for 44 years now. It would be great if the girls make it to 44 years as well someday.
(By the way, there were still four weight classes that had no competitors this year, so it was instrumental that Kalama showed. Thanks!)
With that said, let's learn a little bit more from every champion Saturday night:
105: YANELI MARTINEZ, Washougal, pinned Isabelle Morales, Union, in 3:31

As noted in the story, Martinez is a big fan of wrestling for Washougal. She does not call her teammates teammates. She calls them family.
She also said that wrestling takes a special kind of commitment. There is no easy way to get good at the sport.
"Practice."
And keep practicing even when motivation might be slipping.
"Don't give up," Martinez said. "When you feel like giving up, work harder."
This was her second Clark County title.
115: EMILY POSEY, Kalama, pinned Jessica Eakins, Washougal, in 1:49
Officially, Poser became the first Kalama girl to win a Clark County championship. Congrats Emily.
"Last time I wrestled her was my freshman year," said Poser, now a senior. "I think we went back and forth a lot then, but I think I won."
This time, the 12-year wrestling veteran stopped Eakins in the first period.(Yes, Poser said she has been wrestling for 12 years.)
Eakins was a defending champion. And technically, she could still call herself a Clark County champion, right? Who let these Kalama people in Clark County?  🙂
120: SIERRA JONER, Battle Ground, d. Foster Scott, Skyview, 9-0.
Joner, a sophomore, won this tournament a year ago, too. This time, she was wrestling up a couple of weight classes.
The key, she said, is to stay focused on the fundamentals.
"Just keep doing what you've been taught to do," Joner said.
A year ago, she went into state with high expectations. She placed eighth. Not good enough for her, she said. The goal next month is a higher placing.
Can she win state?
"Oh yeah," she said.
125: CAITLIN HORROCKS, Skyview, d. Makenna Speed, Kalama, 10-3.

The final score looks like this was a blowout. It really wasn't, though. Horrocks was never behind, and had control from the beginning, but for most of the match, Speed was one move away from flipping the score. Horrocks led 2-0 after the first period, 4-0 after the second.
"You just try to be focused and do what you can do to get ahead and stay ahead," Horrocks said. "You have to watch your mistakes so they don't capitalize on them."
This was Horrocks' second Clark County title. She finished sixth in state last year.
First in state is the ultimate goal this season, but Horrocks said she'd take a top-four finish.
130: SARA ANGELO, Mountain View, d. Mialisa Oster, Washougal, 10-3.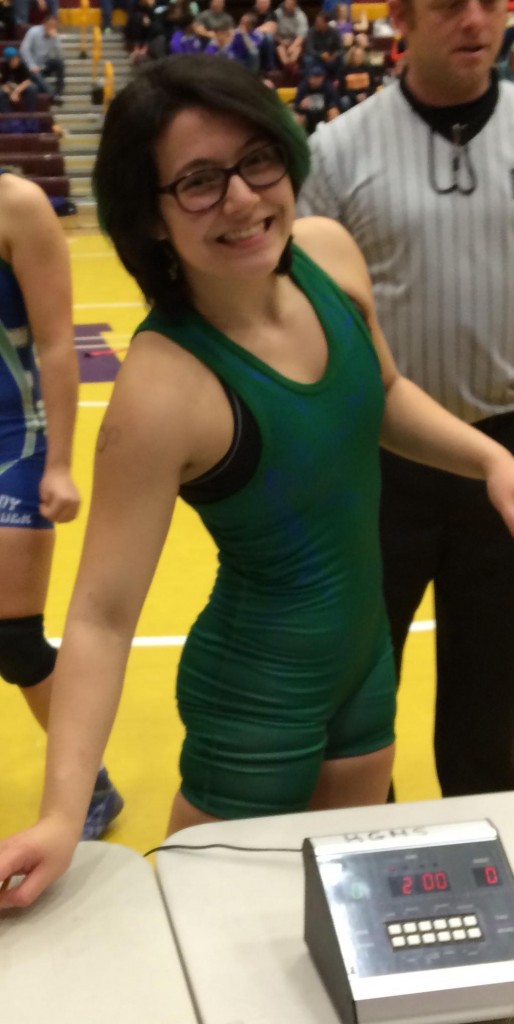 Every winner is happy to win. But Angelo seemed to be the happiest of all the winners Saturday.
She certainly appreciates the work it takes to become a champion. This is her fourth year of wrestling. She said she usually finishes second, so this was a big deal to her. In fact, last year, she finished fourth in this event.
She also made it clear that she loves this sport.
"Wrestling is one the things that you give everything you have, and it will take everything you have," she said.
A dedicated wrestler gives and gives and gives, the sport takes that dedication and provides the wrestler with results. Sometimes it takes years.
It was all worth it for Sara Angelo.
135: MORGAN RATCLIFF, Washougal, pinned Katelyn Shaffer, Mountain View, in 3:03

To the casual observer, seeing a "pin" in the results might seem like it an easy victory. After all, the opponent did not go the distance.
Wrestlers understand, though, that nothing comes easy.
"I had never wrestled her before, so I was a little unsure at first," Ratcliff said. "Once I got out there, my confidence level went up a little more."
Ratcliff finished second in this tournament a year ago, then got a pin to win it this year.
"It always feels good to get a pin. It doesn't matter if it's to win it all or anything. Pins always feel good."
140: CHRISTINA MURRAY, Washougal, won by DQ over Hannah Eakins, Washougal

Murray was leading the match when Eakins was disqualified for using an illegal hold. It was just a bizarre ending for a match that is difficult for the participants anyway. Just about every wrestler I've ever talked to said they cannot stand wrestling their teammates in tournament. This was no exception.
Still, it was a title.
"I did it last year, and I really wanted to get it again this year," Murray said.
Her Clark County title did not catapult her to state last year, though. So her goal for this season is to make it to Mat Classic.
If she does make it, she will compete at a place where girls wrestling really shows how much it has grown.
"I'm really proud because girls wrestling is getting bigger and bigger," Murray said. "It's really great."
155: ABBY LEES, Washougal, d. Haley Horrocks, Skyview, 8-0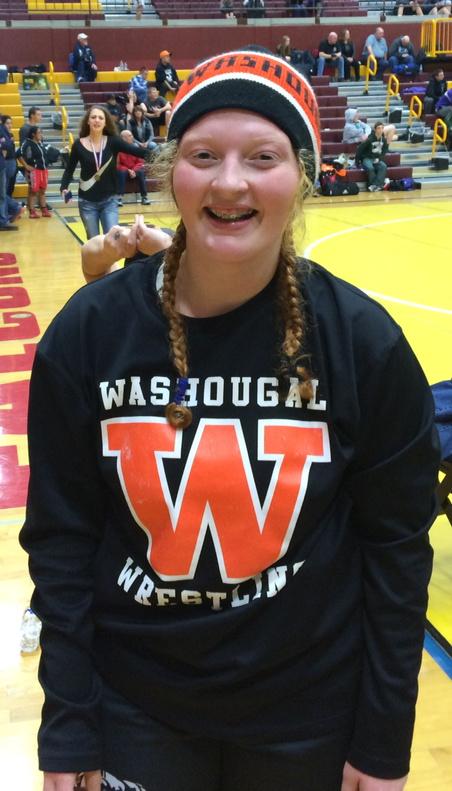 Bragging rights?
"Yeah, a little," she said with a smile.
She might not have liked the term bragging rights, but she understands the significance of a Clark County title.
"It's everybody in Clark County. Everybody (in girls wrestling) knows you and you want to be the best so everyone in your area knows your the best," she said.
Lees made that quite clear Saturday night.
190: DAKOTA MOON, Kalama, pinned Cassie Marshal, Kalama, in 1:44.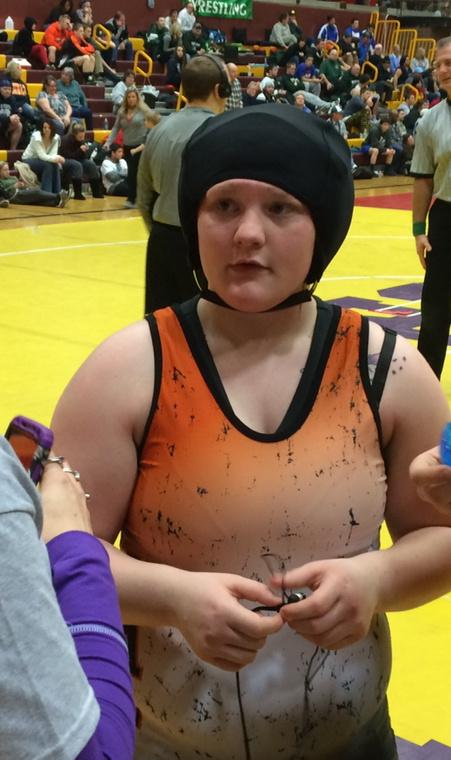 Moon became the second Kalama wrestler to win a Clark County title.
Her next goal, though, is to place at state. A year ago, she said she went to state, lost one, won one, then lost again.
She also said this was a lot of fun to be able to compete in this tournament. She faced an opponent she had never wrestled before, but then had to face a teammate in the finals.