Making a Racket: Week 6 in high school tennis
The below image is a screengrab of Hudson's Bay High's tweet from Monday afternoon. Seemed rather fitting.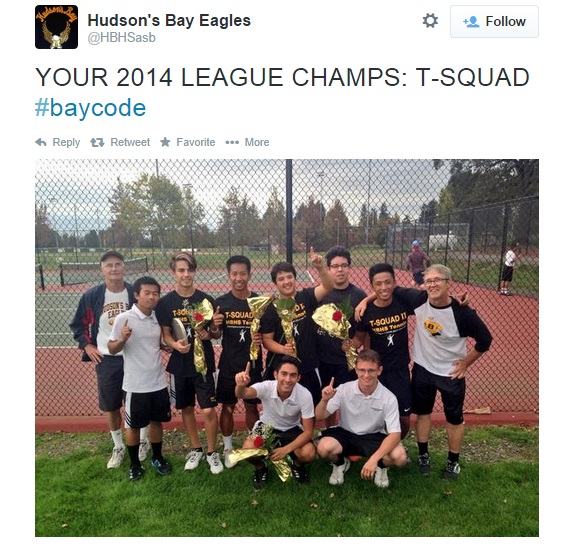 And these were the words from coach Jim Sevall when he called in his match result to The Columbian: "The Eagles have landed."
Hudson's Bay 4-2 win over Mark Morris on Monday clinched the 2A Greater St. Helens League title, the first tennis league title for the Eagles in at least the last 10 years, Sevall said adding "It's been a long time coming."
This is Bay's first season as a 2A school after playing at the 3A level.
The  title became a possibility last week as the Eagles only had one league loss, to Mark Morris. The win on Monday moved Bay's record to 7-1 in 2A GSHL. Game, set, match.
Prior to Monday's match beginning, Sevall talked about how his 21 players all came together from a variety of backgrounds and abilities. Players recruited each other to play and worked on their games over the summer. They've used a variety of lineups (what tennis teams don't?) and the final result was a title.
Sevall said Paul Copeland really came on strong and picked up a 7-5, 6-3 win at No. 2 singles on Monday. Seniors Thanh Vo and Dat Vo recovered from a first set loss to post a 4-6, 7-6 (2), 6-3 win at No. 1 doubles. Bailey Ridgeway and Danny Villagrana won at No. 2 doubles, and Jose Ignacio Perez won at No. 3 singles for the Bay points.
Next up for the Eagles is the sub-district tournament Friday-Saturday at R.A. Long (or Mint Valley Racquet & Fitness if there's rain) with the top 4 singles and doubles moving on to the district tournament a week later at Mint Valley to determine state berths.
###
Monday was a day for clinchers.
Mountain View wrapped up the 4A GSHL title on Monday, topping Heritage 5-1 to clinch.
With one match to play (weather permitting Wednesday vs. Skyview), the Thunder improved to 13-0 overall, 12-0 in league.
Colton Reed remained undefeated in 4A GSHL play with an 0-0 win. Unofficially, he leads all area players with 10 victories at No. 1 singles this season. At No. 3 singles, Josh Kim came back from dropping the first set to post a 4-6, 7-5, 6-0 victory.
Mountain View has proved to be the class of 4A GSHL this season, not losing any more than two matches in any given dual. Camas, Union and non-league Todd Beamer of Federal Way each took two off Mountain View. But it wasn't like any match was a walk in the park for the Thunder either. They were challenged with many matches going three sets during the course of the season.
The 4A district tournament is Oct. 24-25 at Vancouver Tennis Center. With no bi-district tournament, the top two singles players and doubles teams (district semifinalist) will advance to state in May.
###
Columbia River clinched the 3A GSHL title last week, and is 5-0 in the league after Monday.
The 3A district tournament is set for Oct. 24 at Club Green Meadows. Because the league is just River, Prairie and Fort Vancouver's short squad, thought was the district tournament would be played out to a conclusion in one day.
Three singles and three doubles advance to 3A bi-district where state berths will be determined.
###
How about some predictions? Based on nothing but my own opinions here, plus lineups can change based on where coaches feel players have their best chance of advancing.
Seems to me Mountain View junior Colton Reed and Camas senior Jonathan Ho should reach the 4A district singles final based on their results this fall. The wild card could be Skyview's Andrew Kabacy. The freshman, who played mostly No. 2 for the Storm, is unbeaten this season with 11 victories and has beaten Ho. Too hard to pick doubles teams now until a draw is firm.
Columbia River's Owen Carlson should be a lock to advance at 3A district in singles. After that, it will depend on who Prairie goes with for doubles teams. Erik Saylor and Seth Tripp have played singles and doubles.
Hudson's Bay doubles team of Thanh Vo and Dat Vo have the potential to advance out of the 2A sub-district tournament.
###
And, since it's a question we get as seasons begin to wrap up, we post All-League teams here on the high school sports blog once we receive them from the various leagues. If you don't see it up, it's because we don't have it. They go in print once we have everything on a day we have space for them.