Making a racket: Week 3 in high school tennis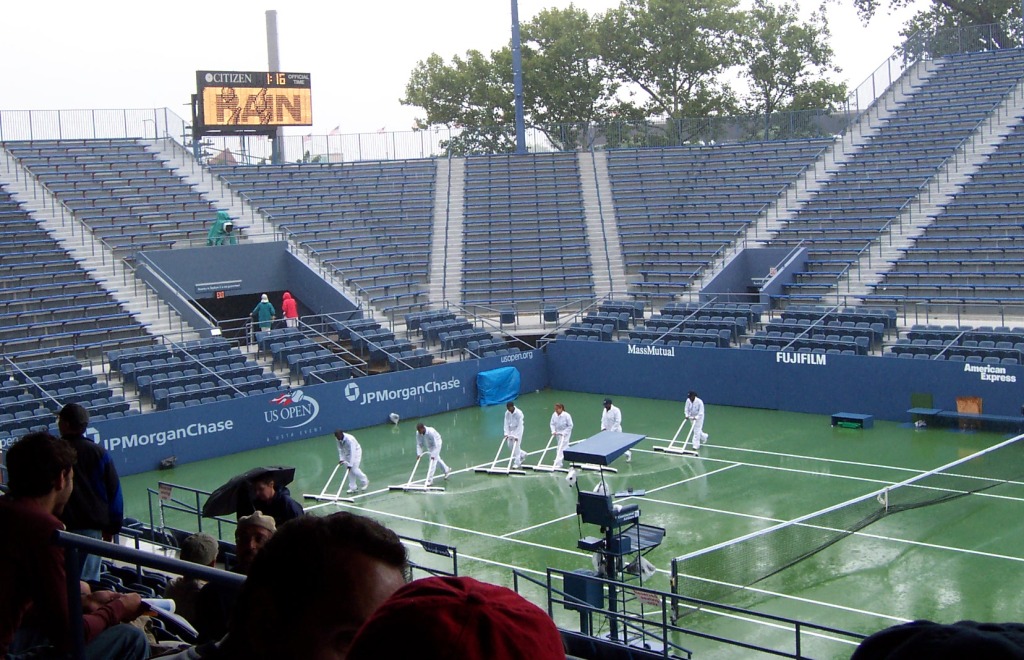 Yep, I've sat through my share of rain delays for tennis matches (US Open 2004 comes to mind here on the Grandstand). Thing about tennis players, coaches, and fans … we'll wait it out. And this week in Southwest Washington might be a washout for tennis teams without a roof (which are most teams). Hopefully some matches will get in since trying to squeeze in makeups is challenging. Occasionally a few high school teams have been able to use Vancouver Tennis Center or Club Green Meadows courts when weather moves in. But for the most part, it just becomes a matter of finding a dry day elsewhere on the calendar.
###
Defying the weather odds, Wednesday dried off enough to get tennis in. Since I had never been out to the Heritage courts, I did a flyby and saw Skyview's Alex Sheppert play Heritage's Brandon Hatch at No. 1 singles. Sheppert prevailed 6-1, 6-0.
###
With the 4A Greater St. Helens League not combining with District 3 for a bi-district tournament this school year, the 4A GSHL tennis tournament will be the direct qualifier to state in the spring. It was learned on Wednesday that 4A GSHL teams will have 6 players (2 singles players, 2 doubles teams) entered in the two-day district tournament in late October with the top 2 singles and doubles advancing to state in late May. Tournament format was still being finalized.
###
The Thunder Invitational took place at Club Green Meadows over the weekend with Mountain View hosting Olympia, Todd Beamer and Kentridge.
Mountain View coach Mat Clark said competition was excellent all round. Olympia won the team title with Mountain View second, Kentridge third and Todd Beamer fourth.
Olympia won all four of its head-to-head matchups against Mountain View, three by three sets and the other in straight sets, both tiebreakers.
"The team championship was by far decided by these," Clark said. "Very much had a postseason feel to these matches. Really good tennis."
Individual results were printed in The Columbian sports section on Sunday, Sept. 21, 2014, or can be found by clicking HERE (you'll have to scroll down a bit).
###
Two of the top 4A Greater St. Helens League No. 1 singles players faced off Monday at Camas.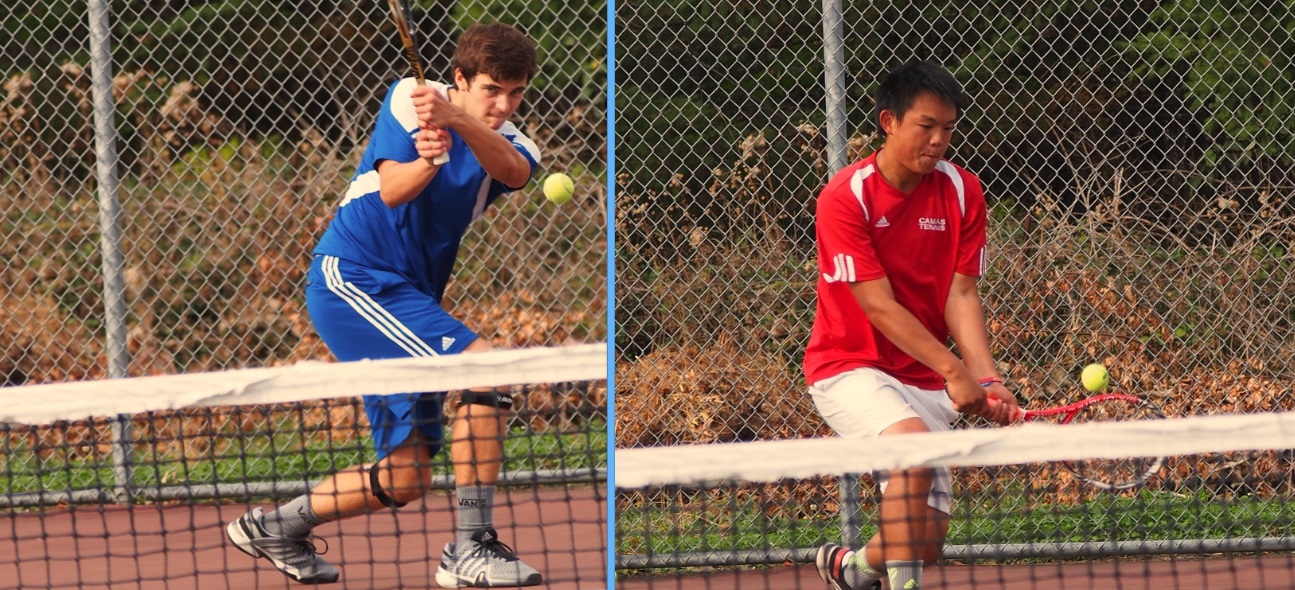 Mountain View junior Colton Reed (in blue), and Camas senior Jonathan Ho, the two-time district singles champion, grinded it out for three sets before Reed prevailed 2-6, 7-6, 6-1. The rematch is scheduled for Wednesday, Oct. 8 at Mountain View.
"It had a postseason feel to it, and the rematch should be a good one too," Clark noted.
Mountain View must have learned something from the weekend, as the three-set matches against Camas went the Thunder's way as they won three three-setters to take the match 6-0. The recap of the match was in the Tuesday, Sept. 23 edition of The Columbian sports pages and also online (with photo).
###
After Monday's (Sept. 22) matches here are the league standings as reported:
4A GSHL
Mountain View 4-0
Skyview 3-0
Union 3-0
Camas 2-2
Battle Ground 0-3
Heritage 0-3
Evergreen 0-4 (but Evergreen is forfeiting its varsity schedule … see the feature by Paul Valencia on how the Plainsmen are rebuilding their program.)
3A GSHL
Prairie 2-0
Columbia River 1-0
Kelso 0-0
Fort Vancouver 0-2 (Fort Vancouver does not have enough players to field a complete team)
2A GSHL
Has not played a league matches yet, or not reported to 2AGSHL.com.
###
I have been attempting to compile standings for singles matches. However it's a work in progress as not all individual matches have been reported to us at The Columbian. I know we were going to miss a few. It's just the nature of things.
So UNOFFICIALLY, I have Columbia River's Owen Carlson undefeated in No. 1 singles matches with a 3-0 record to date. I also have, unofficially, Skyview's Andrey Kabacy 5-0 in No. 2 singles matches.
Hopefully, some folks will weigh-in on this and help out with some missing matches. (Anything helps, of course.)
###
Weather permitting, there are some key matchups this week in the 4A GSHL.
Undefeated Mountain View and Union teams square off on Wednesday at MVHS. Skyview has Union on its schedule for Thursday at Skyview HS. And looking ahead, Skyview at Mountain View on Monday.
Keep those squeegies handy!
###
Any tennis news/notes/photos you want to share? Please email me at jeff.klein@columbian.com and I'll use it in a future blog posting. Thanks.