Day After Report: Here's what we learned from Week 1 of prep football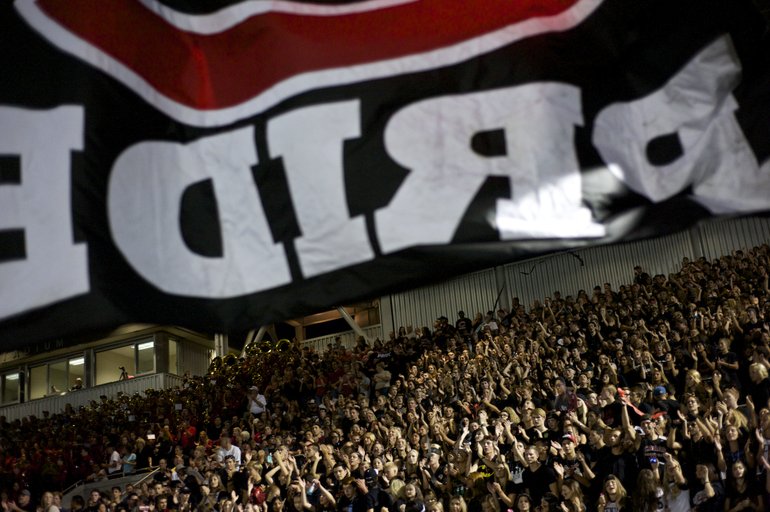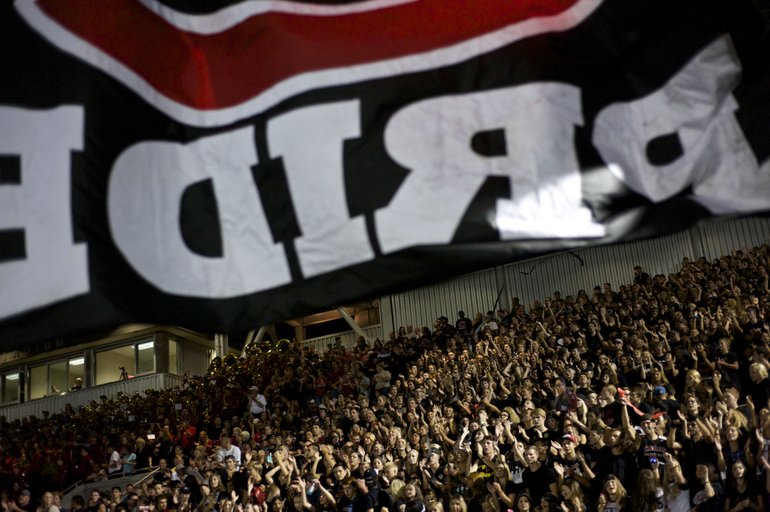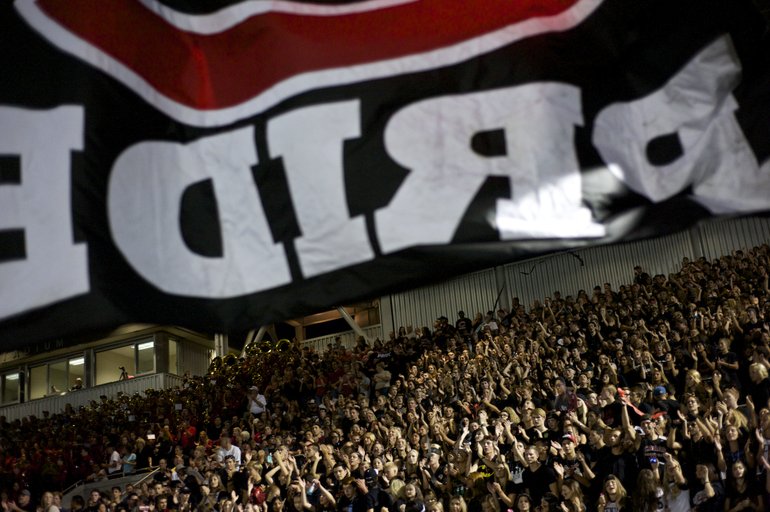 It's back. A bunch of letters and punctuation and other sentence structures to describe Friday's football highlights! It's the Day After Report.
Here is what we learned from the first Friday of football:
Camas is still really good.
Skyview's defense shined on the road.
Evergreen scored eight touchdowns.
Heritage is undefeated under coach Chuck Hawthorne.
Hudson's Bay is undefeated with two head coaches.
Woodland put 50 on the board with a freshman quarterback.
Hockinson coach Rick Steele hasn't lost his touch.
Ridgefield has already surpassed last year's win total.
Columbia River did Columbia River things.
And Washougal got a win for the new old coach.
Union, by the way, plays Saturday night.
CAMAS 16, CHIAWANA 14
Revenge? Not really? But still awesome for the Papermakers.
True, some of the players talked about revenge. But really, the Riverhawks wouldn't trade last December's result with this September result. The Seahawks and Broncos play each other this regular season. If the Broncos win that game, the Seahawks will still be wearing their Super Bowl rings.
Still, this was special for these Papermakers. Remember, most of these guys were back-ups last year. They were back-ups to one of the greatest teams Southwest Washington has ever seen, though, so that means they were practicing with great players. In theory, that means they were getting pretty good, too.
(Another thing about the seniors on this squad. They really have had an extra season of football practice under their belts. As sophomores, Camas made the semifinals. Last year, Camas made the championship game. That's nine extra weeks of practice.)
To then go get a win over the defending state champions, in their first game as "prime time" players, yeah, that was special.
It also just happened to be a win over the team that beat them in the championship game.
Atmosphere:
The Papermakers also got the win in front of one of the best crowds in the state. (My guess is this is the best crowd in the state, but because I have not seen every stadium in Washington, I better just say one of the best.)
"Camas had the biggest student section I've ever seen," tweeted Chiawana junior running back Corey Bell.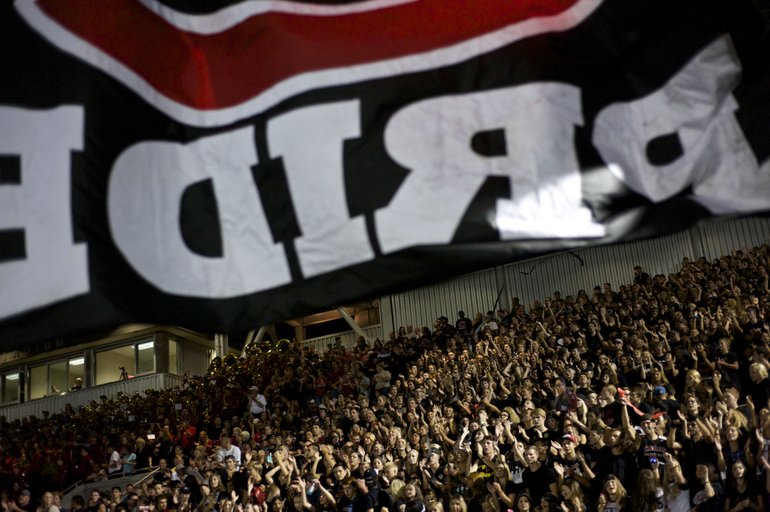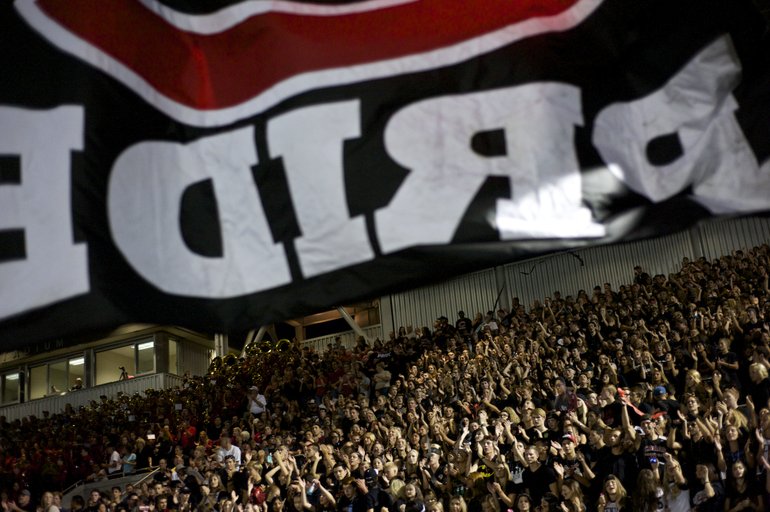 It's not just the students, though. It's more than parents. It is a community event at Camas. It might be the last big school to have the small-town Friday night feel, where everybody comes to the game.
"There's no better place to play than Doc Harris Stadium," senior Reid Conlee said. "It's all about the atmosphere right here."
Santos Scores!
From the press box, if you were looking at the right place, one could see it before it happened. The wide receiver stops and turns for the ball. The ball isn't there yet. It seems like slow motion for the receiver. The defensive back knows, he just knows, the ball would be on its way. The defensive back gets the break on the ball. The defensive back has the interception on the run. The wide receiver, the only one who could stop the defensive back, has to start from a standing position. No chance. Touchdown all the way.
Camas defensive back Dane Santos said his pick-six that put Camas up by nine points with 5:25 left in the game actually started to happen days earlier. Watching game video. Finding tendencies.
In this case, it was fourth-and-2 from the Chiawana 43-yard line. Santos saw the formation and knew he had seen that before, days ago. Sure enough, it was the play he anticipated.
"I knew he was their go-to guy," Santos said of receiver Dre Dorton. "I watched his hips, and I went for it."
Soon as those hips swiveled for the short pass route, Santos jumped in front of Dorton, and the Papermakers had a little breathing room.
Funny sack:
Officials get too much grief, so I'd like to defend the white hat — the referee — who inadvertently helped Camas get a sack on Friday night.
I believe it was Camas defensive lineman Nick Langer who blew up a pass play and was about to sack Chiawana quarterback Logan Ellsworth. But Ellsworth used a great spin move to get away from Langer, but then Ellsworth burst back even farther away from the line of scrimmage and ran into the referee. Ellsworth lost his balance again, and then Camas' Andrew Carson came in to finish off the sack.
Officials hate it when they get in the way of a play. In this case, it really was a fluke. The quarterback was so close to going down anyway, and then no one could have predicted that quick escape and the turn right into the ref. In fact, the play went for a loss of 22 yards. That's how far back the official was when the collision occurred.
Strong debut:
Camas quarterback Liam Fitzgerald finished 18 of 30 for 250 yards and a touchdown in his first varsity start. He and receiver Jared Bentley just missed on what would have been a long touchdown pass on the first drive of the game. They made up for it with a second-quarter touchdown pass, giving Camas a 7-3 lead.
Did you see this?
There are so many more plays that determine a football game than just the scoring plays.
One of Fitzgerald's best passes came on a second-and-10 play from Camas' 1-yard line. Tight end Blake Roy was covered, but Fitzgerald threw the ball the only place Roy could catch it, low and away from the defender. Worst case, an incomplete pass. Best case, Roy makes a diving catch for a first down. This was best case. Fantastic catch for a 15-yard gain, giving Camas some room. Fitzgerald then ran for 17 yards on the next play.
The drive would later stall, but those are the kind of plays that win games. The Papermakers flipped the field position, helping the Camas defense. Chiawana, by the way, went three-and-out on its next possession and punted the ball back to Camas. The Papermakers then started that possession on their own 30-yard line. That was a productive series of events for the Papermakers even if there were no points scored.
Zarcone update:
Cole Zarcone left game in the third quarter with an apparent leg/knee injury. He hobbled off the field on his own power. He did not return to action. After the game, he told me he was fine. He expected to be back soon. Zarcone finished with 82 yards on 10 carries, including a 54-yard run that set up Camas' first touchdown of the season.
First game:
It might have felt bigger than a Week 1 game, with the crowd, the teams, what happened last year, etc. But it was still the first game. Camas coach Jon Eagle said there were a lot of sloppy plays and too many penalties. In other words, it looked to him like a Week 1 game.
"At the same time, you could see flashes of talent and some execution," Eagle said.
Defensively, Camas gave up a bunch of rushing yards. But the defense allowed just two touchdowns against the defending state champs.
Chiawana was stopped on a fourth-and-2 play from the Camas 12-yard line late in the first quarter. James Price had an interception in the end zone. Santos, obviously, came up big. Conlee was dominant on defense at times from his linebacker position. On and on.
Statistically speaking:
Fitzgerald had those 250 passing yards and added 34 on the ground. Price caught eight passes for 132 yards, including a 37-yard reception on third-and-18 to seal the victory. Bryan Kelly rushed for 30 yards on five carries, and Conlee had 35 yards on five carries, all on the final drive of the game to kill the clock.
---
COLUMBIA RIVER 32, R.A. LONG 0
Hey, look! It's a Video Day After Report.
---
EVERGREEN 56, EISENHOWER 7
After Don Johnson Jr., finished talking to his team following its win over Eisenhower of Yakima, the coach scowled and said "I'm disgruntled."
OK, maybe he didn't say "disgruntled" but you get the idea.
Johnson was upset by the Plainsmen's sloppiness, particularly the penalties.
The Plainsmen piled up 15 penalties for 167 yards, including 10 for 112 in the first half.
"One thing I wanted to change when I came here is we wanted to change the culture," Johnson said. "We did some things that are unacceptable. We're not going to have flagrant fouls. We're not going to do any of that talking on the field. We're going to be a classier team than this. It was good victory, but we've got to clean things up."
Johnson planned to have the Plainsmen on the practice field Saturday morning to drive home that point.
Plainsmen explode, Cadets implode:
Part of Evergreen's 44-0 advantage in the second half can be partly attributed to Evergreen's explosiveness, and partly on Eisenhower's self-destruction.
After being stopped on downs at the Evergreen 15 to open the third quarter, the Plainsmen extended their lead to 20-7 thanks to consecutive runs of 21 yards by Marquis Sampson, 29 yards by Billy Nelson and a 28-yard touchdown run by Rey Green.
Eisenhower was forced to punt on its next possession, and then things got REALLY bad for the Cadets.
On Evergreen's second play of its next possession, Green took a pass in the flat and went 82 yards for a touchdown and 28-7 a lead.
Eisenhower had a first down on its own 45. But three incompletions and two big penalties put the Cadets in a fourth-and-44 from its 11. On the ensuing punt, the snap went over the punter's head, allowing Evergreen to take over at the Ike 5-yard line.  Evergreen made it 34-7 two plays later.
On Eisenhower's next play from scrimmage, the Cadets fumbled the ball back to Evergreen at the Ike 30. Evergreen made it 42-7 on its next offensive play.
On Eisenhower's NEXT play from scrimmage, the Cadets fumbled the ball back to Evergreen at the Ike 36. Seven plays later, Evergreen made it 48-7.
That's how a 12-7 halftime game ends up 56-7.
No Murphy, no problem:
Evergreen did all that without star receiver Justice Murphy. The University of Utah commit rested Friday as he recovers from a nagging ankle injury.
"I held him out," Johnson said of Murphy. "With Todd Beamer coming up (next week) and then Week 4 and 5 with Camas and Union, it was a good time to rest him. He could have played, but we felt good about going with our other guys against Eisenhower."
---
SKYVIEW 17, WALLA WALLA 7
The Storm, who made the Class 4A state playoffs last season after starting the regular season 0-2, are already off to a fast start.
The defense scored on an interception return (Andrae Jordan) and held Walla Walla to 87 yards rushing.
Marquise Mitchell had three sacks for the Storm. Jimmy Rowe added two more.
---
HERITAGE 24, PRAIRIE 0
So just how big was Heritage's season-opening victory over Prairie? Well, consider.
Any win for a program that hasn't more than three games in a season since 2009 is a big win.
It was the coaching debut at Heritage for veteran coach Chuck Hawthorne, who was hired to take over the program in June.
It was the first win in a season opener since a 69-8 win over Parkrose of Portland in 2007.
With their 1-0 record, it marks the first time the Timberwolves have had a winning record since finishing the 2008 regular season at 5-4.
It was Heritage's second shutout win since 2004.
It was the fourth shutout win in Heritage's program history, which debuted in 1999. Oddly enough, three of those shutouts came against Prairie.
Butter fingers:
Even though they pitched a shutout, it was far from a perfect night for the Timberwolves.
Heritage struggled all night with the center-to-quarterback exchange, leading to several low snaps in the shotgun formation.
That led to fumbles. Heritage had five fumbles, but recovered all but one. The Timberwolves did turn the ball over when a Heritage player touched a punt, leading to a Prairie recovery.
Missed opportunities:
Prairie missed several opportunities to capitalize on Heritage mistakes.
Heritage fumbled its first snap of the game, and Prairie recovered at the Timberwolves' 24-yard line. But Prairie fumbled the ball back on its second snap.
The Falcons drove to a first down on the Heritage 13 on its second possession of the game. But the Falcons could advance no further, then missed a 30-yard field goal attempt.
After getting a first down on the Heritage 16 after a muffed punt, the Falcons only gained one yard before turning the ball over on downs in the second quarter.
In the second half, Prairie only drove into Heritage territory once, and that drive ended with a fumble on fourth-and-3 at the 22 to end the third quarter.
---
HUDSON'S BAY 20, FORT VANCOUVER 19
This series will always confuse me.
Last year, I figured Hudson's Bay was going to win this rivalry game. Then Fort won.
So this year, I'll admit I figured Fort Vancouver would win this one.
That's why none of us should ever care about who we think will win. Football, all great competition really, is fantastic because we don't know.
Congrats to the Eagles and the new co-coaches, Andy Meyer and Rick Skinner.
By the way, for the record, do they each get a half-win for their career records? I think they should do a 100-yard win sprint, winner gets the win.
---
WOODLAND 50, KALAMA 0
At this pace, Woodland quarterback Wyatt Harsh will lead his team to 1,800 regular-season points in his career. Not yards. Points.
Yes, Harsh is a 14-year-old freshman starting varsity quarterback. And the Beavers scored 50 points in the team's first game.
Harsh's first play from scrimmage only went for a 70-yard touchdown pass.
As coach Mark Greenleaf explained, Harsh was chased out of the pocket and Trevor Huddleston broke from his route to get wide open and go the distance for the score on the first play of the game.
Harsh finished 7 of 13 passing for 211 yards and two TDs.
---
HOCKINSON 28, LA CENTER 3
The return of the man of Steele. Rick Steele, who took a year off of coaching the Hawks, won in his return. A big win, too. La Center is perennially one of the best Class 1A teams in the state.
Tommy Harshaw and Austen Johnson each rushed for more than 100 yards. Harshaw (11-147) scored three touchdowns.
---
RIDGEFIELD 34, CASTLE ROCK 6
Possibly the happiest final in Clark County. The Spudders deserved this one. After a young squad went winless in 2013, a victory to open the 2014 season is just sweet. Congrats to the Spudders.
---
WASHOUGAL 18, STEVENSON 6
I love defensive battles. This one was scoreless at halftime.
The Panthers got three second-half touchdowns and won in the return of David Hajek, who last coached the team in 2007.
By the way, this is the third time Hajek has been the head coach at Washougal. He is a teacher there. He has lived in Washougal since the second grade. So yeah, he's a Washougal guy.
Tristen Roseff scored two of Washougal's touchdowns.
---
SETON CATHOLIC 26, KING'S WAY CHRISTIAN 18
Congrats on the Cougars for picking up the come-from-behind victory.
And congrats to King's Way for leading at the half in their first 11-man football game in program history.
Future is bright for both private schools.
---
That's it for now.
If the Raiders win on Sunday, maybe I will add Union notes some time on Sunday. If the Raiders lose, I might not be in the mood.
Go Raiders!
Thank God football is back.
---
Thanks to:
Tim Martinez, Micah Rice, and Jeff Klein for contributing to the notes.