Positive Paul's Perfect Plots
The first high school football game involving a Clark County team will kick off at 5 p.m. Friday at McKenzie Stadium when Evergreen hosts Eisenhower.
At 6 p.m., Seton Catholic will kick off at King's Way Christian High School in King's Way's first 11-man football game. Oh, and I hope this is the last time I write King's Way's because that hurts my brain.
Then a bunch of games at 7 p.m.
One at 7:30 p.m. Another at 8 p.m.
On Saturday, Union will play at Federal Way at 6 p.m.
Until the games begin, every team in Southwest Washington is undefeated. So while every team can still dream of an undefeated season, time for ….
Positive Paul's Preseason Perfect Plots
Yes, here is a guide for how every team in our readership area can go undefeated. Some reasons might be legit. Others just might be for laughs. Some are in between. I will let you figure them out.
How does your team go undefeated?
4A Greater St. Helens League
Battle Ground — The new quarterback is just as good as last year's quarterback, and the defense improves. The Tigers averaged 36.1 points per game last year and went 4-5. Well, the defense can improve because this is a program now, a full-time football program. At Battle Ground, it's not just show up for football season. If football players aren't playing another sport in the winter and spring, they are in the weight room preparing. Bonus reason: The Tigers are tired of The Columbian not picking them to win USA Today's national title every year, so they're really fired up!
Camas — All those players who backed up one of the best football teams Southwest Washington has ever seen last year are ready for their moment in prime time. Do you realize that the seniors on this squad have had the equivalent of an extra season of football to practice? As sophomores, the Papermakers played 13 games. As juniors, the Papermakers played 14 games. That's nine extra weeks of football. And last year, these juniors played a bunch even if most did not start. Bonus reason: They have the biggest football player on the planet.
Evergreen — The Plainsmen go with their "No Ego" philosophy on offense and defenses cannot figure out who is going to get the ball. If the Plainsmen figure out how to use all of that talent, look out. Bonus reason: It's the 10-year anniversary of the only big-school state football championship team from Clark County. Yep, the Evergreen Plainsmen.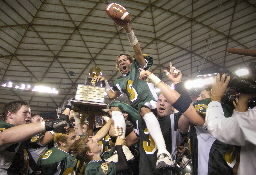 Heritage — New coach Chuck Hawthorne comes in to show all the other teams how it's done, using experience that very few can rely on these days. Hawthorne last was a head coach in 1989. Seriously. So he is bringing some old-school ways to the Timberwolves. In a perfect world, the Timberwolves respond to that disciplined approach and stun the 4A GSHL. Bonus reason: The Timberwolves did not win a league game last year. The first time this program did that (in 1999), the team went 9-0 the next year. Really. Look it up.
Mountain View — The Thunder won nine games last year as a 3A GSHL team. They are not afraid of moving up the 4A ranks. Word is that Mountain View will use three or four sophomores on the offensive line. For some that could mean quite the learning curve. But in a perfect plot, it means that these sophomores are just that darn good. And Mountain View's running attack is so good that others just can't stop it. Bonus reason: Since 2001, Clark County has had seven teams make the state's final four or better a total of 13 times. Mountain View was the program that started that run.
Skyview — Before Camas had its recent run, it was the Storm who were the class of the Class 4A GSHL. The Storm went to the state championship game in 2011. The Storm won four consecutive league titles. The Storm want their titles back. They do it with a quality quarterback, and a lot of new faces who will make names for themselves. Oh, and a coaching staff that has made the playoffs nine years in a row. Bonus reason: The starting quarterback grew up in my old neighborhood before moving to Vancouver. So that means he is an all-around amazing guy. We all are!
Union — The Titans make it happen by putting all the pieces together. They have the college-talent quarterback. They have the strong offensive and defensive line. They've always been known for their linebackers. New head coach Gary McGarvie says this could be a special team. Bonus reason: Back before practice even started, The Columbian picked Union to go 9-0. And The Columbian picks are NEVER wrong. 🙂
3A Greater St. Helens League
Columbia River — The Chieftains play in a league that looks set up for a River league title. Of course, the Chieftains play in a four-team league, so that leaves six non-league games to maneuver. They go 9-0 by relying on a strong returning class and a coaching staff that knows what it is doing. Bonus reason: Because even when you might think you've beaten the Chieftains, the game is not quite over. River fans might want to click on this link to a YouTube video. Skyview fans, not so much.
Fort Vancouver — The Trappers take advantage of a soft early schedule, get some confidence, and then new coach Cal Szueber unleashes an offense never before seen in the history of football. Trapper Fever! Catch it. Bonus reason: We all think that Fort Vancouver has been bad forever. But in 2007, when Szueber first coached the Trappers, Fort Vancouver actually handed Columbia River its only league loss that season. 40-7 was the score. Really. Look it up.
Prairie — The Falcons proved they could surprise some teams last year when they beat Skyview and Battle Ground. What if this is the year the Falcons can keep it going beyond Weeks 1 and 2? They have that "no one believes is us" chip on their shoulder. In a perfect world, they use that chip every week and stun the football community. Bonus reason: If they go undefeated, maybe they get their own football stadium one day. Dare to dream!
2A Greater St. Helens League
Hockinson — The return of the Man of Steele. Rick Steele. The baddest looking football coach (who is a nice guy but don't tell anyone) you've ever seen. Yeah, he's back.
Hudson's Bay — Two head coaches are better than one. Andy Meyer and Rick Skinner are co-head coaches for the Eagles. That will be the difference.
Ridgefield — Because it's about time another unique name goes undefeated. The Spudders, along with the Papermakers, have the greatest names in Washington.
Washougal — Union in the late 2000s. Then Camas in the last three years. So much of the football power has been heading east in recent years. Must be Washougal's time.
Woodland — Beavers aren't afraid of 2A football. After so much success at 1A level (17 wins the past two seasons) the Beavers want to prove they can do win in 2A, too.
Trico League
La Center — One more perfect regular season and La Center can make a statue of of John Lambert, right?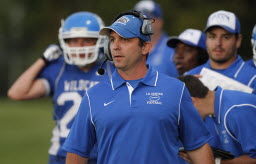 Seton Catholic — The Cougars, motivated by one of their former players now in the Pac-12, just keep winning and winning. A sports miracle, if you will.
Stevenson — So far out there in the Gorge, but how do we know the Bulldogs don't have a football juggernaut out there?
King's Way Christian — Not actually playing a full varsity schedule in its first year of 11-man football, so they cannot play for a league title. So let's just call the Knights 9-0. It won't matter, but it will sure look good in the paper.