Union golfers set records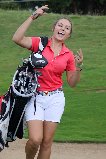 The Union Titans set a team record, and one of the Titans set an individual record Monday.
Union recorded a team score of 163 to top a record it had set earlier in the season in a win over Woodland at Lewis River Golf Course. The two teams played the front nine, a par 35.
Reilly Whitlock fired a 38, which is also a school record, according to coach Gary Mills.
We received a picture of Reilly tonight. Not positive it was from today, but we like to think so. After all, that's one happy golfer walking off a green.
Congrats to the Titans.