Day After Report: Week 14, Reaction from Camas-Chiawana title game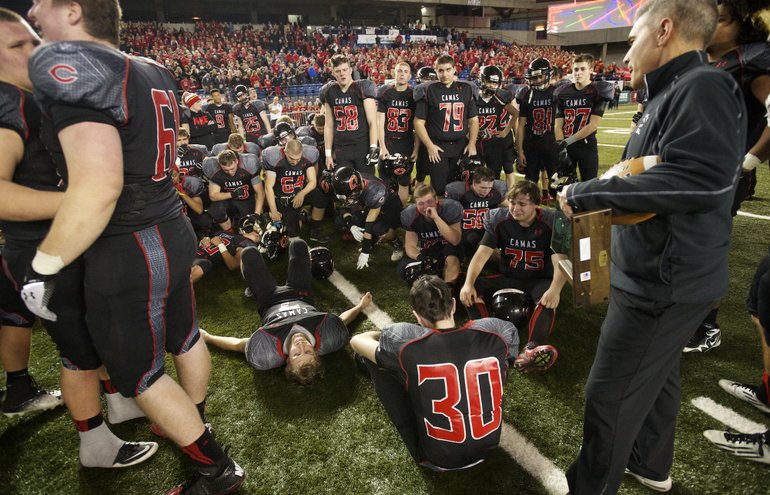 I saw it live. I drove home. Watched it on the recorder. It is still difficult to comprehend.
The Camas Papermakers had the ball with a 13-point lead with 1 minute, 10 seconds left in the game.
And then …
Disaster for Camas.
The Chiawana Riverhawks stunned the Washington high school football world with two touchdowns in the final minute, including the game-winner on the final play of the game, to beat Camas 27-26 in the Class 4A state championship game.
In this, my final "Day After Report" of the 2013 season, I will try to show you how it all went down. I will also give you a glimpse into the world of journalism past deadline and what we, The Columbian, tried to accomplish Saturday night. (I had a blooper of my own that really wasn't much a blooper after all.) I want to give shout-outs to a few players who were going to be highlighted in the game story, until the game story dramatically changed. And, yes, I'm going to list a number of things that happened to Camas throughout the game that attributed to the loss. Players, coaches, journalists, and especially fans, always want to point fingers, or try to pinpoint one thing that led to the end of the game. The beauty of football, though, is it is the greatest team game on the planet and that it is rarely, if ever, one play or one decision that turns a win into a loss, or a loss into a win. Some are upset at the officiating. I will try to defend the guys in stripes, too.
With all that said, try to take yourself out of the emotional investment of the game. If you were not a Camas fan or not a Chiawana fan, what then? I'd bet you'd say that was one great ending to a football game. And you'd say the same thing if Camas had sacked the quarterback on the last play or intercepted the last pass. A number of things had to happen for the Class 4A state championship game to come down to one play at the end of the game. As a fan of football, it was incredible to watch.
What went right, what went wrong:
Going to start and finish this section with a salute to the Chiawana Riverhawks. From the Camas perspective, it's always going to be what the Papermakers did to allow for the end of the game to happen. But remember, no matter what Camas did, there still had to be another team that had to capitalize. The Riverhawks were down by 13 points in the final two minutes of the game and did not have the ball. The Camas win probability at the 1:30 mark had to be at 99.7 percent or something like that. Yet the Riverhawks took advantage of the 0.3 percent when they got the ball and made plays. The Riverhawks won the game.
Now, with that said, as a reporter from The Columbian, covering Clark County, and after talking to so many members of the Camas football program, I figured this would be a good time to list all that went wrong for the Papermakers. Some were self-inflicted wounds. Some were just unlucky things that happen in a football game. I hope readers will understand this is not intended to hurt anyone's feelings. Rather, it is an attempt to show how much of a team game this really is, and that one penalty here or a missed extra point there is not THE reason for any loss. However, a lot of things can add up to one painful final minute of a football game.
The effects of Sudden Change. What happened after turnovers? There were four in this game, and you have to give the edge to Chiawana regarding the aftermath of these turnovers.
The most sure-handed punt returner I have covered muffed a punt in the first quarter. Chiawana recovered and went on to score a touchdown for a 7-0 lead.
In the second quarter, Chiawana fumbled, Michael Johnson picked it up and returned it 63 yards for a touchdown to make it 7-6. So far, all even on Sudden Change. A turnover for each team, a touchdown for each team.
Camas would then own the third quarter with three touchdowns to take a 26-13 lead. That's when Michael Johnson made another big play, intercepting a Chiawana pass. Sudden Change. Camas, starting from the Chiawana 22-yard line, got to the 1-yard line before losing yards and settling for a field goal attempt. Blocked. Game stays at 26-13. Chiawana survived Sudden Change.
Late in the fourth quarter, Chiawana, in desperate mode, threw an interception. Safety Nate Beasley picked it off for Camas. Sudden Change. This one, most people figured, was Chiawana's last shot. The Papermakers got one first down but needed two to seal the victory. The Riverhawks got a fourth-down stop. The Riverhawks "won" this Sudden Change, as well.
Special teams struggle: This has to be said. Camas, using two kickers in the game, missed three extra points and two field goals. One of the field goals was blocked by a Chiawana player who had a free run into the backfield. No one on the offensive line touched him. And then there was the onside kick at the end of the game. Can't really fault the Papermakers here, but still, it was a negative play for Camas because Chiawana got the ball. (Also, praise here for the kick. That was one of the best I've ever seen. Perfect bounce for the kicking team. Almost no chance for the receiving team to field the ball cleanly.)
Red zone struggles: This incredible Camas offense was held to three touchdowns Saturday night. Credit Chiawana's awesome defensive effort, of course, but the Papermakers are also kicking themselves for not getting more out of their scoring opportunities.
A team that averaged 56 points a game went 0 for 4 in red-zone possessions.
In the first quarter, the Papermakers started a possession at the Chiawana 39-yard line and got a first-and-goal at the 10-yard line after a 29-yard pass to Zach Eagle (more on him a little later). Then a false start penalty (more on those a little later), a run for no gain, an incomplete pass (dropped at the 4-yard line), then a run for a loss of 3. Field goal attempt was no good.
The next Camas drive started at the Chiawana 28-yard line. The Papermakers would get a first down at the 17. An incomplete pass and then a run for 3 yards was followed by back-to-back false start penalties. Then an incomplete pass. Camas went for it on fourth down and was sacked.
Camas would get three touchdowns in the third quarter, but none from in the red zone.
Then there was the drive after the Johnson interception. Camas would get to first-and-goal from the 5, run to the 1-yard line, then recovered its own fumble on second down and lost two yards. There was a third-down incomplete pass, too short to a wide-open receiver. The Papermakers were going to go for it from the 3-yard line, but a false start penalty pushed them back to the 8. Then the FG was blocked.
And in the fourth quarter, the Papermakers got a first down on the 14-yard line. Three plays later, it was fourth and 1 from the 5. After all the kicking problems, the Papermakers went for it. The Chiawana defense stuffed the play to end the drive.
In all, the Papermakers went 0-4 passing, had 12 carries for 18 yards, fumbled twice (which they recovered) and were penalized four times after getting first downs in the red zone.
Bad luck: Zach Eagle, the, 1,000-yard receiver who can turn a 4-yard pass into 40, injured his shoulder/collarbone on the 29-yard reception in the first quarter. He did not return. … Michael Johnson's interception in the third quarter could have been a pick-six. It could have been his second defensive touchdown of the game. But a leg cramp brought him down to the ground. Camas did not score on the drive… Dylan White, who returned from a broken hand to play great ball last week, probably would have had a game-winning interception on the final drive of the game Saturday if not for the cast. Not only was the ball not intercepted, but the ball bounced off the cast and Chiawana receiver Blake Bishop caught it for a 23-yard gain. …
Penalties and officiating. Lots and lots of penalties
False start. Offense. 5-yard penalty.
We heard that a lot, huh?
Camas was whistled for 10 false start penalties Saturday night. I heard a lot of booing from Camas fans. However, it should be noted this is a very easy call to make. When I got home and watched the game again, I saw all 10 infractions.
Here is the thing: There might be false start penalties that are not called, that are missed by the crew, but rarely does an official call a false start and it is the wrong call. It is too easy of a call. A flinch is all it takes.
Fans also were upset with the 15-yard penalty for unnecessary roughness in the first half. I thought the whistle came in late. The forward progress had been stopped. And, yes, it was a tough call. But it also looked bad. When seeing it on TV, I understood why the call was made. I agree with the analyst, it looked worse than it was. Still, it looked like a penalty, it was a hard take-down just after the whistle, and the official made an understandable ruling.
Camas fans actually should appreciate that call. The penalty probably extended a drive that resulted in a fumble and a defensive touchdown for Camas. Had this penalty not been called, it is likely Chiawana would have punted. Don't know how the rest of the half would have played out, but Johnson would not have had a 63-yard fumble return if Chiawana's drive had stalled.
Then there was the pass interference in the end zone on the final drive of the night. Looked like PI from my vantage point live. Looked like PI on TV. Talked to Camas coach Jon Eagle on Sunday, and yes, he agreed, it was PI. Easy call, in fact.
Also, we need to remember that there are calls and/or breaks that go both ways. Nate Beasley had a 45-yard run that should have been 25. He was so far out of bounds, I thought he stepped on a Camas band member. I saw it from way up high in the press box. TV confirmed it. These things happen.
Where is the offense? Swallowed up by the Chiawana defense. At least in the first half. Already noted the red-zone stats, but you should also know the Camas offense started at the Chiawana 38-, 39- and 28-yard lines to open the game. No points. Camas gained 38 yards in the first half.
To go or punt: Camas had the ball, fourth-and-3 from the Chiawana 44-yard line with 1:10 to play. The Papermakers went for it. Didn't get it.
I understand the call. Get three yards, and the game is over. Don't get it, and you're still up 13.
Well, we know what happened.
Some have suggested the Papermakers should have punted. But this Camas team has been aggressive all season, and it worked for a 13-0 record. Also, there is no guarantee that Chiawana doesn't score on the first play after a punt anyway.
If you see the touchdown play again, you will notice that Dre Dorton got behind the final four Camas defensive backs. What's to say he wouldn't have scored an 85-yard touchdown pass instead of a 57-yard touchdown pass?
By the way, everyone knows you can't get beat deep in that situation. But don't be too harsh. It happens at every level of football just about every week. (Remember, the Ravens would not have won the Super Bowl last season without a bomb over the Denver defense in the playoffs.) It seems easy enough, never to let an opponent get behind you. But it's more difficult to do that in a game scenario. Give credit to Chiawana quarterback Joey Zamora for buying time in the pocket, extending the play a little longer, giving Dorton time to escape the defense.
…
So after reading all of this, please do not think it was one thing that led to Chiawana's incredible comeback. There were a lot of things. A team full of things. Plus, the Riverhawks made the winning plays at the end.
Have to credit Chiawana. Congrats to the Riverhawks.
—
Coach's thoughts:
I spoke briefly with Camas coach Jon Eagle on Sunday. Yes, he had watched the game again.
"Pretty painful," he said.
"As a coach, you look at things as you progress as a team throughout the season. You see things and say, 'That could hurt us somewhere down the road.' I kick myself for not intervening on some of those things I saw. I felt I could have fixed some things. I put it on head coaching."
He also said, looking back on it a day later, that perhaps his team did celebrate too early and lost its focus.
—
Some great plays, performances:
While covering a game, I'm taking notes on every play, keeping stats, looking for angles for my story. In the fourth, I write down the jersey numbers for guys I want to talk to after the game, to interview for my story.
On Saturday night, I had a number of guys on my list just for some specific plays that helped Camas to victory. Plus, more guys I wanted to talk to, just about what it meant to win a state championship. Until, of course, the victory did not happen. So, yeah, things changed. Rapidly.
Still, I want to point out some incredible performances.
Michael DiGenova had three sacks for the Papermakers. The defensive player of the year from the 4A Greater St. Helens League was just about everywhere all night.
Michael Johnson had the defensive touchdown and an interception. Was looking forward to that interview.
Slav Michalets was going to be our "sidebar" story, highlighting his performance. The wide receiver caught a touchdown pass and nearly doubled his receiving numbers from the whole season in just this game, filling in for the injured Eagle.
Defensive lineman John Ashford could be seen chasing down guys much of the night. Same with linebacker Gabe Lopes. It was Lopes, with some help from Ashford and Adam Dawson, who stuffed a fourth-and-goal play early in the fourth to keep Camas ahead by 13. At the time, this was the defensive play of the day.
—
Of tweets and blunders and deadlines:
Here is a little behind-the-scenes of our coverage plan for The Columbian. First, we knew we would not make our print deadline. Game was going to end too late.
So my assignment was to write a very small story that could be posted online within five or 10 minutes of the end of the game. To do this, I usually start by writing two stories. In this case, one for a Camas win, the other for a Camas loss. Then, as the game progresses, I add how it went down. Usually, I can press "send" on my story just moments after the final whistle.
This one took a little longer. Had to re-write a few things, as you can imagine.
So while the final minute of the game is happening, I'm also trying to Tweet updates, keep play-by-play notes, and update my stats.
In the middle of all of this, my internet went out. And I didn't realize it at first. So I kept tweeting, or so I thought.
My last tweet that got out to you from my computer was "Oh snap!" after Chiawana recovered the onside kick. The next tweet came from my phone after Chiawana scored the TD.
Until then, I thought I was giving more updates. I realized my internet was down when I tried to correct a previous tweet, a tweet that, it turned out, never made it to you.
I rarely panic, at least on the outside. But inside, yeah, I was panicking. What's going on?
So anyway, my blunder which never got out in the Twitterverse was calling it a first-and-goal for Chiawana after the defensive pass interference.
I'm 42 years old, which means I've been watching football for 42 years. For the first 41 of those years, defensive pass interference was an automatic first down. Not this year, not in HS football. Anyway, this was important during this drive. Because the penalty did not give Chiawana a first down.
So a couple plays later, Chiawana gained six yards and was tackled at the 4-yard line. It was a first down, which stopped the clock to move the chains. That gave Chiawana time to get in formation before the clock was to start again, allowing the Riverhawks to spike the ball and stop the clock. Had it not been a first down, I do not know if Chiawana would have had time to spike the ball.
After I thought I tweeted out first-and-goal, I was trying to correct that information when I realized my internet was down. Just grateful most of you were at the game or watching on TV, and following me for extra coverage. If you were only following me for the game coverage, well, just a terrible time for my internet to crash.
I got the internet working again, got the short story out of the way, with no quotes, just the facts. "Chiawana shocks Camas for the 4A title." Then I went down to the field for some interviews. Little more than an hour later, the full story was posted online.
I would like to thank the Camas players and coaches for how they handled the loss and dealt with us media guys after the game. Class move by the Papermakers.
—
I tweeted this Saturday evening before the game:
"The only bad thing about a state championship football game is there will be no high school football next week."
Sad, but true. Football season is over. I miss it already.
Congrats on a great season Camas.