Day After Report: Week 13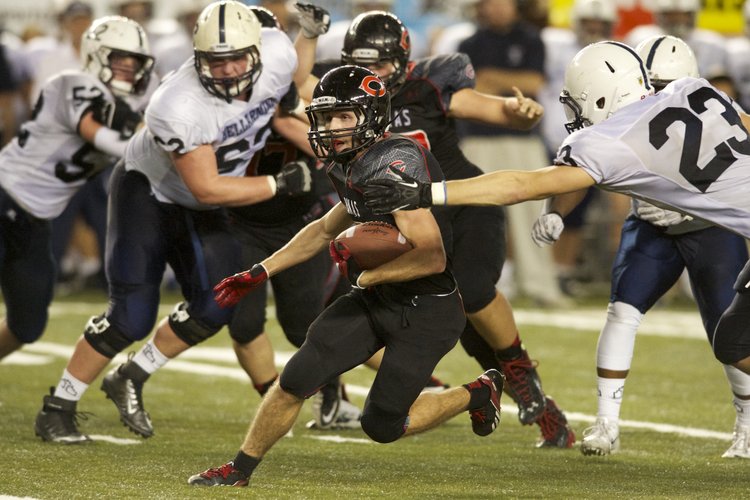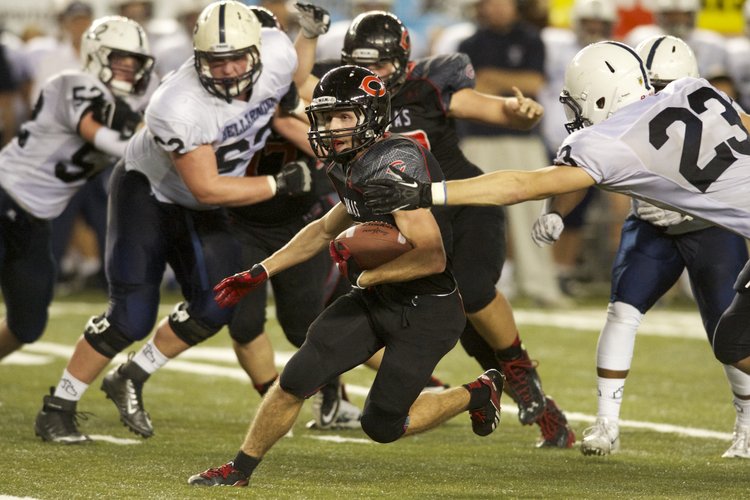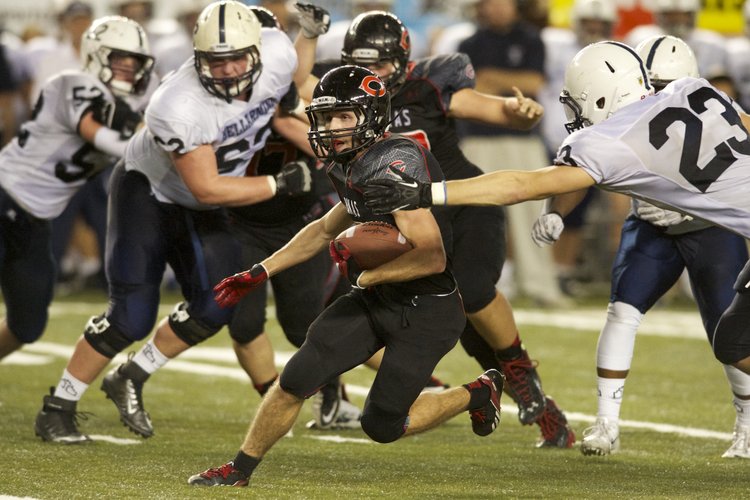 With the online game coverage Saturday night, the sidebar story on the return of Dylan White, then my follow-up story for Monday's paper, and my column for Tuesday's paper, this Day After Report will not be too long.
But I'll have some thoughts on replay, a good block, a low blow, and statistics. You know I'll have something to say about game statistics!
Congrats to the Camas Papermakers for making it to the state championship game. Look forward to the rest of the week and, of course, the game on Saturday night. But first another recap of the semifinals.
CAMAS 49, BELLARMINE PREP 21
The Papermakers had 406 yards of offense in the first half, rolling to their 13th consecutive victory.
Replay has spoiled us:
You've read this from me in previous Day After Reports, but we football fans are spoiled by watching NFL and major college games, having television replays not only for instant viewing but also to review calls by officials. Our high school officials do not have replay to help them. So this is not meant to beat up the officials. Just casual observation after the fact.
Like many of you in the Tacoma Dome on Saturday night, I recorded the game on TV. Just watched it again, and yep, I saw some things on the telecast that need to be noted here. I watched the telecast mostly to double-check statistics, which I will get to later, but I also had to see a couple of plays that I thought were questionable when I saw them live in the dome.
First, it is clear to me that Bellarmine Prep's first touchdown should not have been a touchdown. Camas defensive back Jorden Payne crushed BPrep receiver Garrett McKay as McKay was trying to catch a pass in the end zone. The hit was jarring, and as McKay went to the ground, the ball immediately popped out.
Oh well. It was a great hit by Payne, regardless.
With that said, Bellarmine Prep also had a touchdown taken away that should have stood. With Camas up 42-14, the Lions connected on a touchdown pass. But after a few seconds, a flag was thrown. Officials gathered and determined that quarterback Lou MIllie was beyond the line of scrimmage when he threw the pass.
Replay clearly showed he had not crossed the line of scrimmage when he threw the ball.
Oh well, win some, lose some.
The thing I take away from those two TD calls is that close calls can go either way. Yes, a team might think it is getting the raw deal of those calls more often than not, but usually, those calls break 50-50 throughout a season. In this case, those two calls were 50-50 in the same game.
Well done James Price:
Wanted to give a shout-out to James Price for a couple of plays I saw live and then confirmed with replay.
One, he probably should not have been called for defensive pass interference late in the first half. He played the ball perfectly and actually was in position for the interception. He looked like the intended receiver, in fact. The contact was initiated by the BPrep receiver.
My favorite part of the play, though, was in the aftermath. Price just accepted the call. He didn't complain. Just took it in stride. Mature. Complaining about something that is out of one's control can only lead to an unsportsmanlike conduct penalty.
Earlier in the game, playing offense, Price made the downfield block that allowed Zach Eagle to score on a 41-yard play. Price's opponent was shoving Price's facemask, but Price kept battling and stayed in front of the defender. Eagle was able to slip through and escape down the sideline.
Ouch:
Nate Beasley, playing safety, got run over during a play and he stayed down for a second. In fact, he was on the turf while the play was still going on around him.
I knew he was hurt when I saw it live. The TV guys noticed it, too. Just didn't know what happened right away.
After the game, Beasley told me he got hit in a "sensitive area."
Wince.
Anyway, he stayed in the game for a play, then was replaced for a breather. He would return a little later after recovering.
The best description was from the TV guy after he saw the replay.
"It looks like he might have got hit in the undercarriage."
Stats, stats, more stats:
Statistically speaking, I am better than 99.999 percent of the population when it comes to taking football game stats. That's not meant to be cocky. It's just true. I love doing it. I know most of the rules regarding statistics, and when I am stumped, I usually can find an answer quickly.
For most high school sporting events, journalists must keep their own stats. Some of us do a decent job. Some want to be perfect. Some, like me, cannot stand being a yard off.
Well, at the WIAA-sanctioned semifinals, there were official stat keepers there. Probably two or three of them, helping each other out, doing the best they can. And because I know mistakes happen, even on my own stat sheet from time to time, this is not meant as a criticism to them. It's just that in the first half, my stat sheet was a yard off from the official stat sheet. And that drove me crazy.
There was exactly 500 yards of offense in the first half, 406 from Camas and 94 from Bellarmine Prep. But the official stats had 499, giving BPrep one less yard.
Your darn right I went looking for that yard! (And trust me, I have a point to all of this in a few paragraphs to explain why some Camas stats are not exactly what they appear to be.)
I found the yard!
On the first play of the second quarter after a false start penalty on Bellarmine Prep put the ball on the BPrep 33-yard line, the Papermakers sacked the quarterback for a loss of 6 yards to the 27-yard line. The WIAA official play-by-play has it as a loss of 7 to the 26-yard line. But on TV, the ball is clearly on the 27 for the next snap. So, yeah, I was right.
So what's the big deal? Maybe it isn't to most of you, but it just goes to show that there can be mistakes, even from "official" statisticians.
There were more in the second half.
Camas quarterback Reilly Hennessey and wide receiver Zach Eagle got the benefit of one tiny miscue, but at the expense of running back Nate Beasley.
Beasley rushed for a gain of 7 from the 21-yard line to the 28, but was only given 6 yards to the 27. On the next play (which started at the 28), Hennessey and Eagle connected for a 6-yard gain to the 34, but were given 7 yards because the "official" book had play starting at the 27.
Don't feel too bad for Beasley, though, because earlier in the third quarter, he got credit for a 3-yard gain even though he was on the bench taking a break for a series. Cole Zarcone rushed three consecutive times to open the drive, but Beasley was the running back of record on the first carry of that drive. (Hey, it happens. The team changed running backs and no one noticed. In fact, if I recall, the public address announcer called Beasley's name. That leads to another rule of stat-keeping. Never believe the PA guy or the scoreboard operator. They might be right, but always verify!)
By the way, the stat guys at the WIAA are great at fixing miscues when they are pointed out. As an example, because Camas has two No. 4s on its roster, the computer initially gave Reilly Hennessey's stats to Austin Stevens. We in the media noticed it at halftime, and the WIAA people fixed it immediately.
Unfortunately, we don't see the final game stats until after our interviews and when we are on deadline. So by the time I saw that Zarcone was listed with one fewer carry and three fewer yards and Beasley was listed with one more carry, it was too late to ask for a change.
And because these are "official" stats, and there were no major issues — such as the wrong guy scoring a play or the wrong guy getting all the quarterback's stats — I used the official stats in the boxscore you read in The Columbian. I also used those official numbers when I updated the Southwest Washington high school football stats database.
Which leads me to this question: Should I change the Camas stats to what they should be or leave them with what the WIAA says they are for this game?
I know, I know, it's probably nothing. But I don't want Cole Zarcone to punch me in the nose because he actually had 71 yards, not 68!
Then again, I don't want Zach Eagle to smack me in face because he actually had 169 yards receiving, not 170!
Just know I'll be watching, and tracking, every game I cover. And if there is video I can review later, I will double-check.
This stuff is fun. (Especially when I'm right!)