A tradition: Thanksgiving Day practice at Camas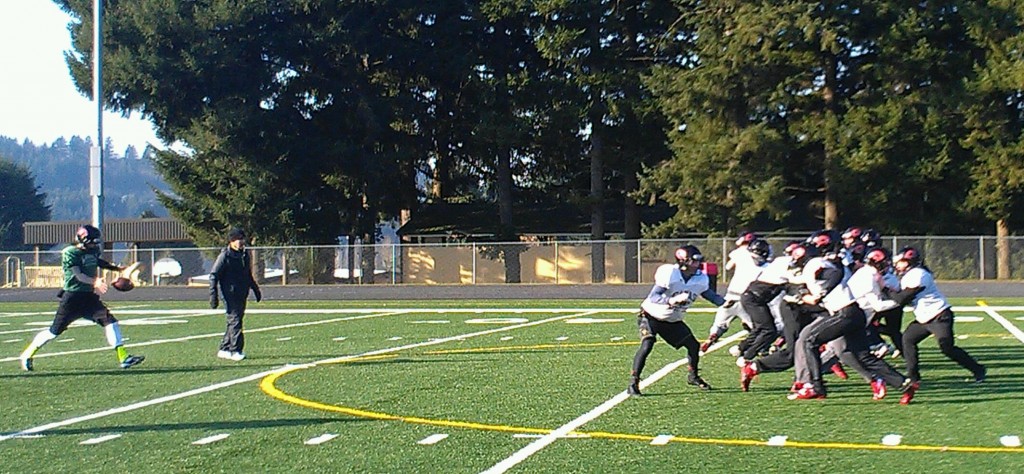 Look at the shadows in that pic. Look at how bright this day is in Camas. This is Thanksgiving 2013! It should be raining this time of year but no one is complaining.
Of course, no one from Camas is complaining that the Papermakers are practicing on Thanksgiving Day.
At Camas, this has become as much of a tradition as turkey. This is the third consecutive Thanksgiving Day practice for the Papermakers. That means it's the third consecutive season the Papermakers have reached the state semifinals.
"Everybody understands we've got to be here," senior Trey Benson said. "I don't think anybody's sad that we are out here. We need to win a game that is bigger than Thanksgiving."
Camas will play Bellarmine Prep at 7:30 p.m. Saturday in the Tacoma Dome. The winner will advance to the championship game on Dec. 7.
At Camas, the holiday practice begins early, in order for the players and coaches to return to their families as soon as possible.
Ethan Young, now a senior, recalled his sophomore year, leaving the house.
"My grandma said, 'Where are you going?'" Young said.
Senior Michael Johnson also had to define the situation to some of his family members back when he was a sophomore, just on the scout team, with barely a chance to actually play.
"At first, I had to explain to them it's kind of a big deal, Camas football,"Johnson said.
Now everyone in the Camas football family knows the players are expected to be practicing on this day.
"Three times in a row, but I still think it's special," Young said. "Going to the dome is something big. We want to make history.
"Practicing on a day like this is special. Everybody else in Southwest Washington is not practicing."
Football practice on Thanksgiving for high school football players in Washington is a holiday within a holiday.
"It's been a good ride on Thanksgiving," Johnson said.
Next, the Papermakers want to start a new tradition. They want to practice in December. Hasn't happened yet. Camas lost in the semifinals the past two seasons.
This year? They want to practice in December, play in December, win in December.