Occupational Health: Heart risks vary by profession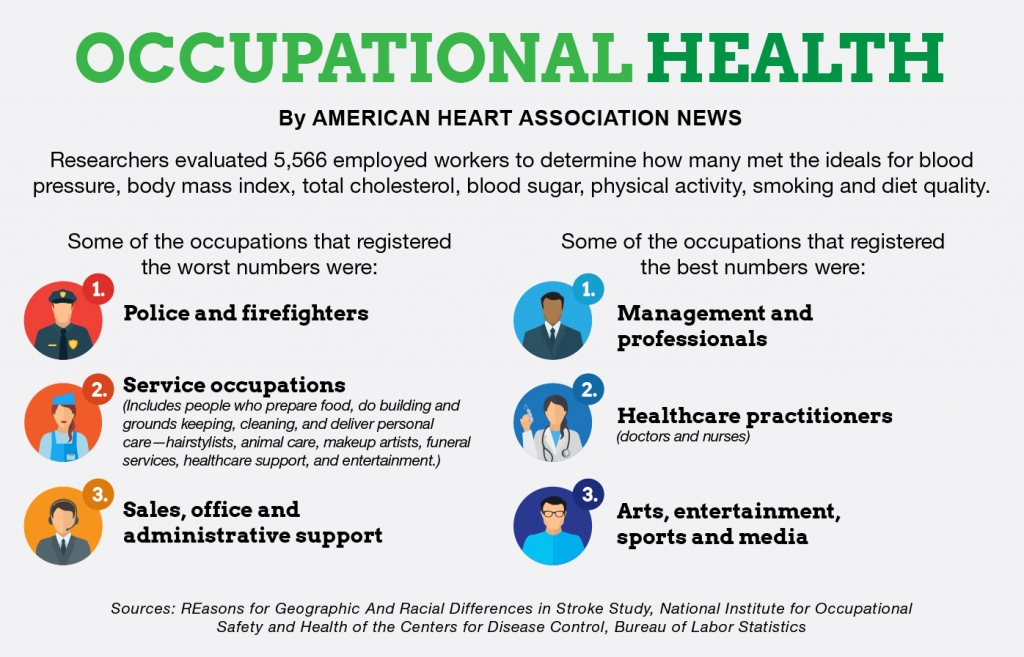 Older workers in sales, office-support and service jobs are at higher risk for heart disease and stroke, according to new research.
The research found that although more than 88 percent of workers 45 and older did not smoke and 78 percent had ideal glucose levels, fewer than 41 percent of the workers had "ideal health" in five other measures.
The research, which was presented this week at the American Heart Association's Epidemiology/Lifestyle 2016 meeting, evaluated more than 5,500 employed workers in various industries to determine how many met the ideals for blood pressure, body mass index, total cholesterol, blood sugar, physical activity, smoking and diet quality.
Those measures were scored based on the heart association's action plan for reducing heart disease and stroke risk.
Workers earned ideal scores if, without medicines, their blood pressure readings were lower than 120/80 mm Hg; total cholesterol was below 200 mg/dL; and blood glucose was lower than 100 mg/dL while fasting or 140 without fasting. Besides nonsmoking status, a body mass index below 25 and engaging in intense, break-a-sweat activity four or more times a week, including at work, were also judged ideal.
The cardiovascular risk profiles varied widely by profession, according to the research.
Here are some interesting findings:
-Transportation/material moving workers: 22 percent were smokers – the highest smoking rate among the groups in the study.
-Sales, office and administrative support employees: 68 percent had poor eating habits and 82 percent did not have ideal scores for physical activity.
-Food preparation and serving employees: 79 percent had poor diet quality – the worst diet profile of all groups.
-Protective service workers (police, firefighters): 90 percent were likely to be overweight or obese; 77 percent did not have ideal cholesterol levels; and 35 percent had high blood pressure.
Occupations that scored the worst were:
1. Police and firefighters.
2. Service occupations (food workers, housekeeping, hairstylists, animal care, makeup artists)
3. Sales, office and administrative support.
Occupations that scored the best were:
1. Management and professionals.
2. Health care practitioners (nurses and doctors).
3. Arts, entertainment, sports and media.