Gonorrhea reaches outbreak levels in Clark County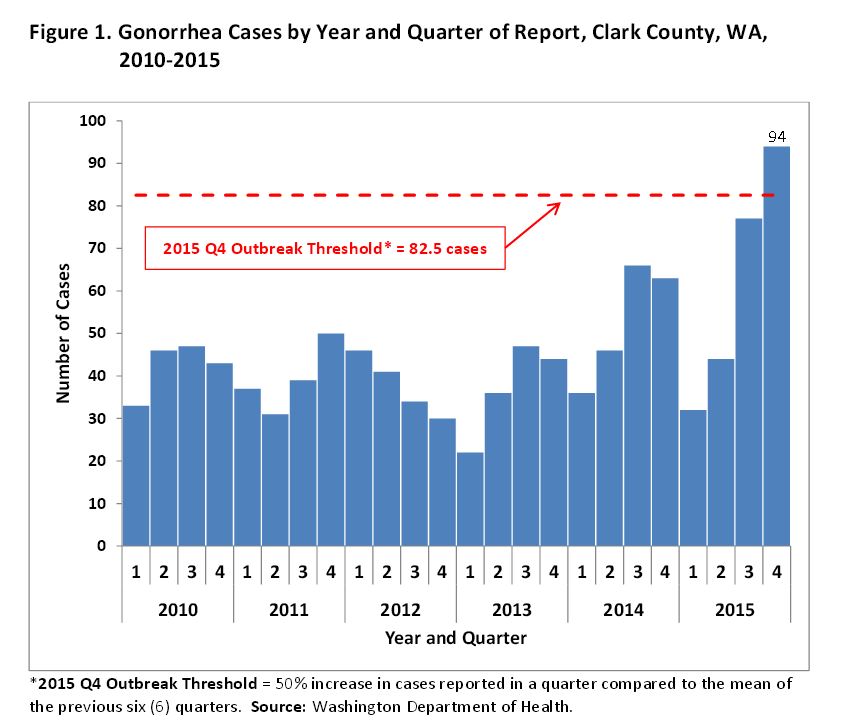 Clark County is currently experiencing a gonorrhea outbreak.
Dr. Alan Melnick, county health officer, said Clark County Public Health recorded 94 cases of the sexually transmitted disease during the fourth quarter of 2015. That pushed the county past the outbreak threshold of 82 cases.
In all of 2015, Clark County recorded 246 cases of gonorrhea. The five-year average is about 170 cases, according to public health.
Gonorrhea is a bacterial infection that grows easily in the warm, moist areas of the reproductive tract in women and in the urethra in men and women, according to the Centers for Disease Control and Prevention.
The bacteria can also grow in the mouth, throat, eyes and anus, according to the CDC.
It's unclear why the local case numbers are rising, but Melnick wonders whether advances in HIV treatment have made people less vigilant about using condoms.
Public health staff interviewed those who were diagnosed with gonorrhea in late 2015 and learned that 18 percent were using methamphetamine.
That doesn't necessarily mean meth use led to the increase, Melnick said, but it's a factor health officials plan to keep an eye on.
Of the 94 cases, Melnick said 96 percent received treatment.
Despite the increase in gonorrhea, infection rates for other sexually transmitted diseases remain steady, Melnick said.
This isn't the first time Clark County has seen a jump in gonorrhea numbers. The county experienced an outbreak in 2014, when 208 cases were recorded.