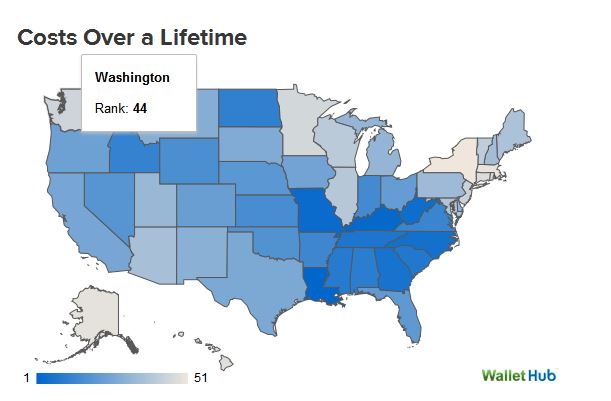 A pack-a-day smoking habit will end up costing Washington residents quite a bit more than those living in other parts of the country, according to a new report.
A Washington smoker will spend about $145,476 on cigarettes in their lifetime – higher than all but six other states (Rhode Island, Connecticut, Hawaii, Alaska, Massachusetts and New York).
Analysts from personal finance website WalletHub calculated the potential monetary losses from smoking, including the cost of a pack-per-day habit, health care expenditures, income losses and other costs.
In Washington, the lifetime total cost per smoker is $1,954,162, which comes out to about $38,317 per smoker per year, according to the report.
For the calculations, the analysts assumed an adult who smokes one pack per day beginning at age 18 and continues smoking for 51 years.
Using those assumptions, the analysts calculated per person out-of-pocket costs by taking the average cost of a pack of cigarettes in each state.
New York had the highest lifetime out-of-pocket costs ($2,452,735) and Louisiana had the lowest ($1,232,159).
If Washington residents would have taken the money spent on cigarettes and invested it in the stock market over the same period, they would have received $26,973 per year or $1,375,636 in their lifetime, in returns, according to the report.
Washington smokers also spend an estimated $3,462 per year, and $176,558 in their lifetime, on direct health care costs. Massachusetts has the highest health care-related costs ($5,283 per year and $269,447 lifetime), according to the report.
The analysts also looked at income loss among smokers. Past studies have shown that smoking can lead to loss of income, either from absenteeism, workplace bias or lower productivity due to smoking-related health problems.
The analysts estimated Washington residents lose $4,824 in income per year – or $246,000 over the course of their lives – due to smoking.
Finally, the researchers factored in "other" costs, such as insurance credits and people exposed to secondhand smoke. Washington residents incur about $206 in other smoking-related costs each year, for a total of $10,492 in their lifetimes.
All of those components added together produced the "true cost" of smoking, according to the report.
Every year, Americans spend nearly $170 billion in direct health care costs and lose more than $156 billion in lost productivity due to smoking, according to the report.