Xtreme eating "dishonorees"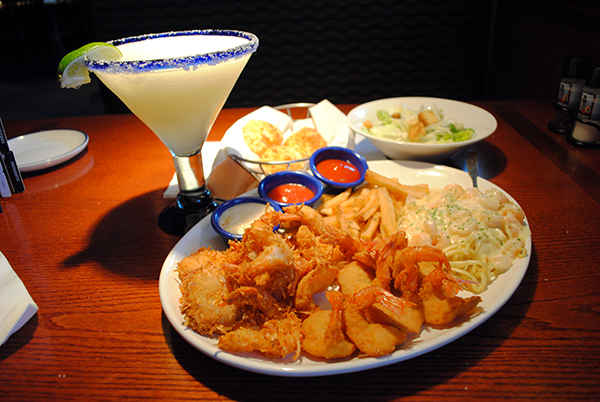 One meal from Red Lobster, paired with its trademarked margarita, contains 3,600 calories and four days' worth of sodium – a feat that earned the meal the top spot among 2015 Xtreme Eating "dishonorees."
Every year, the nutritionists at Center for Science in the Public Interest scour restaurant menus and compile the annual Xtreme Eating Awards.
The most egregious meal this year is that Red Lobster dish, a "Create Your Own Combination" concoction.
If diners select the Parrot Isle Jumbo Coconut Shrimp, Walt's Favorite Shrimp and Shrimp Linguine Alfredo as the shrimp dishes and pair them with French fries as the side dish, Caesar as the salad and one Cheddar Bay Biscuit, they'll consume 2,710 calories and 6,530 milligrams of sodium, according to the Center for Science in the Public Interest.
Throw in the Lobsterita – the chain's trademarked 890-calorie, 24-ounce margarita – and the meal reaches 3,600 calories.
"This nutritional shipwreck from Red Lobster exemplifies the kind of gargantuan restaurant meal that promotes obesity, diabetes, and other diet-related diseases," said CSPI registered dietitian Paige Einstein. "If this meal were unusual, that would be one thing, but America's chain restaurants are serving up 2,000-calorie breakfasts, 2,000-calorie lunches, 2,000-calorie dinners, and 2,000-calorie desserts left and right. Abnormal is the new normal."
Here are some of the other dishonorees:
-IHOP's omelet: IHOP's Chorizo Fiesta Omelette, is "loaded with spicy chorizo sausage, roasted peppers, onions and pepper jack cheese, then topped with a citrus chili sauce and sour cream and served with a fresh grilled serrano pepper."
Alone, the omelet packs 1,300 calories. But the dish comes with three buttermilk pancakes (or hash browns, toast or fruit).
Add in the pancakes and four tablespoons of syrup, and the dish tops out at 1,990 calories, 42 grams of saturated fat and 4,840 milligrams of sodium.
-Outback's rib: Outback Steakhouse's Herb Roasted Prime Rib dinner features a 16-ounce prime rib, which on its own contains 1,400 calories.
The nutritionists at CSPI assume a diner chooses the dressed baked potato and the classic blue cheese wedge salad, eats half of the loaf of bread and uses "a light schmear of butter."
That meal carries 2,400 calories, 71 grams of saturated fat and 3,560 milligrams of sodium.
-Sonic shake: The Pineapple Upside Down Master Blast at Sonic – which says "all meals should be topped off with dessert" – carries the calories of a full meal.
The shake contains "real, vanilla ice cream perfectly mixed with pineapple, salted caramel and pie crust pieces" and comes in a 32 oz. cup topped with several inches of whipped cream, according to CSPI.
That large dessert contains 2,020 calories, 61 grams of saturated fat (and 4.5 grams of trans fat) and 29 teaspoons of added sugar.
You can check out the full list of Xtreme Eating "winners" at www.cspinet.org/nah/xtreme2015.html.