Tips from Former Smokers campaign returns on investment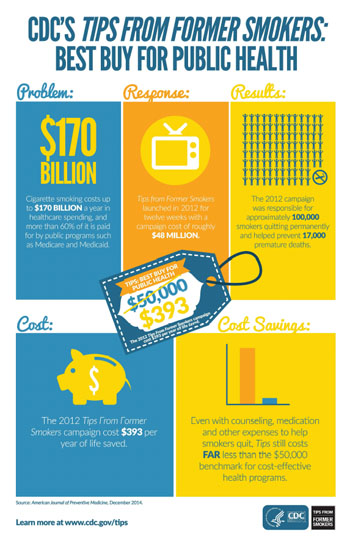 The Centers for Disease Control and Prevention's popular "Tips from Former Smokers" ad campaign provided an "outstanding return on investment," according to a new analysis.
The 2012 anti-smoking campaign, which featured video monologues from former smokers, spent $480 per smoker who quit and $393 per year of life saved, according to the CDC analysis.
A commonly accepted threshold for cost effectiveness of a public health intervention is $50,000 per year of life saved.
When related to smoking, that figure may also include costs of counseling, medications and other cessation expenses. Even with those costs added to the campaign, the total is still 15 times less than the $50,000 benchmark, according to the analysis.
"There is no question the Tips campaign is a 'best buy' for public health – it saves lives and saves money," Dr. Tom Frieden, CDC Director, said in a news release.
Smoking-related disease costs the U.S. more than $289 billion per year, Frieden said.
The campaign was the first federally funded national mass media anti-smoking campaign. The campaign, which cost roughly $48 million, launched in 2012.
The campaign was responsible for an estimated 100,000 smokers quitting permanently, according to the analysis.
Cigarette smoking is the leading preventable cause of disease and death in the U.S., killing about 480,000 Americans each year.
For every person who dies this year, there are more than 30 Americans who continue to live with a smoking-related disease, according to the CDC.