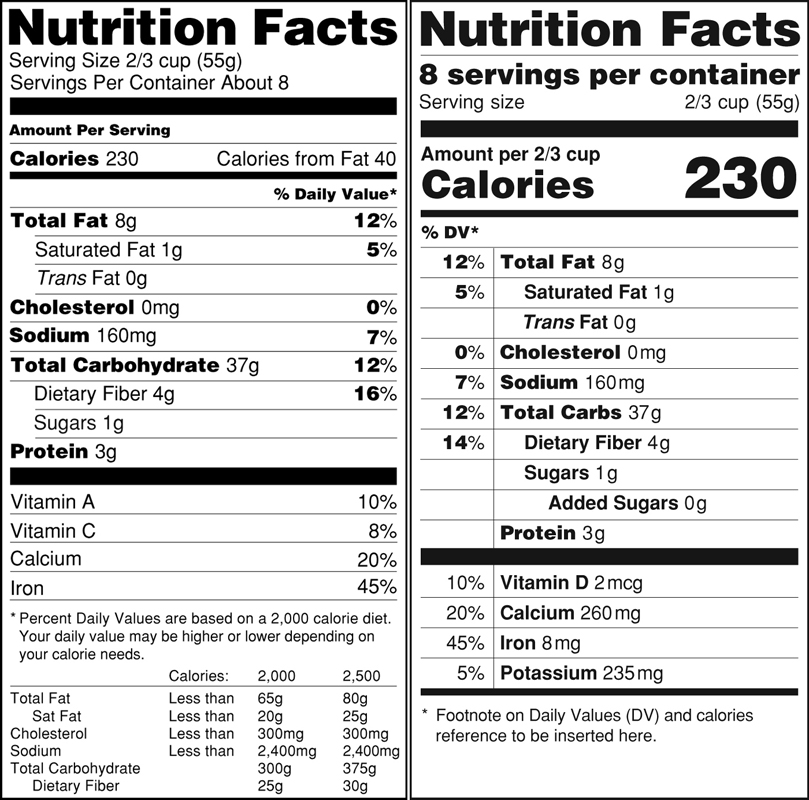 Nutrition labels on food packages are getting a makeover.
The Food and Drug Administration is proposing several changes to the nutrition labels you're accustomed to seeing.
The new labels include bigger font size for total calories, a distinction between "sugar" and "added sugar," and inclusion of certain nutrients, such as Vitamin D.
The FDA is also proposing requirements for more realistic serving services. For example, a 20-ounce soda has 2 ½ servings (8 ounces) under the current rules. The new rules would require the entire soda bottle to be one serving size, according to a CNN article.
"This will help people better understand how many calories they actually consume, especially if they plan to eat all the food in a container or package," American Heart Association CEO Nancy Brown told CNN.
The number of servings in a package are also be bigger and bolder on the proposed labels than the current labels.
"By revamping the Nutrition Facts label, FDA wants to make it easier than ever for consumers to make better informed food choices that will support a healthy diet." said Michael R. Taylor, the FDA's deputy commissioner for foods and veterinary medicine, in an FDA news release. "To help address obesity, one of the most important public health problems facing our country, the proposed label would drive attention to calories and serving sizes."
The proposed changes would be the first major overhaul of food nutrition labels since the FDA began requiring them more than two decades ago. The public now has 90 days to comment on the proposed changes before new labeling rules are implemented.
What do you think of the proposed labels?