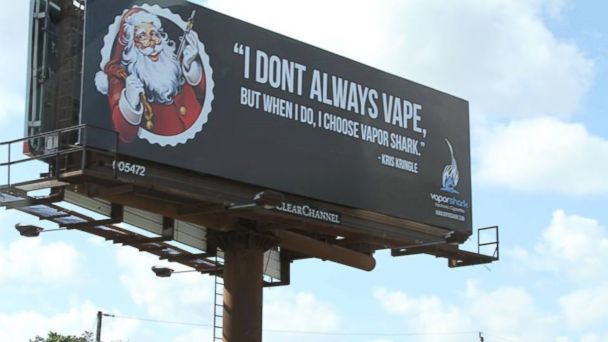 I know Santa isn't always heralded as the picture of perfect health, but smoking – excuse me – "vaping?"
That's just not very Santa-like. The Campaign for Tobacco-Free Kids seems to agree.
The electronic cigarette company Vapor Shark is under fire after putting up a Miami billboard of a vaping Santa.
Along with the photo of a smiling St. Nick holding what I assume is a Vapor Shark e-cigarette is this slogan: "I don't always vape, but when I do, I choose Vapor Shark." The quote is attributed to Kris Kringle.
The Campaign for Tobacco-Free Kids calls the ad a "new low in copying Big Tobacco's playbook." Old tobacco ads for decades featured Santa happily smoking a pipe or cigarette, sometimes with a sack full of cigarettes cartons instead of toys, according to the group.
"Not only was this an attempt by tobacco companies to associate smoking with the good cheer of the holidays, it was also clearly aimed at Santa's most rapt audience: children."
"Santa's just as much on the minds of kids as ever. And this year Vapor Shark is associating him with e-cigarettes."
Even some e-cigarette users spoke out against the ad on the company's Facebook page. The company's chief executive officer, however, told ABC News he disagreed with the dissenters who claimed the billboard targets children.
"It's a difference of opinion" Vapor Shark CEO Brandon Liedel told ABC News. "The only type of kid that would be persuaded by Santa Claus is a 5-year-old. I think a gorgeous woman would be more persuasive for a teenager."
What do you think about the ads?