Marketing fast food to kids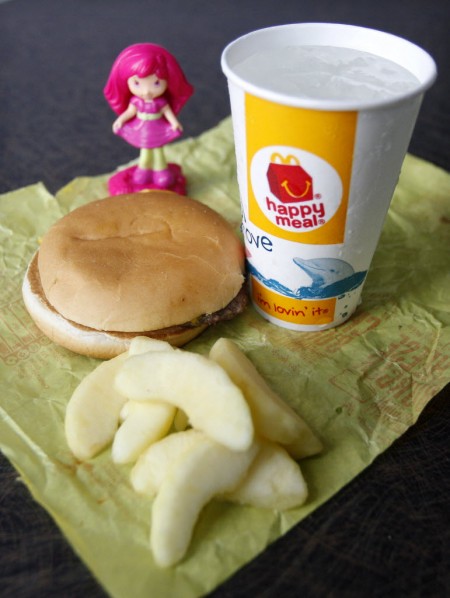 Fast food restaurants may be touting efforts to promote healthier options to children, but they still have a long way to go to make a meaningful impact, according to a new report out of the Yale Rudd Center for Food Policy & Obesity.
The report, "Fast Food Facts 2013," takes a look at fast food restaurant marketing efforts and meal offerings. The report is a follow-up to a report released in 2010, according to a Yale News article.
The researchers examined 18 of the country's top fast food restaurants and documented changes in the nutritional quality of menu items. They also looked at changes in marketing to children and teens on TV, Internet, social media and mobile devices, according to the article.
"There were some improvements, but they have been small, and the pace too slow," said Marlene Schwartz, Rudd Center director, in the article. "Without more significant changes, we are unlikely to see meaningful reductions in unhealthy fast food consumption by young people."
The restaurants researchers analyzed are McDonald's, Subway, Taco Bell, Wendy's, KFC, Pizza Hut, Burger King, Domino's, Sonic, Arby's, Dunkin' Donuts, Jack in the Box, Little Caesars, Dairy Queen, Starbucks, Panera Bread, Chick-fil-A and Cici's Pizza.
Here are some interesting findings from the Fast Food Facts report:
-Every day, 33 percent of children and 41 percent of teens consume fast food. And most children do not consume kids' meals when they visit fast food restaurants (only 44 percent of kids younger than 6 eat kids' meals).
-On days they eat fast food, children consume 126 additional calories and teens consume 310 more calories.
-Less than 1 percent of all kids' meal combinations (33 out of 5,427 possible meals) met recommended nutrition standards. Only 3 percent of the meal combinations met the food industry's own revised nutritional standards.
-Only Subway, Burger King, Taco Bell, Arby's and Jack in the Box offered main dish options that were not too high in calories, sodium or saturated fat.'
-Less than 25 percent of restaurants' regular menu options qualified as nutritious options for teens.
-On average, U.S. preschoolers viewed 2.8 fast food ads on TV every day in 2012. Older children viewed 3.2 ads, and teens viewed 4.8 ads daily.
-TV advertising viewed by children ages 6 to 11 declined by 10 percent. McDonald's and Burger King reduced advertising to children by 13 percent and 50 percent, respectively.
-But McDonald's continued to advertise more to children than to teens or adults on TV – the only restaurant to do so.
-Six companies – McDonald's, Yum! Brands (Taco Bell, KFC, Pizza Hut), Subway, Burger King, Domino's, Wendy's – were responsible for more than 70 percent of fast food TV ads viewed by children and teens.
-McDonald's display ads for Happy Meals increased 63 percent to 31 million ads per month (most appeared on kids' websites).
-Three-fifths of fast food restaurants increased TV advertising to older children. Domino's and Wendy's advertising went up 44 percent and 13 percent, respectively.
-Six billion (billion!) fast food ads appeared on Facebook.
You can check out more Fast Food Facts here.
Anything surprising to you?