Uncle Sam in the exam room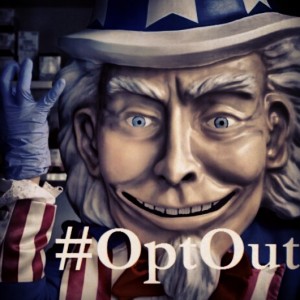 Have you seen the creepy Uncle Sam videos making the rounds on the Internet?
If you have, then you certainly know what I'm talking about. If not, allow me to fill you in.
The ads – they have his and hers versions – show a 20-something chatting with a doctor in a medical exam room. The physician comments on the young adult's decision to enroll in Obamacare before beginning the exam.
But when it's time for the actual exam, the physician is replaced by someone wearing an Uncle Sam mask and wielding a blue latex glove or a speculum (depending on the version) while the patient is sitting in a compromising position on the exam table.
The message at the end of the videos reads "Don't let the government play doctor. Opt out of Obamacare."
The ads are funded by Generation Opportunity, a conservative group funded by the billionaire Koch brothers, according to an article in the Portland Business Journal.
Here are the videos, for your viewing pleasure (or horror):
Opt Out – The Exam – Creepy Uncle Sam
http://youtu.be/R7cRsfW0Jv8
Opt Out – The Glove – Creepy Uncle Sam
http://youtu.be/BsN75nt1aUU
The Opt Out of Obamacare campaign – which carries the slogan, "Young Americans had options before Obamacare. We still do." – is designed to dissuade young adults from purchasing health insurance through exchanges.
Do you think it will work? Are the videos effective or just plain creepy?