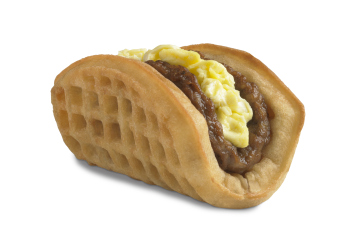 Taco Bell couldn't let Dunkin' Donuts have all the breakfast fun.
The "Mexican" fast-food chain announced its expanding its small test of waffle tacos (Yes, you read that correctly. Waffle. Tacos.) to about 100 restaurants beginning Thursday, according to the Associated Press.
So what is a waffle taco? A waffle folded into a taco shell and stuffed with scrambled eggs and a sausage patty. And, of course, the taco is served with a side of syrup.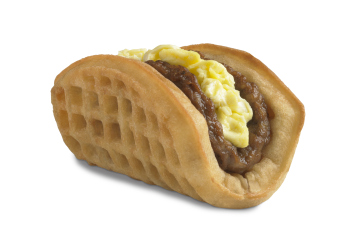 (FYI: The Los Angeles Times photo of the waffle taco looked much different.)
In case you're wondering, the waffle taco has 460 calories and 30 grams of fat, according to the AP story.
Apparently, the waffle taco was the top seller during breakfast hours at the five southern California restaurants where they were tested earlier this year, according to the AP.
Now, Taco Bell wants to see how the waffle taco will fare on a larger scale by bringing the full breakfast menu to 100 restaurants in Fresno, Calif.; Omaha, Neb.; and Chattanooga, Tenn., according to the AP.
The restaurant chain plans to take the breakfast menu nationwide sometime next year.
The additional test locations will also add yogurt parfaits and oatmeal to its menu.
Yum. Oatmeal from Taco Bell.