What's up with the chip aisle?
Let's talk about the chip aisle.
Have you been down the chip aisle at your local grocery store lately? It's pretty horrifying.
The other day, a colleague of mine sent me the following text message:
"Will you please do a story on how the chips aisle at the grocery store is an unmitigated disaster? They're recommending beef n cheese dip with this."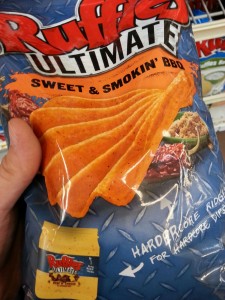 They didn't have the "Beef n' Cheese" dip at that store, but my colleague did find this dip in the chip aisle: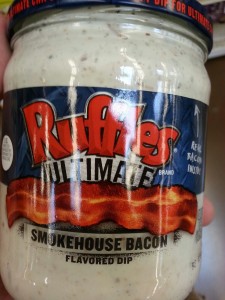 "This is white. Like bacon grease," he said.
My first thought was the dip looked like country gravy, but the bacon grease comparison is definitely better.
Also, do you see what else it says on the label?
"Real bacon inside." Gross.
I'll admit, I'm not a big chip eater. The last bag I bought was pita chips, and they're not even located in the chip aisle.
So while at the grocery store last night, I took a walk through the chip aisle.
In addition to the bacon dip, I found Ruffles Ultimate Barbeque dip. With real beef inside. Again, gross.
Also, did you know, Doritos are now Jacked?
Doritos Jacked – a new "Bigger, Bolder, Thicker" line of the triangle chips – come in flavors like Ranch Dipped Hot Wings and Enchilada Supreme.
Ruffles Ultimate – the chips with "hardcore ridges for hardcore dips," like the Smokehouse Bacon dip – come in Kickin' Jalapeno Ranch and Sweet & Smokin' BBQ flavors.
I took the liberty of looking up some of the nutrition labels for these products. You can thank me later.
Doritos Jacked Ranch Dipped Hot Wings chips: 1 serving (6 chips) has 130 calories, 7 grams of fat, 1 gram of saturated fat and 290 milligrams of sodium.
Ruffles Ultimate Kickin' Jalapeno Ranch chips: 1 serving (10 chips) has 160 calories, 10 grams of fat, 1.5 grams of saturated fat and 170 milligrams of sodium.
For some odd reason, the Frito Lay website didn't have nutrition information for the dips. (They did, however, have a link where you can put in your zip code and find all the stores in the area selling the dip.)
Don't worry. I found the info elsewhere.
Ruffles Ultimate Smokehouse Bacon dip: 1 serving (2 Tablespoons) has 70 calories, 6 grams of fat, .5 grams of saturated fat and 210 milligrams of sodium.
Also, the ingredients list does include bacon. It also includes "smoky bacon type flavor" and "butter type flavor."
Yum.