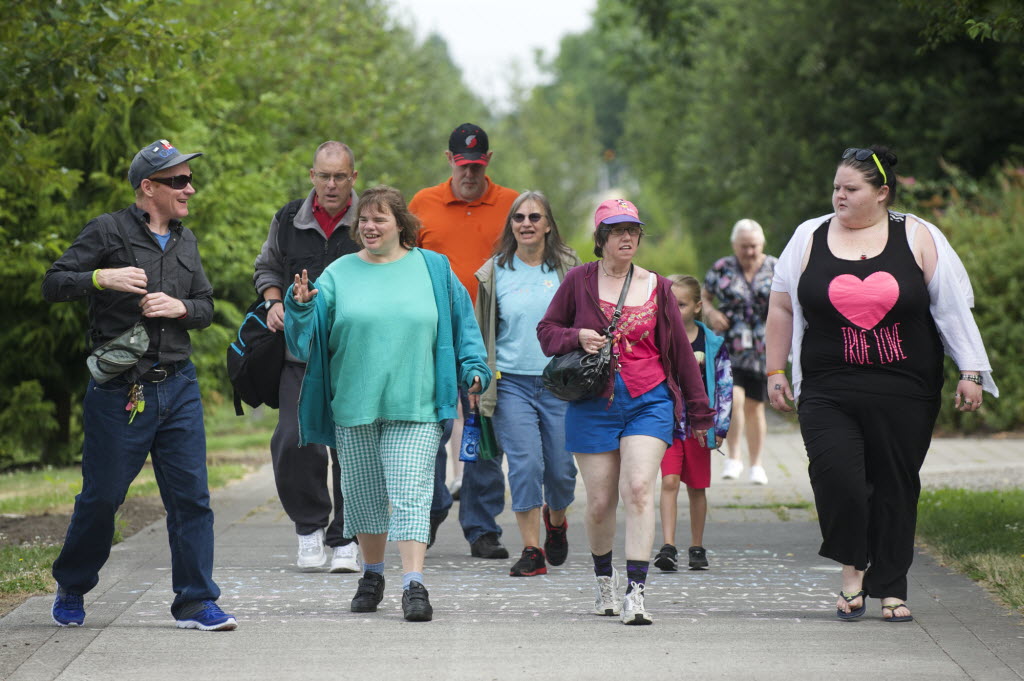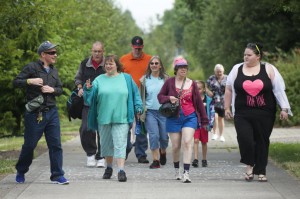 There's nothing easier than going for a walk. Right?
Sometimes. If you're lucky. Lately I've really been struck by how lucky I am, just to be able to go get a move on, thoughtlessly and almost effortlessly.
As that Very Clean Old Man urges Beatle Ringo in "A Hard Day's Night" (which I enjoyed a truly ridiculous number of times during the recent revival at The Kiggins Theatre): "Parading the streets! Any old where! Trailing your coat! Bowling along! Living!"
Mike Piper and a bunch of his friends from the Arc of Southwest Washington go parading along the beautiful Burnt Bridge Creek Greenway Trail every Monday morning and Thursday afternoon. Piper is the executive director of the longstanding charitable agency; his clients are people with developmental and intellectual disabilities, from Down syndrome to autism to individual situations that don't even have names.
For many of them, launching out into the landscape for the simple pleasure of it – or, for that matter, to get important business done – is not possible without lots of help. As we walked, I chatted with the mother of a 49-year-old man who is entirely dependent upon her; her English was not perfect but she made clear how necessary it is to chaperone her disabled son on these outings so he can get some exercise "and find his friends."
Her son, meanwhile, traded laughs and high-fives with a fellow Arc client who sported a Superman T-shirt as he zoomed along the path, speedy with the glee of moving his body on a beautiful day. Both men's speech was barely intelligible to my ears – but the heart connection between them was obvious.
Isolation and loneliness
There's no shortage of science exploring how social isolation and the subjective feeling of loneliness can both lead to big problems. Isolation may mean that you don't have the help you need to, for example, make it to the doctor and beat that infection – or, in the case of Piper's clients, make it to work and succeed on the job; meanwhile, unrelieved loneliness can be the precursor of mental health problems like clinical depression.
"It's a huge issue for people of all ages," said Piper. "The only real disability is isolation." That's a favorite quote borrowed from Piper's buddy David Pitonyak, a national consultant on disability issues, whose gospel is the human need for social connection and the fight against isolation. Pitonyak has spoken in Vancouver at the Arc's invitation and will again, Piper said.
Inclusion is the best medicine, Pitonyak writes in a primer and workbook called The Importance of Belonging. Here's a partial list of words some study subjects have used to describe how it feels to be included: happy, satisfied, accepted, secure, needed, loved, rooted. And words that convey how it feels to be excluded: dejected, unimportant, aggressive, depressed, awkward, angry, alone, empty. All of which applies to the disabled, the elderly – and everyone else.

At 40 pages, The Importance of Belonging has something for everyone – for paid caregivers who may want to consider the professional distance they maintain; for unpaid relatives who perhaps start to see their charge only as a bundle of problems; and even for lonely or isolated people themselves. There's a whole How To Make Friends section that gets pretty creative with suggestions like good jokes, lemonade stands – or just coming right out with it and announcing that you want to be friends.
"Many people who experience disabilities live lives of extreme loneliness and isolation," Pitonyak writes. "Many depend almost exclusively on their families for companionship. Some have lost their connections to family, relying on people who are paid to be with them for their social support. Although paid staff can be friendly and supportive, they frequently change jobs or take on new responsibilities. The resulting instability can be devastating to someone who is fundamentally alone."
As I heard somebody sing while a quartet of young dudes went frenetically parading all over the place: "Money can't buy me love!"