Wine & Travel: Texas Hill Country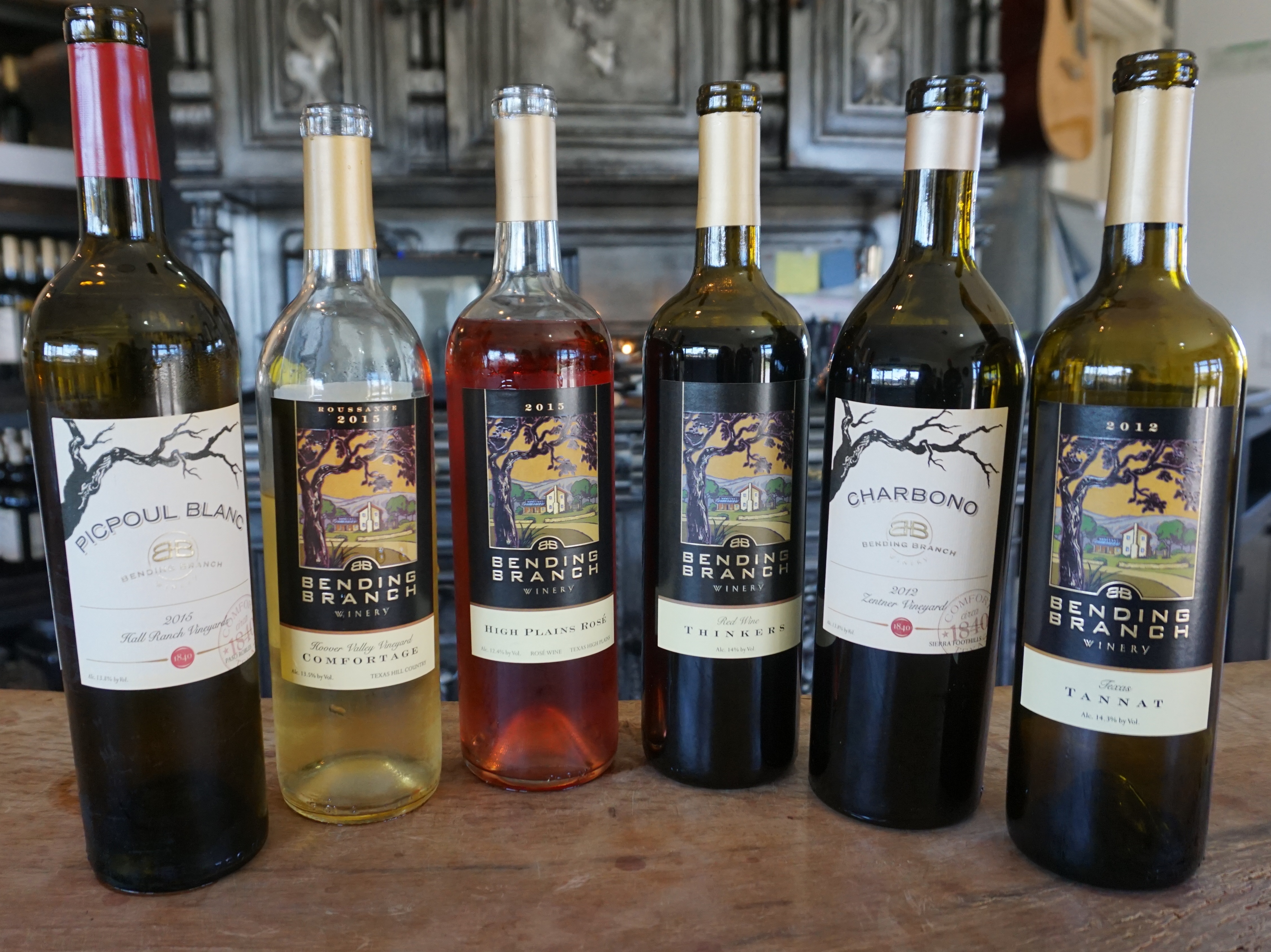 Living in the northwest surrounded by so many terrific wine regions, it can be easy to forget the world is filled with exceptional wines and even varietals yet to be discovered. On its own, the United States provides fun and exciting excuses to venture out in search of the great grapes of the globe.
Everything's big in Texas and their wine scene is no exception. In fact, the Lone Star state boasts the second largest AVA in America. Texas Hill Country was my destination of choice back in January and it was clear early on that, yes, there is award-winning wine worthy of the voyage.
A bit off the beaten path lies Flat Creek Estate. As such, there is on-site lodging and dining and events scheduled throughout the year to make the effort worth every patron's while. Interestingly, winemaker Tim Drake hails from Federal Way, Washington. He came to the Hill Country to dabble in different varietals and winemaking techniques. Aging pinot grigio and viogner in Russian oak barrels is imparting a subdued spice that is turning heads.
"I always felt the viogniers from Washington were nice but had a hole in the mid-palate. We fill the hole in down here in Texas," Drake said.
In fact, Pedernales Cellars (another Texas Hill Country winery) walked away with a Grand Gold at the 2013 Lyon International Wine Competition for their 2012 Viognier; the only U.S. viognier to earn such an honor. Their compadres, Flat Creek Estate and Becker Vineyards, also earned medals for the same varietal.
On Hwy 290—dubbed the Wine Road which leads into quaint and friendly Fredericksburg—wine seekers will find an unassuming building containing Hye Meadow Winery. Step inside to savor the stunning oak grove that it overlooks. Chief grape stomper, Mike Batek, exudes true southern hospitality as he pours crisp Trebbiano, unfiltered Rosato, a gamay-style Dolcetto, The Full Monte—a 100 percent montepulciano with vanilla and dark cherry to plum notes—and a spicy Aglianico with gripping tannins.
Located in the heart of German-centric Fredericksburg, visitors will find Lost Draw Cellars. One of their Rhône-style whites not only sports a unique name but a unique grape in its blend. Gemutlichkeit, translated loosely, means 'come together and share good cheer.' According to tasting room lead, CJ Evans, possibly only 100 acres of picpoul blanc are grown in the U.S., 5 of which are found in Hill Country.
A short drive out of town is worth the effort to experience the wines of Bending Branch. Their lineup includes 100 percent picpoul blanc displaying green apple and racy acidity, charbono with smoky big fruit and chewy tannins and tannat with a chunky nose that finishes smooth. As with the other wineries, warmer weather tempts visitors to linger in the outdoor patio spaces.
After tasting the delicate tropical fruit notes of their 2015 Albariño and light citrus of the 2015 Vermentino, the 2015 Viognier Reserve continues to prove why Pedernales Cellars was the Grand Gold winner in 2012. Oaked for 15 months, soft white blossoms are followed by toast and dairy characteristics and a melt-in-your-mouth, decadent quality.
Grand in scale and production, Messina Hof could be mistaken for a tourist destination but they cater to the aficionado, as well. In fact, owner Paul Mitchel Bonarrigo, is so serious about wine and educating the consumer that he's invested in WSET (Wine & Spirit Education Trust) certification courses for all his tasting room employees and their level of expertise is refreshing. Messina Hof is proud to be the most awarded winery in Texas.
Heading back toward Dallas just off US-281, travelers are in for a treat at Spicewood Vineyards. Owned by Ron Yates (who also possesses a law degree and owns a music company), Spicewood boasts 32 acres of vines and something I was particular delighted to find—four acres of sauvignon blanc, which is rare for the area. Bright acid, lemon/lime, citrus, a slight herbaciousness with grassy notes; it was all there and so easy to imagine as my go-to wine for lazy Texas days.
With over 350 wineries spread throughout eight different AVAs, there's a lot of ground to cover in Texas. From more familiar varietals such as cabernet sauvignon, merlot and tempranillo to regionally-specific ones like lenoir, blanc du bois, picpoul blanc and tannat, a growing wine scene is just one more excuse to visit the Lone Star state.
Need more? Check out The Treaty House—a craft cocktail cigar bar with a focus on premier wines; The Club at Baron's Creekside—an indoor/outdoor wine bar with a decidedly European flair thanks to owner, Daniel Meyer who hails from Switzerland; The Cabernet Grill—a wine-centric restaurant located inside the unique lodging compound of Cotton Gin Village; and the Lincoln Street Wine and Cigar Bar, a perfect spot for nibbles, a night cap, live music and a cellar full of wines by the glass (or bottle).
**Follow Corks & Forks by clicking the 'Follow' button or follow Corks & Forks on Facebook, Twitter @WACorksandForks or Instagram Viki@WACorksandForks.