Local vintners featuring port-style wines for Valentine's Weekend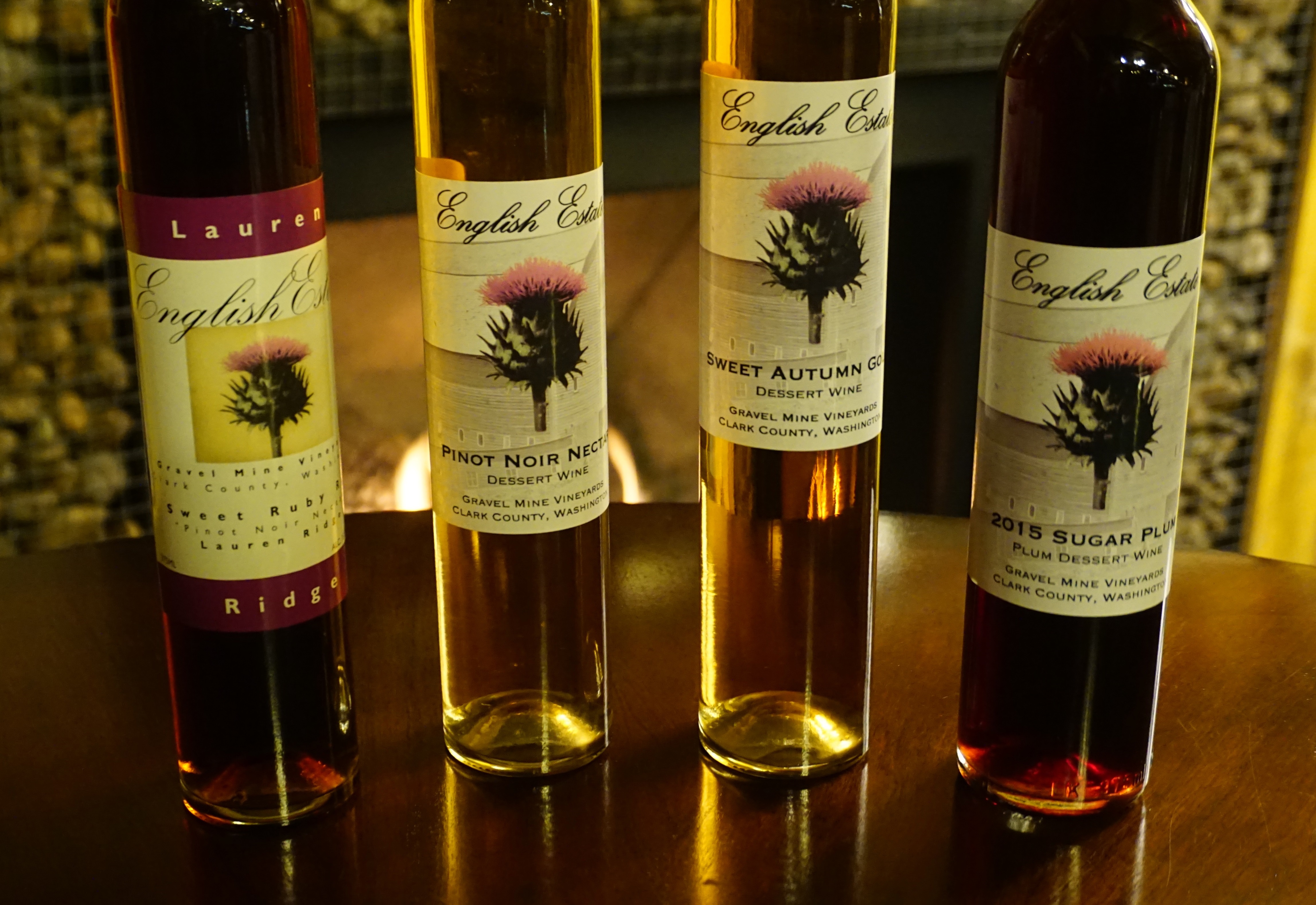 Valentine's weekend is upon us and, with that, wineries will be hosting their annual Chocolate & Wine Pairing festivities from SW Washington to the Yakima Valley, Southern Oregon and beyond.
In honor of the occasion, I tasted several of the port-style treats being crafted by vintners throughout Clark County. Be sure to pick up a bottle or two to enjoy at home with your sweetheart. Keep in mind all prices are for 375 ml size.
English Estate Sweet Ruby Red Pinot Noir Nectar
Only slightly less ABV than traditional port, this is the truest port-style wine offered by English. Made from their own Pinot Noir brandy distilled by Clear Creek Distillery and estate Pinot Noir, showing considerable toast from aged oak barrels and succulent cherry notes. 17.5% ABV, $28.
Other offerings:
Raspberry Delight—When the freezer broke one day, threatening the estate raspberries that Gail English had harvested for canning, Carl Sr. quickly found a way to preserve the just-picked freshness. He nailed it! Excellent for sparkling spritzers or as a sauce over cheesecake. 17% ABV, $49.
Sugar Plum—At the heart of this nectar with baking spice on the palate are the juicy plums found on the homestead. 17% ABV, $39.
Sweet Autumn Gold—A combination of estate pinot noir juice and their own pinot noir brandy, light oak lends coconut to the finish. Versatile paired with blue cheese or crème brûlée.  16.5%, $28.
Gougér Cellars Mine, Mine, Mine
Sweet enough to be paired with desserts but not so much that it can't be enjoyed alone, aged brandy is employed to add complexity to this blend of syrah, zinfandel merlot and muscat of Alexandria (an ancient vine with an impressive lineage). 18% ABV, $22.
Mine, Mine, Mine Chocolate—This wine captures the essence of chocolate in a bottle with a lush weight that romances the palate. Popular for pairing with high-end chocolates. 18% ABV, $22.
Koi Pond Cellars Elle's Crème Brûlée
Hints of white blossom from apple to honeysuckle draw you in. Hot on the front with hazelnut and a bit of coffee mid palate with a caramel finish and whisper of chocolate, this white port-style wine delivers something from beginning to end. Warm and soothing. 16% ABV, $35
Moulton Falls Winery NV Yacolt Valley Vineyard Port-Style Dessert Wine
Made from deep, rich Red Mountain syrah and fortified with Yacolt Valley Vineyard Pinot Noir, then distilled to brandy locally at Double V Distillery. This syrah brings out a deep cherry flavor reminiscent of candied cherries followed by a silky, dark fruit finish. 19.5% ABV, $28
Rezabek Vineyards Daybreak Cellars Tempranillo Dessert Wine 
With a port-range ABV and grape composition including tempranillo (aka tinta roriz), touriga nacional and a scant amount of tinta cão, this may be the closest port-style wine being made in Clark County. Baking spice aromas follow with big juicy cherry notes on the palate, a swirl of chocolate and coconut notes on the finish. 19.5% ABV, $18
Rusty Grape Vineyards 2010 Vino de Ciocolotto
This syrah-based treat is the perfect pairing of wine and chocolate. Retaining its higher tannin quality, the warm nose teases your palate with notes of cocoa nib and brandy while the mouth feel is full and velvety. Pair with dried fruits like figs, plums and apricots or a nut cake.18% ABV, $32
Other notable dessert-style wines:
Blackberry wine, a sweeter berry wine that makes an excellent addition to white wine for a summer spritzer. $25
Blueberry wine; blended with merlot it becomes a quintessential sauce for drizzling over salmon. $25
This authentic Spanish tasting bar offers a range of traditional Sherries from very dry to sweeter, even cream, category. In this way, Sherry is perhaps as misunderstood and versatile as riesling. Those allowed to age in barrel impart nutty notes like almond and coconut. At 15-20% ABV, these fortified wines warm you up from the inside out.
Cupid's Arrow, an off dry white blend infused with white chocolate and raspberry.
Love Potion No. 9, a red wine blend infused with dark chocolate.
2014 Viognier, slightly sweet and packed with flavors of melon, papaya, pear, apricot, and lemon. An excellent wine to enjoy with fruit desserts.
2014 Riesling, rich and full bodied with flavors of peach, apricot and lemon.  It pairs well with spicy Asian and Indian dishes and fruit desserts.  Enjoy now or let it improve with age.
DuBrul Vineyard Late Harvest Riesling, must wait for May 6 Spring release but developed flavors of stone fruit and citrus are typical. Can run the gamut from cheese to fruit to glazed ham.
Late Harvest Pinot Rosé, made of late harvest Pinot Noir and Pinot Gris.  Currently their sweetest wine, in the 13% alcohol range with 3.5 percent residual sugar. Calms the heat of Latin cuisine.
**Follow Corks & Forks by clicking the 'Follow' button or follow Corks & Forks on Facebook, Twitter @WACorksandForks or Instagram Viki@WACorksandForks.