C'est la vie hosts Friday Night Meltdown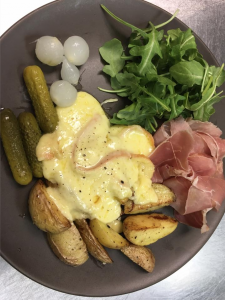 Santa brought Keri Buhman, owner of C'est la vie French Café and Crêperie, a raclette melter this past Christmas. Join her and her crew January 27th from 4-7 p.m. when they host their first Friday Night Meltdown. 
Raclette means 'to scrape.' Traditionally, a cheese from the Swiss Alps is melted and scraped onto roasted potatoes and served with cornichons, pearl onions, prosciutto and an arugula salad!
This, along with a glass of vino, is the perfect way to say 'hello mon ami' to any weekend.
**If you like what you're reading, follow this Corks & Forks blog by clicking the 'Follow' button or follow Corks & Forks  on Facebook, Twitter @WACorksandForks or Instagram Viki@WACorksandForks.