Pilgrimage through Spain a wine adventure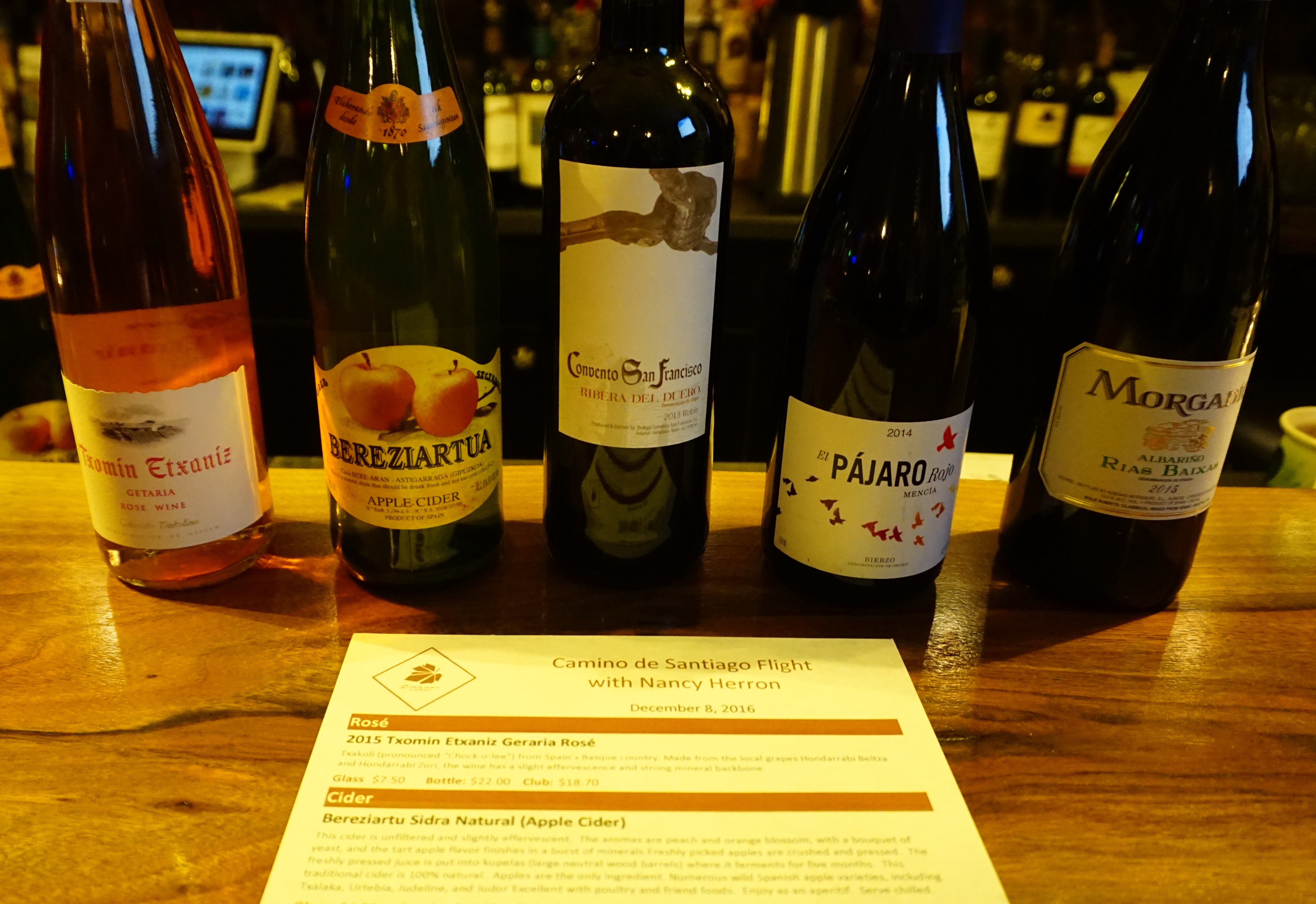 El Camino de Santiago is a pilgrimage to the shrine of the apostle St. James the Great in Santiago de Compostela, Spain. In the Middle Ages, The Way of St. James was an epic religious journey. Walking hundreds of miles to arrive at the final destination believed to hold the remains of St. James must have been a thoughtful, introspective undertaking.
Today, some of the most popular routes parallel freeways, train tracks and villages whose main industry is tourism. Regardless of modern conveniences it is still an impressive physical achievement. For example, the Northern Way consists of 509 miles from its beginning in San Sebastián, Spain. Battle Ground resident, Nancy Herron, completed Camino del Norte in October and shared her experience recently at Emanar Cellars along with pairings of wines found along The Way.
Txakoli (pronounced Chacoli) is Basque. Basque is a unique place with a language separate from Spain and France. Nowhere is that more evident than San Sebastián, where you can order txakoli at neighborhood pintxos (tapas) bars as well as the more tourist district. A dry wine with high acidity, txakoli is meant for the abundant seafood in the area.
Cider from Spain—and for that matter, Normandy—is nothing like cider in the U.S. Addicted to our pop, lattes and flavored water, U.S. cider is on the sweet side or it just couldn't be sold. Bereziartu Sidra Natural is proud of their sediment and has an unmistakable olive brine flavor profile. This company has been dedicated to cider production since 1870. I love it, love it, love it and agree that it would be amazing with the regional specialty; salt cod (bacalao).
Ribera del Duero is not along the Northern Way but Mar, co-owner of Emanar, assured me that towns along the northern route pull from the closest region and it's hard to improve upon Ribera for a neighborly cup of sugar (or glass of wine). Tempranillo is king and I'm going to use my imagination to assure readers that it possesses the ideal flavor profile for suckling pig and roasted baby lamb and speak in the first person that it is divine with asparagus and blue cheeses.
Just beyond the halfway point, Herron hit north of Oviedo where the Bierzo Denomination of Origin lies. Mencia grapes produce velvet smooth red wines that are young in relation to the average age that Spanish wines are released. Last week it was a crowd favorite for its easy drinkability. Similar in body to pinot noir, its broad ability to pair with food from game to chicken to charcuterie is another selling point of mencia.
Finishing up along the coast, Herron encountered more albariño than she could shake a sea scallop or mussel or…name the fish, it's bound to be in the Rias Baixas region. Tropical fruit and a zippy minerality are telltale signs of albariño. Similar to a sauvignon blanc for release date, the fresher the better so snatch up 2015s and the results should be solid. (although a handful of producers are aging albariño with success). This could even be a terrific New Year's party wine with crab cakes and shrimp cocktail.
El Camino is said to provide as many experiences as there are routes. Traversed intentionally, the bonus could be an authentic gastronomic and wine tour.
**If you like what you're reading, follow Corks & Forks by clicking the 'Follow' button or follow Corks & Forks  on Facebook, Twitter @WACorksandForks or Instagram Viki@WACorksandForks.