'Tis the season for sparkling wine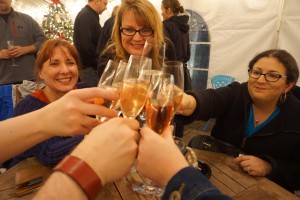 Nothing says party like bubbles and Clark County is getting ready to pour it on with sparkling tastings at wine bars from Vancouver to Battle Ground.
True Champagne is on the higher end of pricey. Thankfully, there are other pocket-friendly options that allow enthusiasts to partake in this elegant and celebratory beverage.
The language of Champagne:
Champagne: Sparkling wine made in the renowned controlled appellation in Northern France.
Cava: Spanish sparkling made in the méthode champenoise (Champagne method).
Crémant: French sparkling made outside the Champagne region, in the Loire Valley.
Prosecco: A sparkling wine from NE Italy generally made by fermenting in tank instead of bottle, also known as the Metodo Italiano.
What's up with the label?
Dosage is a term used to describe the mixture of wine and sugar used to replace the plug of yeast that's disgorged before final bottling. The more sugar added, the sweeter the sparkling wine. Brut tends to be the perfect balance of bready, acidity and sweetness that most fans of sparkling are drawn to.
From sweetest to driest, these are the terms to look for: Sec, Extra Sec, Brut, Extra Brut and Brut Nature or Zero Dosage.
Tastings happening around town:
Bleu Door Bakery—Friday, December 9 from 5:30-8 p.m. enjoy six incredible bubbles representing Spain, Italy and France plus fantastic nibbles for $20. Drop in any time to find the perfect bottle for your holiday celebrations. Bottle sales available.
Evergreen Wine Cellar – Friday, December 9 from 5-8 p.m. savor five budget-friendly tastings for $5. Bottle purchases range from $11 (for an intriguing sparkling Moscato infused with lemon) to $16 or shop from an extensive selection of Champagne and sparkling wines.
Veraison Wine & Events— Saturday, December 10 from 4-7 p.m. taste six bubbles including three Champagnes for $15. Save 5 percent on all bubbles by the bottle with a paid tasting. Also rotating a different Champagne each week through the end of the year.
Latte da Coffeehouse and Wine Bar— Thursday, December 15 from 5:30-7:30 p.m., under their heated tent, visitors can partake in four tastings—including two Cavas— alongside light appetizers for $10. Special prices on bottles and six-bottle discounts will also be offered.
Emanar Cellars— This Spanish wine bar is hosting a Cava flight on Friday, December 16 and Saturday, December 17 from 4-10 p.m. For $12, guests will enjoy five sparklings and two new tapas designed to complement the bright characteristics of Spanish bubbles.
C'est La Vie— Saturday, December 17 from 1-4 p.m. this inviting crêperie is partnering with neighboring Riverside Performing Arts to host a community Christmas party. Sparklings will be included in the wine and cheese samplings. Cookie decorating, pictures with Santa, live performances, Christmas crafts and an ugly sweater contest are all part of the complimentary festivities.
Niche Wine Bar—Monday, Dec 19 from 5-9 p.m. three different Champagnes for $20 will be spotlighted as part of their monthly bubbles club (which happens the third Monday of every month). Food that pairs well with Champagne will also be spotlighted.
La Bottega— Wednesday, December 21 from 5-8 p.m. join this beloved downtown Vancouver Italian restaurant as they pour four bubbles from around the world for $15. Complimentary antipasti included. During the event, all wines sampled will be 50 percent off so stock up for the season.
**If you like what you're reading, follow Corks & Forks by clicking the 'Follow' button or follow Corks & Forks  on Facebook or Twitter @WACorksandForks.