Not to be missed: Ugly Holiday Sweater Pub Crawl this weekend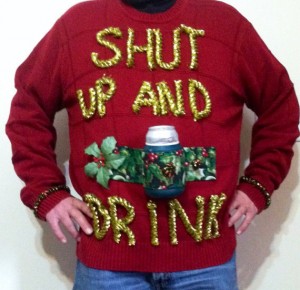 Drink This! Vancouver  and the Uptown Village present Uptown Village Ugly Holiday Sweater Pub Crawl this Saturday, December 10th from 4-9 p.m. This is the opportunity to celebrate the Christmas season by showing up at participating businesses in your favorite ugly holiday sweater to receive drink specials and have some fun while pub crawling. It is a free event (beverages are not free) and open to everyone (Note that most venues are 21+ with ID, but some do allow children).
No signups, just show up at one of our locations, get your free map, and choose your route. All locations are within walking distance, and you can win prizes along the way!
1. Start by getting your map from one of the locations.
2. Show off your Ugly Holiday Sweater to compete with business favorite.
3. At the end of the evening, turn in your map to any of the participating locations with your email address to be eligible to win $50 cash money!
Not all locations will have prizes, so please ask. Cash prize winner will be announced by email by Friday, December 16 and announced on the Drink This! Facebook page.
Trap Door will be giving away a Trap Door ugly sweater and an ugly beanie at 9 p.m.  Each location will be doing something a bit different, and it's all in Uptown Vancouver!  You have 14 stops to choose from, so you'll be busy!
Here are the participating locations:
Peking Garden
Cellar 55 Tasting Room
Shanahan's Pub
Trap Door Brewery
Uptown Barrel Room
Doomsday Brewing
Paul's Elbow Room
I Like Comics (yep, we got them a liquor license)
Salmon Creek Outfitters (they have a license too!)
Kiggins Theatre
Thirsty Sasquatch
Sunrise Bagels
High End Market Place
Vancouver Pizza
This is a free event. Just show up with your ugly sweater, and get ready to have a great time.  Of course, they have to charge for alcohol so they don't break the law, but there will be happy hour specials, and you can walk away with free prizes!
**Disclaimer: This is a reprint of Drink This! Vancouver press release
**If you like what you're reading, follow Corks & Forks by clicking the 'Follow' button or follow Corks & Forks  on Facebook or Twitter @WACorksandForks.