Wine down ideas for the weekend
First Friday is upon the County once again. Downtown Vancouver, Battle Ground, Ridgefield and Camas will be rolling out their pre-holiday best and festive spots will be numerous. Get a jump start on the holiday season and enjoy it for a full two months!
Start Christmas shopping early at The French Door. Joyeux Noel – a Holiday Open House – this Friday, November 4 from 5-9 p.m.  Gifts, decorations, hors d'oeuvres, refreshing drinks and live violin music by Kara Griffey will put shoppers in the spirit. 
Gary Gouger offers free pasta Friday Happy Hour every Friday at Gouger Cellars Winery. From 5- 8 p.m. enjoy a dish of pasta with a glass or wine bottle purchase and be sure to check out his new dessert; a cinnamon seeded French toast custard baked, topped with a zinfandel glaze or maple syrup and served hot with a scoop of his home-made ice cream!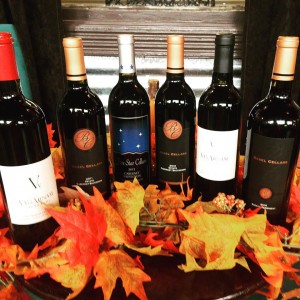 Cellar 55 Tasting Room has live music and a new art exhibit to complement their lineup of Five Star Cellars, Basel Cellars and VanArnam Vineyards wines.
Happening at Burnt Bridge Cellars, a classical guitarist and mixed media art are the appetizers to Kim Mahan's Spanish-inspired Food by Class Cooking offerings (think pintxos, paella and chorizo). Of course, Ben's wines wash it all down beautifully.
Don't miss Ridgefield's Wine, Chocolate & Gratitude Gala this Saturday, November 5th at Overlook Park from 11 am-6 pm. Wines from the SW Washington Wine Association will be featured.
Gearing up for Nouveau Day, Courtney will be pouring Cru Beaujolais this Saturday, November 5 from 12-8 p.m. at Veraison Wine & Events. $5 buys three tastings of this complex wine perfect for the Thanksgiving table.
 **If you like what you're reading, follow Corks & Forks by clicking the 'Follow' button or follow Corks & Forks  on Facebook or Twitter @WACorksandForks.