Perfect wine pairings for Halloween treats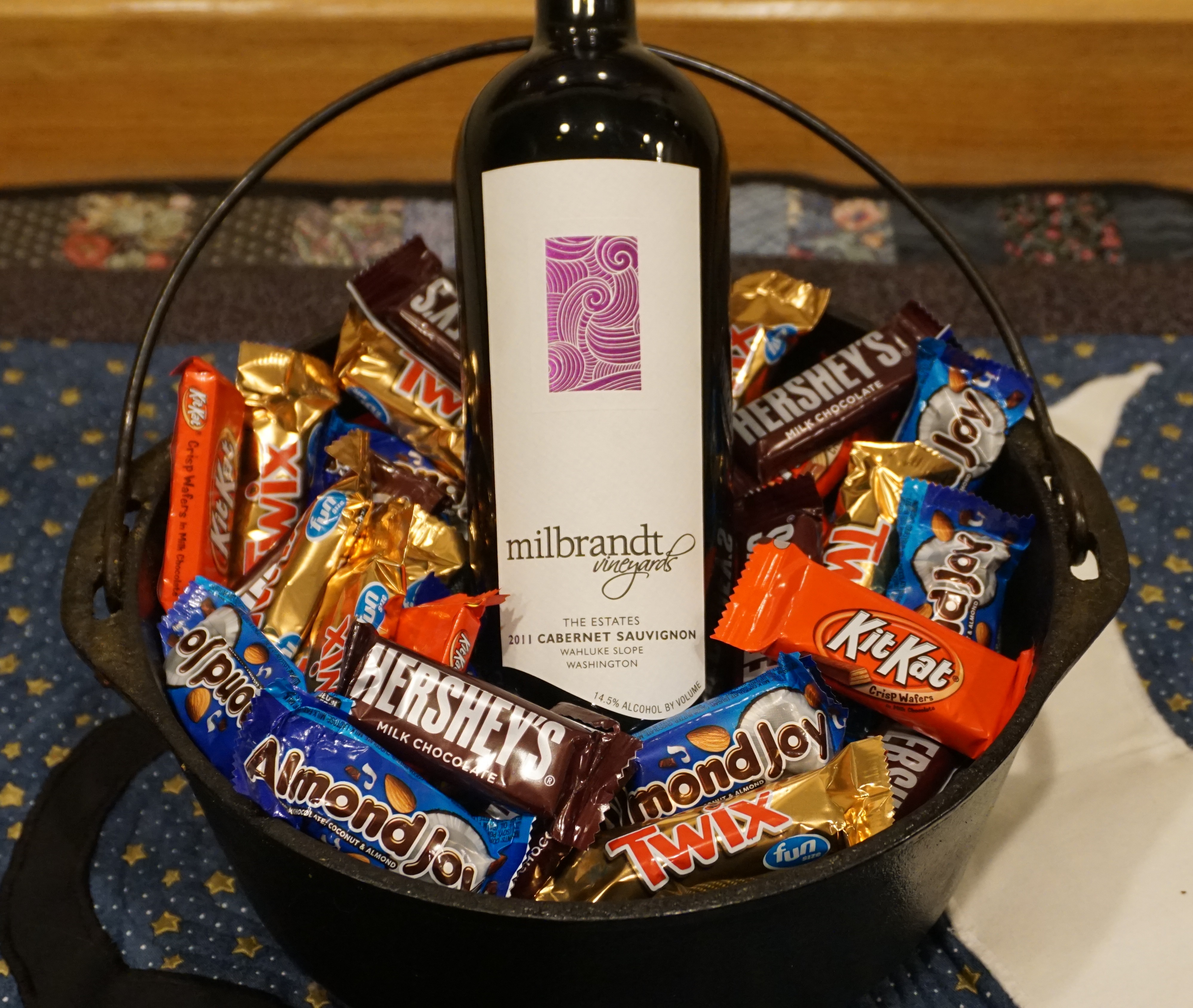 All Hallows' Eve…a time of costumes, carved jack-o'-lanterns, apple bobbing and trick-or-treating. It all fades save for the candy haul. Rather than let the little ones have all the fun, why not indulge in an adult tasting; cork screw required.
Bill Hayes, category wine manager at BevMo! has much to say about wine and candy pairings.
Candy: Reese's Peanut Butter Cups with zinfandel. Why? A berry fruit character and enough tannin to cut through the richness of the chocolate and peanut butter. Suggestions: Michael David Phillips 7 Deadly Zins $12.99 –or- Ravenswood Vintners Blend Zinfandel $7.99. "Not only are these wines fantastic, they will also follow the Halloween theme," Hayes said.
Candy: Peanut M&M's with pinot noir. Why? Softer, rounder, low tannin. Suggestions:  A to Z Pinot Noir under $16 –or- Wild Horse Central Coast Pinot Noir $15.99. "Both of these wines are driven by purity and fruit. They have velvety tannins and are quite round on the palate," Hayes said.
Candy: Snickers with Tawny Port. Why? Due to the caramel characteristic and its rich and full taste. Suggestion: Dow's Tawny Port $12.99. Hayes said, "Just stay with this port.  No need to get too elaborate with a 10 year tawny. The nutty character will play nicely with the caramel in a Snickers."
Candy: Hershey Bars, Kit Kat and Twix go best with cabernet sauvignons. Why? It is a classic mix of chocolate and tannin in the cabernet. Suggestions: Chateau Ste. Michelle Cabernet Sauvignon $10.99 –or – J Lohr Seven Oaks Cabernet Sauvignon $12.99. Hayes said, "Chocolate and cabernet really play well.  Make sure you look for a wine with layers of red and dark fruits."
Candy: Candy Corn with late harvest riesling. Hayes said that this riesling style is becoming rather spendy. I found the Jam Cellars Butter Chardonnay ($14.99) to be the perfect substitute; enough acid to keep the combination from being cloying with the matching creamy textures to complement each component.
Candy: Skittles and Starburst with riesling. Why? Fruity and sweet tasting notes complement one another. Suggestion: Pacific Rim Riesling $11.95.
Candy: Sour Patch Kids with moscato. Why? It's fruity, fresh and bright, which counter-balances the sour patch kids. Suggestion: Castello del Poggio Moscato $14.99–or- Primo Amore Moscato $12.99. "The rule of thumb for sweet wine is that the wine should be sweeter than the dessert.  You can definitely use Moscato for this," Hayes said.
Candy: Smarties with prosecco. Why? Slightly sweet, very bright, fruity, fresh, slight lemon/lime flavor. Suggestion: Nino Franco $20.99 –or- Mionetto Prosecco Brut $13.99. Hayes said, "The freshness and hints of lemon and citrus will work well with the sweetness of the smarties."
With all the choices available, Hayes still has his go-to favorite. "I love zinfandel and cabernet when it comes to chocolate. Everyone loves barbecue and zin or a steak and cab but, have a rich chocolate bar and cabernet, both wine and food will taste different. Big style zinfandel and rich chocolate will shock everyone."
Happy Hallows' Eve to young and old. Cheers!
 **If you like what you're reading, follow Corks & Forks by clicking the 'Follow' button or follow Corks & Forks  on Facebook or Twitter @WACorksandForks.