Jacquot Farm and Vineyard elegant outdoor venue for close-in weddings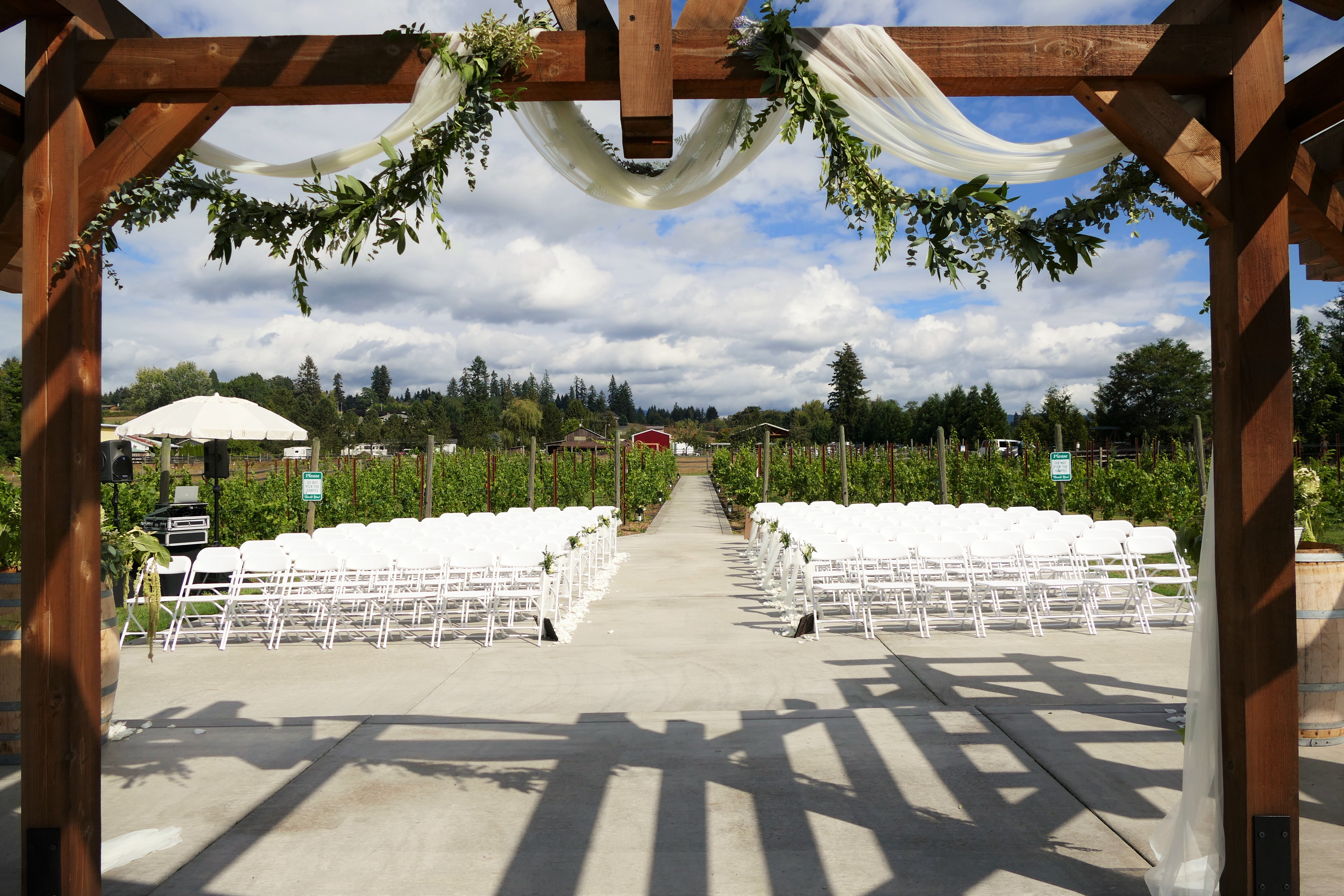 Planning a spring wedding? Jacquot Farm and Vineyard has you covered. The newest event space in North County has also been wildly popular in its first year with 18 weddings and 12 already booked for 2017.
Husband and wife team, Steve and Julie Jacquot, purchased the 20 acre parcel in Brush Prairie with the intention of creating a small farm life environment for visitors. With some grape vines already on site, Steve's research of area event places turned up a need for more options.
Before they knew it, they had added three and a half acres planted in pinot noir and chardonnay to their bucolic backdrop. Still learning how to grow and train the vines, they do have the hardscape and plants for nearly five acres total.
Julie said "Part of the whole experience is that we give people a small farm experience. They get to see cows, a baby nursing its mama and people feed them apples at weddings. A lot of people are excited that they live five minutes away and can have their wedding here. Caterers are excited that they only have to drive 10 minutes to get here."
Both coming from farming backgrounds, this is their first go-around for a vineyard and event venue. Celebrating his 20th year as a police officer in October, Steve grew up on a farm outside Couer d'Alene, Idaho. On 1,000 acres they grew grain crops and raised cows and chickens. Also hailing from Couer d'Alene, Julie retired from a 28 year Army career in 2013 and now works as a Veterans Service Officer. Her family's small time animal farm included horses, cows, chickens, pigs and turkeys.
After clearing their land of refuse, blackberries, brush and pine trees, the couple is pleased to share what they've worked so hard on with wedding parties, family reunions, large birthday parties, retirement parties and other special occasions.
"It's rewarding to have people tell us we've done a really good job and that it's beautiful," Julie said.
Steve added that they're conscious to hire local craftsmen for property projects like the bathroom trailer, mini homes for the bridal party and groomsmen dressing rooms and eye-catching mural along one side of a large outbuilding.
With an original intention to sell grapes to area wineries, Steve and Julie are switching gears from vineyard management to winemakers due to local permitting regulations. It is their hope to plant the remainder of their land in vines to be able to sell some of their grapes to local vintners and help work toward the AVA status that Southwest Washington wineries are pursuing.
"It's going to be several years before we make wine," Steve said. "We're pretty excited about the growing wine scene. It's a neat group of people to be associated with."
Open from May 1 until the first Saturday in October, Jacquot Farm offers an elegant, close-in event venue in an area that's struggled to keep up with its growing population. Steve shared that potential clients have expressed frustration over booking as far out as 2018 for their special day.
Steve said, "They like that we put in a playground space instead of banning children. We try to be accommodating to everybody. Our goal going forward is to provide an affordable, local outdoor venue for events."
For more information, go www.facebook.com/jacquotfarmandvineyard.
**If you like what you're reading, follow Corks & Forks by clicking the 'Follow' button or follow Corks & Forks  on Facebook or Twitter @WACorksandForks.