Seufert Winery shines with single vineyard focus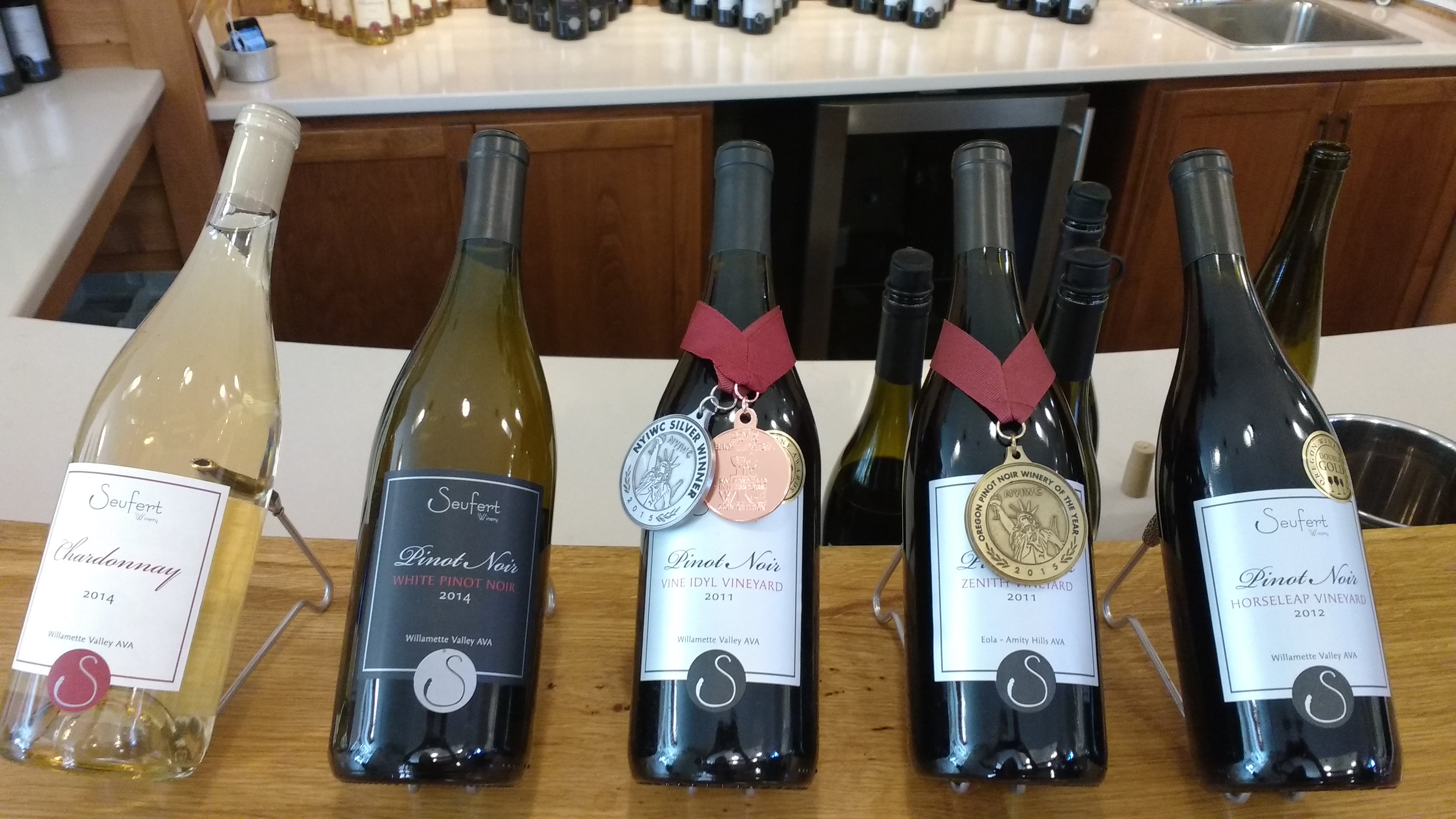 If you didn't see the August cover of Oregon Wine Press, check it out here. It features Tiny Vacay including Dayton's own The Vintages; a retro trailer neighborhood within the heart of wine country.
This RV resort has even more going for it than The Vintages neighborhood. Just outside the gated perimeter is a foot bridge that takes guests to the quaint downtown center of Dayton where Seufert Winery's contemporary tasting room is located.
Forecasters are predicting mild weather through October (we'll see about that) so there's still ample opportunity to take advantage of the welcoming outdoor seating at Seufert or melt into the plush, retro airplane seats while enjoying the full lineup of Willamette Valley-sourced pinot noirs.
During International Pinot Noir Celebration (IPNC) weekend, we ventured into Seufert and enjoyed a nice chat with director of sales, Paula Foat. She shared with us that owner and winemaker, Jim Seufert, crafts his magic just beyond Courthouse Square Park in a separate facility.
He's a fan of the New York International Wine Competition (NYIWC) and the feeling is mutual. NYIWC awarded Seufert with Oregon Pinot Noir Winery of the Year in 2015 and their 2011 Vine Idyl Pinot Noir earned a Silver. The Oregon Wine Awards has much to say about Seufert, as well. Their 2011 Vine Idyl Pinot Noir has walked away with a Bronze and the 2012 Horseleap Vineyard Pinot Noir received a Double Gold. In fact, the majority of the current releases have medaled at respected competitions such as the Great Northwest Wine Competition and Sunset Magazine International Wine Competition.
Seufert's ability to take single vineyards throughout the Willamette Valley and mold the most beautiful expressions from them is his greatest strength. Sourcing from northerly Bishop Creek and Horseleap and traveling as far south as Vine Idyl, Seufert has amassed relationships with top growers to offer Single Vineyard & Food Pairing Flights representing as many as seven pinot noir in one tasting, depending on vintage and availability. These are passionately offered by appointment only and on my list of things to do.
Whereas many vintners choose to blend from a variety of sites, Seufert's single vineyard focus produces concentrated expressions of fruit with lush earthy notes, cracked pepper and smooth, full tannins followed up by a solid vein of acid and a lingering finish.
I particularly enjoyed the 2014 White Pinot Noir—just a fetching light pink number—and the 2011 Vine Idyl Pinot Noir which seems to be a crowd favorite. It lacks the intensity of the 2011 Zenith in an approachable way, making it an all-around premier example of an Oregon pinot noir.
Find the tasting room of Seufert Winery at 303 Main Street 1B, Dayton.
**If you like what you're reading, follow Corks & Forks by clicking the 'Follow' button or follow Corks & Forks  on Facebook or Twitter @WACorksandForks.