Visit Vancouver USA Announces First Annual Dining Month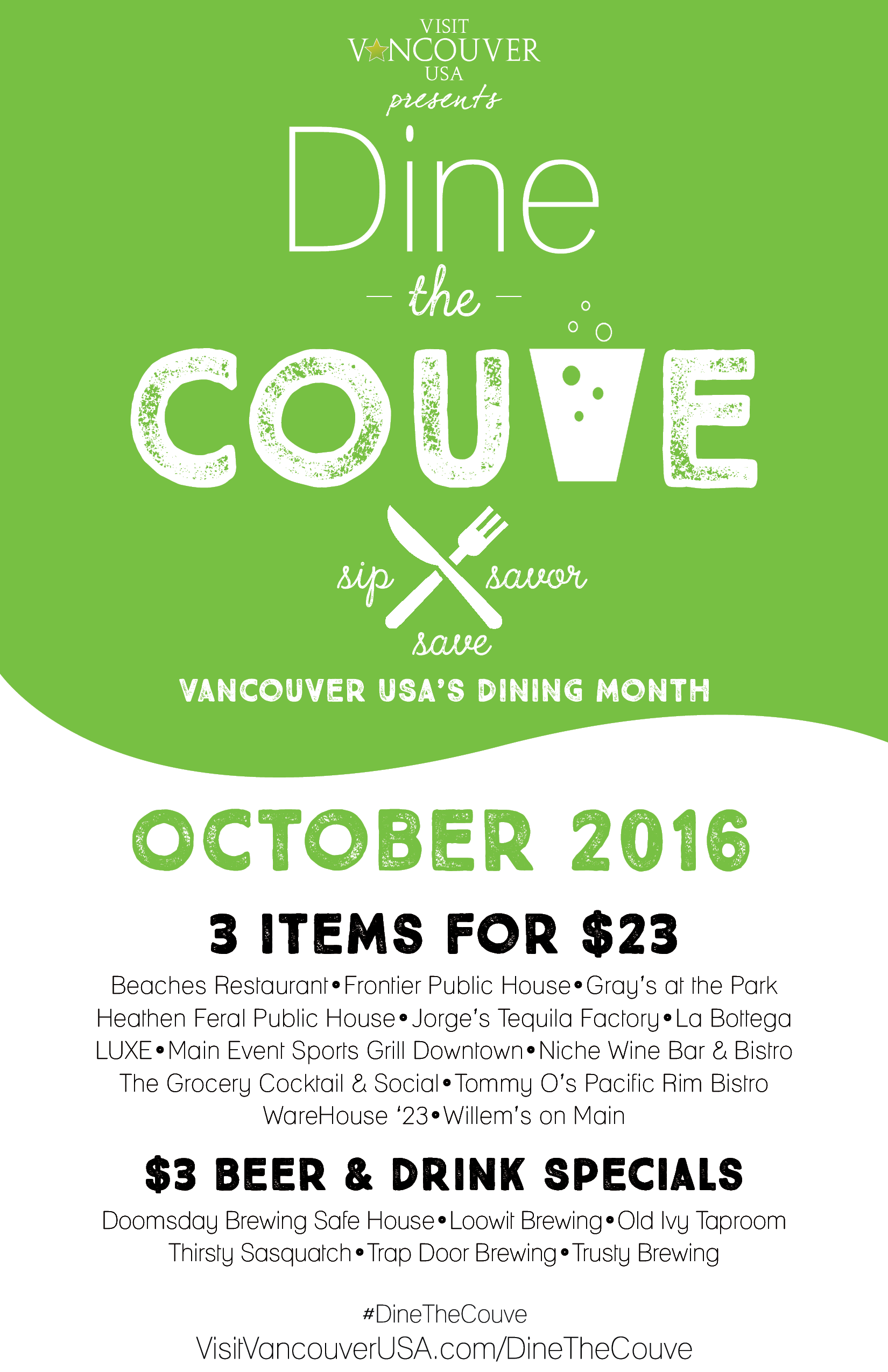 This October, Visit Vancouver USA will present its first annual dining month, Dine the Couve, with 19 participating restaurants, breweries and tasting rooms. Original Vancouver USA eateries will serve three items for $23 (alongside regular menu offerings), while breweries and tasting rooms will have $3 drink specials for the entire month.
"Vancouver USA's restaurant and brewery scene continues to grow at a rapid pace, providing unique destination assets for both residents and visitors to enjoy," said Kim Bennett, president and CEO of Visit Vancouver USA. "Dine the Couve is a celebration of what makes our local culinary and brew scene stand out — quality, affordability and a collaborative spirit."
All participating restaurants will provide diners with a fixed, three-course menu, which may include any combination of soup, salad, appetizer, entree, dessert or craft beverage.
Participating restaurants include:
Beaches Restaurant
Frontier Public House
Gray's at the Park
The Grocery Cocktail & Social
Heathen Feral Public House
Jorge's Tequila Factory
La Bottega
LUXE
Main Event Sports Grill – Downtown
Niche Wine Bar & Bistro
Tommy O's Pacific Rim Bistro
WareHouse '23
Willem's on Main
 Participating breweries and tasting rooms include:
Doomsday Brewing Safe House
Loowit Brewing
Old Ivy Taproom
Thirsty Sasquatch
Trap Door Brewing
Trusty Brewing
Menus for Dine the Couve will be posted online by Oct. 1 at VisitVancouverUSA.com/DineTheCouve. Use #DineTheCouve to share dining experiences on Facebook, Twitter and Instagram.
Disclaimer: This is a reprint of Visit Vancouver's press release
**If you like what you're reading, follow Corks & Forks by clicking the 'Follow' button or follow Corks & Forks on Facebook or Twitter @WACorksandForks.