Wine & Culinary Center welcoming spot in Yakima Valley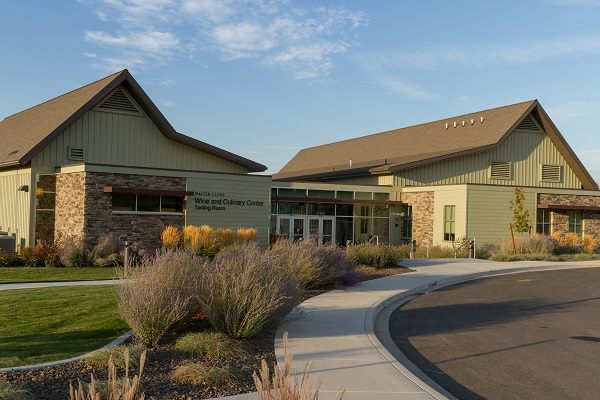 Walter Clore Wine and Culinary Center opened their public tasting room in 2014 but I admit that I'd been remiss in visiting.
This past May, while in the area for a conference, my husband treated me to an early birthday stop. It was one of those hot Eastern Washington days so we took respite in the shade of the central patio overlooking the Yakima River with our pups in tow.
William Pollard, tasting room associate, was kind enough to give me a tour of the facilities which include the commercial-grade kitchen that turns out wine bites for the tasting room and special on-site events held regularly.
It's a beautiful space both conceptually and practically and the staff does a great job organizing all kinds of events aimed at educating the wine fan—from newbie to advanced—in a really fun, unpretentious way.
There's a Casual Culinary series; Monthly Tastings pitting Washington wines against other states or countries in a friendly competition where everyone's rooting for the home team; blind tastings offered the first Thursday of every month (Varietally specific, no blends. Easy, right?); and less regular events like Rising Stars which happened in August where guests experienced 40 of the area's newest labels; and Legends of Washington Wine Hall of Fame Dinner—also an August occurrence.
Legends of Washington Wine is an annual three-course dinner that inducts a new legend into the Walter Clore Hall of Fame. For 2016, that was the late Dr. Charles Nagel.
Open every day of the week, any visit can be turned into an education. I went with Pollard's recommendation and enjoyed a bottle of Cor Cellars 2012 Riesling which my husband and I paired with a smoked salmon platter (for me) and a bacon and asparagus flat bread (for him). The smoky and creamy texture of this Columbia River Gorge-sourced white was the perfect choice for whiling away an hour on their dog-friendly patio.
Pollard shared a couple other selections he was particularly excited about like a Crayelle Rosé and Malaga Springs Winery 2014 Viognier. Before you start writing these down, he was quick to say their offerings are rotated out pretty regularly, freeing up shelf space to introduce other treasures. Walter Clore was built, after all, to celebrate the ever-changing landscape of Washington wine—all 14 AVAs.
Located between Yakima and the Tri-Cities, Walter Clore is a must-stop when wine tasting in the Yakima Valley. Tasting room open daily 11 a.m.-5 p.m.
**If you like what you're reading, follow Corks & Forks by clicking the 'Follow' button or follow Corks & Forks  on Facebook or Twitter @WACorksandForks.