Historic Grant House hosts first Farm to Fort dinner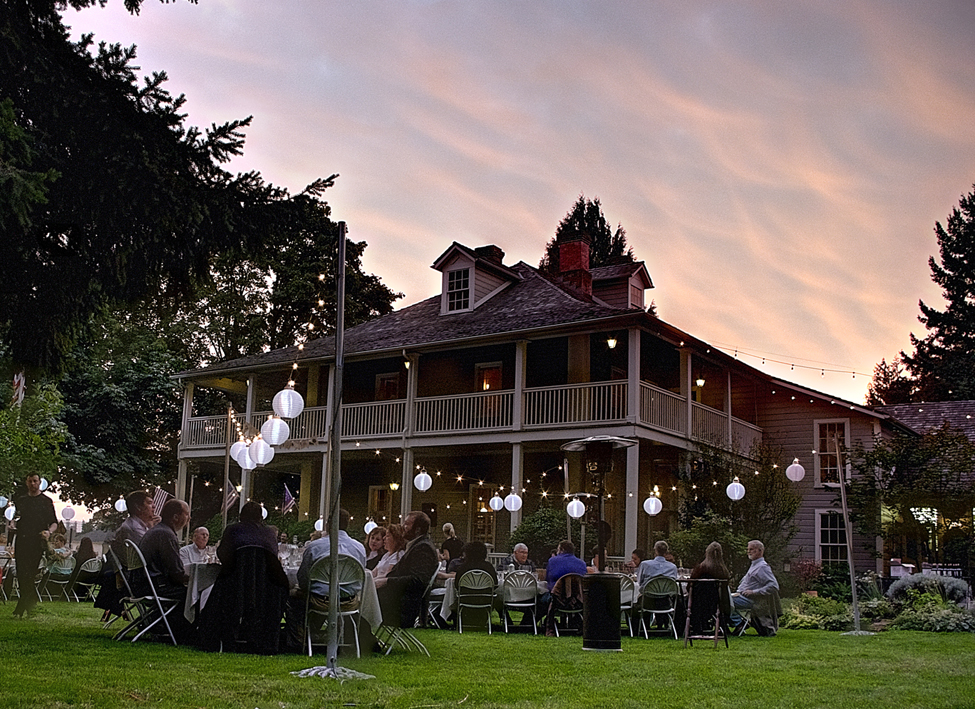 On Monday, September 19 at 5:30 p.m. The Grant House will host a Farm to Fort dinner, partnering with local restaurateurs, wineries and farms for what promises to be the culinary event of the year.
Working with the Vancouver Farmer's Market and Wine and Food Society of Clark County, The Grant House has organized an evening under the stars in the midst of Historic Officer's Row.
Farm to Fort will begin with appetizers created by Grant House chef, Carl Henderson III, paired with a signature cocktail using a seasonally-inspired shrub from Vancouver Farmer's Market vendor, Sage & Sea Farms. Shrub is a drinking vinegar infused with fruit, spices and herbs that delivers a refreshing edge to adult beverages.
Alex Collins and Josh Simpson from Herb N'Roots will kick off the sit-down portion of the evening with a market-fresh salad followed by a pasta dish prepared by Earl Frederick, cuisine instructor at the Tod & Maxine McClaskey Culinary Institute at Clark College.
Peter Gallin of Say Ciao is presenting lamb loin chops raised by Washougal's Reister Farms and Paul Klitsie from Willem's on Main will put his special touches on pork procured from Cascade Farm out of Kelso. Bleu Door Bakery's Bonnie Brasure lends her dessert talents to the end of the meal, sending guests off with a delectable sweet treat.
Each of the five courses are being sourced from Vancouver Farmer's Market vendors and paired with local wines. Burnt Bridge Cellars, Van Arnam Vineyards, Basel Cellars and English Estate Winery are all excited to be a part of this event that celebrates the growing culinary scene in Clark County.
An after-hours bourbon and cigar party is also slated from 8:30 – 9:30 p.m. with a limited amount of tickets for diners who'd like to stick around a little longer and visit with the guest chefs. Henderson will provide the after-party nibbles and Easy Rider Spirits will introduce their small batch Bourbon Whiskey to their Clark County neighbors. Owners, Bob Burrows and Eric Folkestad, maintain offices in Washougal, their distillery in Hood River and are looking forward to being a part of the first Farm to Fort dinner.
Throughout the evening representatives from the various non-profit organizations will discuss what they're doing to drive the wine and culinary scene in Clark County. John McDonagh, president of the Greater Vancouver Chamber of Commerce, will serve as emcee to keep the evening rolling along and a low-key donation request via envelopes placed at each table will substitute for the standard charity silent auction.
Accenting the farm fresh fare will be background music played by local musicians and a walk through history. The Clark County Historical Society is setting up their current exhibit—Food for Thought: Clark County's Food History—on the lawn and a museum curator will be on hand to answer any questions guests might have.
Melinda Hinkley, The Grant House event coordinator, said "We would like this event to grow into something entirely sponsored by the local food and beverage industry. Our goal is to make the best meal anyone's had all year long and taste some good wine and raise some money for the industry."
Farm to Fort Dinner tickets are $85 each and include wine. Cigar and Bourbon After-Party tickets are $25 each for 21 and over. For more information or to purchase tickets, go to www.tickettomato.com.
**If you like what you're reading, follow Corks & Forks by clicking the 'Follow' button or follow Corks & Forks  on Facebook or Twitter @WACorksandForks.