Truffle dogs preparing to shine again at North American Truffle Dog Championship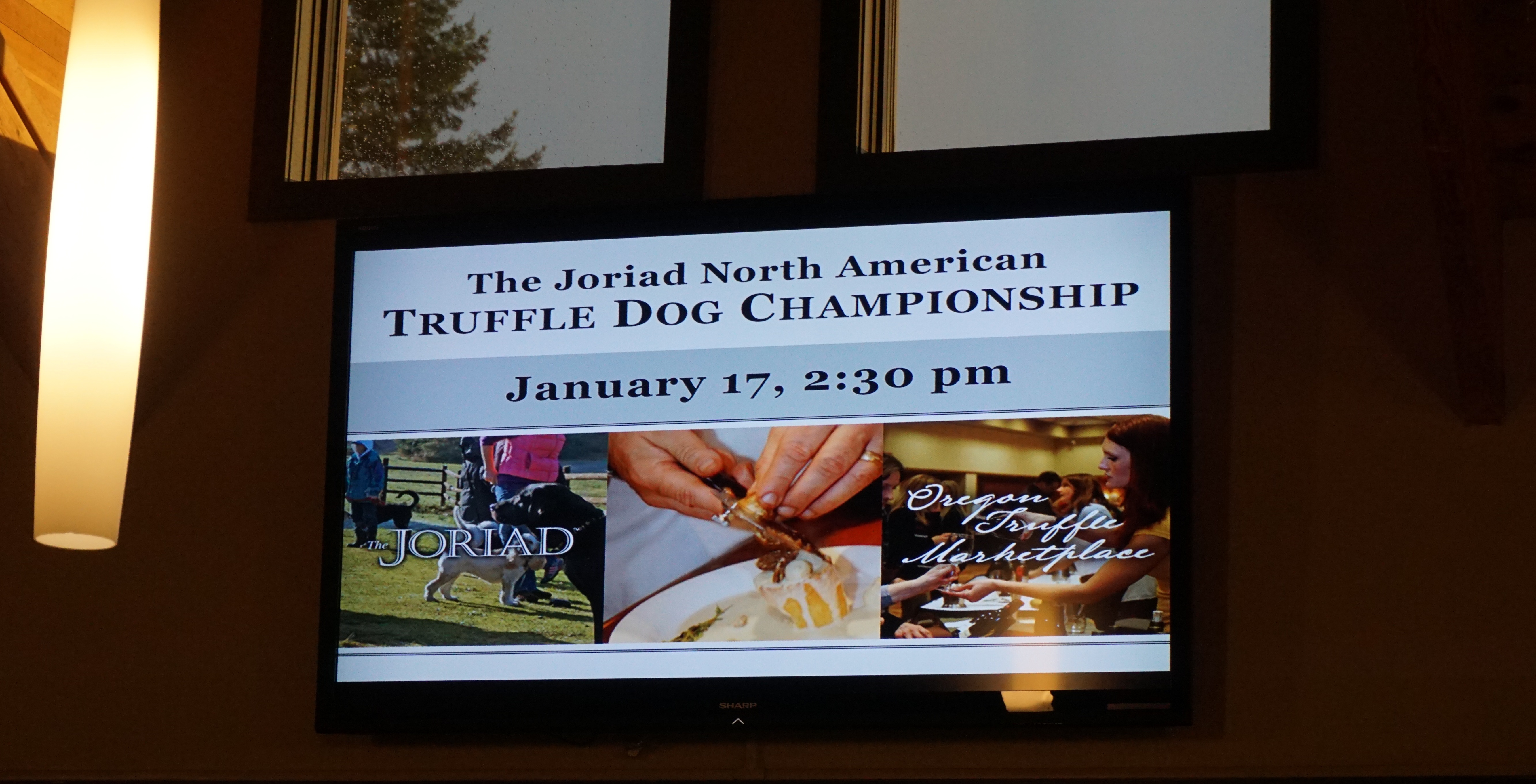 I don't know about you but this has been the summer that I keep waiting for and, the more people I talk with, the more people I find who agree. Weather forecasters are predicting a heat wave later this week but the drizzle I woke up to made me think of mushroom and garden fresh zucchini soup for dinner; not a summery, light salad.
Walking my dogs in the wet then made me think back to the 2nd Annual Joriad North American Truffle Dog Championship held at Willamette Valley Vineyard this past January.
You have your chanterelles, morels and matsutakes in the fungi world but, unlike these beauties found top-side on moss-covered forest floors, truffles require a little more work and an excellent nose to find. Grown in abundance in France, pigs are traditionally trained to root out these decadent jewels of the earth across the big pond.
If a dog can sniff out unsavories at airport baggage claim, calm the nerves of those suffering with PTSD and pull a sled full of goods in the frozen tundra, they're more than qualified to follow the strong aroma of this culinary delicacy that takes a little digging to unearth. In short, dogs need ajob and, since truffles command over $1,000 per pound (closer to $4,000 for European white truffles), the task of training a pup to be a truffle hunter has a lot of appeal for their owners.
What better area to hold the only North American Truffle Dog Championship than in the heart of Willamette Valley wine country—home to internationally-recognized pinot noir that happens to pair seamlessly with this flavorful fungus.
After a weekend of truffle hunting that whittled 20 task-oriented pooches down to 10 then five and then….the winner….the menagerie of spent dogs were invited into the barrel room to parade among approximately 100 attendees who'd come to enjoy the earthy, smoky and savory menu and gaze upon what must be one specific breed of working dog with laser focus.
It was, then, a huge surprise to see a pack that included a German Shepherd/Malamute/Husky mix, Labradoodle, American Cocker Spaniel and yellow lab (not a big surprise there). Apparently, it's all about the nose and consistent training.
And the winner was? A Nova Scotia Duck Tolling Retriever named Bella. Her owner and trainer, Linda Gallacher of Eugene, was awarded $500 and a plaque for Bella's nine-truffle find.
Keep an eye out for the Joriad Awards Gala to come back around January, 26 2017 at Willamette Valley Vineyard. For dog lovers out there, you still have time to get some training under Fido's belt. Who knows, you might join the ranks of first-time winners just like Bella and Gallacher.
Appetizers served and paired with Willamette Valley Vineyard wines:
Truffle Chips and Dip paired with 2014 Pinot Gris
Diver Scallop with Chablis Truffle Cream paired with 2014 Estate Chardonnay
Rabbit in Porchetta with White Truffles, dehydrated Lentils and Quail Egg paired with 2014 Estate Pinot Noir
Cream of Porcini Soup with 2014 Estate Pinot Noir
Duroc Pork Crepinette with Hazelnuts, White Truffle and Sweet Potato Puff paired with 2012 Tualatin Estate Pinot Noir
**If you like what you're reading, follow Corks & Forks by clicking the 'Follow' button or follow Corks & Forks  on Facebook or Twitter @WACorksandForks.